Stevie Quijas (he/they) is a third-year student studying social relations and policy in James Madison College. Quijas serves on the executive board for the North American Indigenous Student Organization at MSU. He is interested in pursuing a career in tribal and environmental law.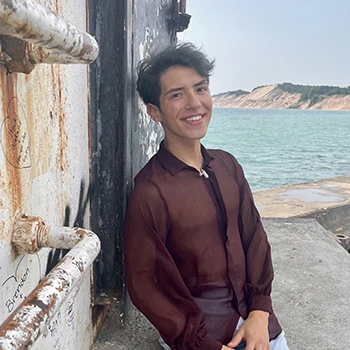 As I stepped onto campus for the first time last fall, I hadn't yet found an on-campus community in which I saw myself reflected. That entirely changed when I attended Native Welcome and was introduced to NAISO, which stands for North American Indigenous Student Organization. As a white passing and reconnecting Native, I was initially hesitant to join. However, a year later, I can confidently say it was one of the single best decisions I have ever made.
Not only have I met some of the brightest and funniest souls through NAISO, but I quickly gained positions as Powwow Funding Chair and the ASMSU Representative. It is in these capacities that I have not only been able to make contributions to the Native community at MSU but also learn so much about myself along the way.
As an Indigenous student, NAISO has been an invaluable resource for academic, cultural, emotional and mental support. While our organization is small, we are mighty. NAISO's annual Powwow of Love is one of the largest student run events on campus.
The event is significant, not just for Native MSU students. The Powwow of Love has been drawing Natives to MSU from all throughout Michigan to sing, dance, laugh and celebrate together for over 37 years! In spring 2022, NAISO held an online informational and educational series discussing powwow etiquette, dances and regalia teachings. On Oct. 1, NAISO will host a traditional powwow at IM East Field.
In contrast to traditional tribal ceremonies held in private, powwows represent community gatherings where celebration, dancing and singing occur. Powwow serves as a source of community, resilience, socializing and honoring our culture. MSU's Powwow of Love is a public event to not only bring together but also showcase the talents across different categories: Traditional dancers, grass dancers, fancy dancers, hoop dancers, jingle dancers and fancy shawl dancers. There is truly nothing in this world as riveting as the hum of the drum, fancy prances of all the talented dancers and all the jokes from the arena director.
Before this magic begins, emcees and arena directors kick off the event with a warm welcome. It is important to respect all the ground rules and directives these individuals lay out, as the event is conducted in a manner which honors ancestral practices. During Grand Entry, eagle staffs and flags are carried in by veterans and dancers enter the arena in order of their category/style of dance.
Attendees will have an opportunity to witness the fancy footwork, hear the sweet sounds of singers, drums, bustles and jingle cones. My personal favorite part of powwow are the artisans and vendors who also travel from all throughout Michigan to share their skills with us. I could spend an eternity walking through vendor booths marveling at all the quillwork, beadwork, baskets, regalia and traditionally grown foods.
While I was hesitant to immerse myself in new environments at first, participating in the planning process for Powwow of Love has been nothing but a positive experience. I am immensely grateful for the opportunity to participate in organizing such a spectacular event alongside such lovely NAISO members. I encourage Native and non-Native MSU students to attend our Oct. 1st powwow as we gather, celebrate and honor the original inhabitants of the lands on which our institution resides today.
This story was featured on jmc.msu.edu
---
Sept. 23, 2022 is Native American Day.