Danielle Tice is a first-generation college graduate. In May 2022, she earned her Bachelor of Fine Arts from the College of Arts and Letters with a major in graphic design and a minor in entrepreneurship and innovation from the Burgess Institute. In Tice's final semester at MSU, she started a company, Fello. With that company, she was named a finalist for the Burgess Institute's annual pitch competition and participated in the Momentum Pre-accelerator program.
I constantly face imposter syndrome. It tries to hold me back from many opportunities and experiences. I'm continually questioning, "Why me? What have I done that's so important?" Then I remind myself of my achievements: today, I woke up in a home, I own, as a first-generation college student and alum, a professional graphic designer and the founder of my own company, Fello.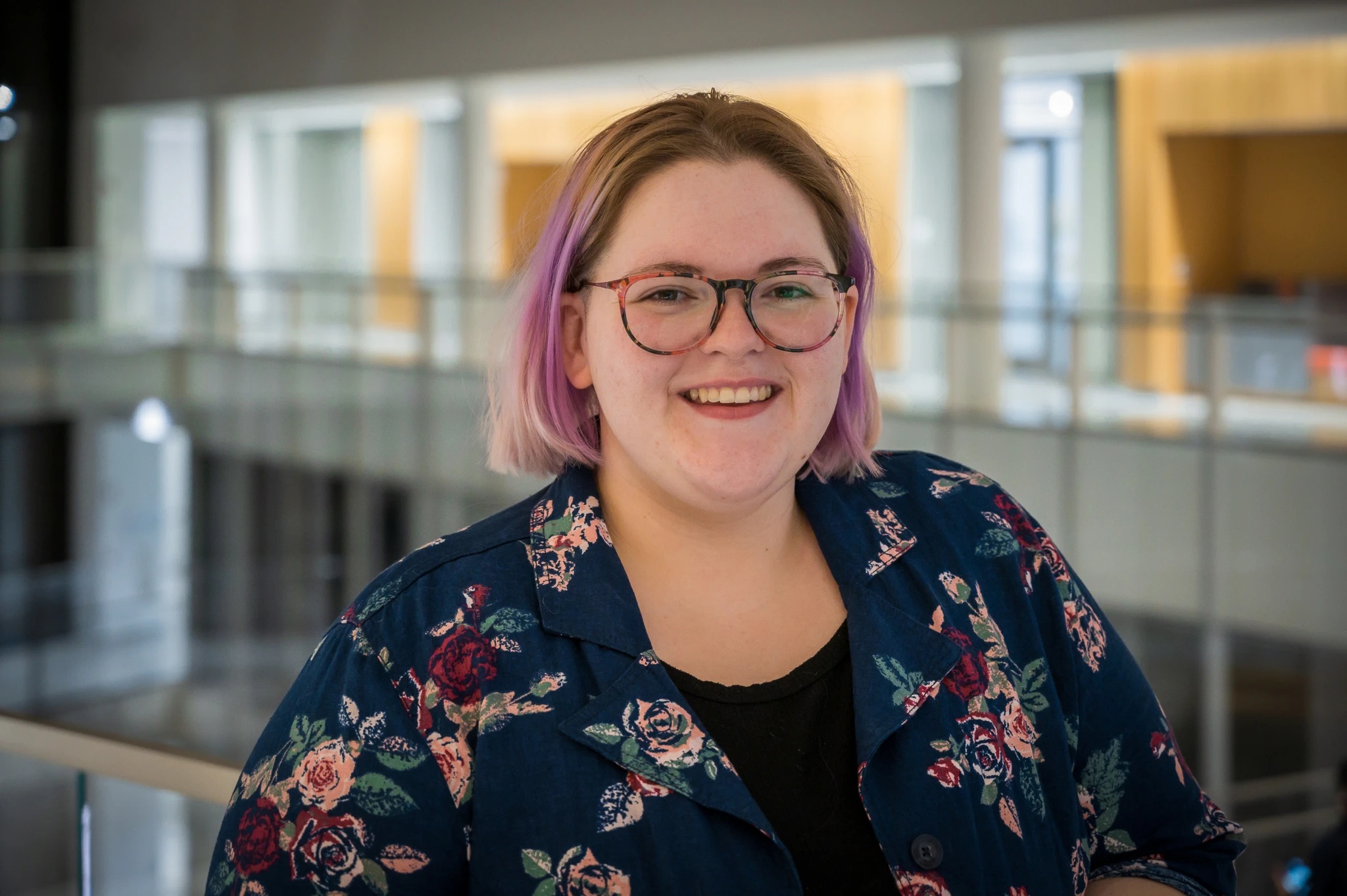 When I started at Mott Community College, I had a graphic design professor, Jim Shurter, who planted the "think-like-a-designer" seed. I learned the necessary skills to practice empathy and optimism and embrace diversity. It's funny — I understood these skills but didn't fully unlock them until I began to think more like an entrepreneur.
When I transferred to Michigan State in the summer of 2020, I began working for the Burgess Institute as a graphic designer. Closely working with various startup teams and seeing student entrepreneurs' drive was inspiring. They took their education to the next level with an entrepreneurial mindset. Realizing I wanted to be like them allowed me to change my state of mind rapidly.
When the idea for Fello started, I didn't think it would go far — but my gut did. The concept was to develop a way for creative people to connect in a localized area. Bringing the creative community to the forefront of the public eye makes it easier to find other like-minded individuals.
The first time I pitched my idea for Fello was at 2Day Venture in February 2022. I had nine students on my team; one of them, John Hart, is now my co-founder. During this two-day, 36-hour event, our team spent the entire first day trying to rework my initial idea. Iteration and critique are essential for growth. Staying in the entrepreneurial mindset, I was willing to keep an open mind and experiment with these new ideas.
Ultimately, however, we landed back on the original idea. We pulled everything together in the last 12 hours of the competition and won first place. The fact that we spent countless hours adjusting the initial idea demonstrates that the growth for this platform is limitless. John, being open-minded, collaborative, respectful and taking the lead, caught my attention. It was a no-brainer to move forward with Fello and with John.
Ever since, John and I have been sculpting Fello. By talking with local art galleries and artists, going to art fairs and doing customer validation to find out how we can best serve creatives. Fello's mission is to end creative isolation. We are designing an app to build local creative communities by promoting spaces for like-minded individuals to create together. We provide the opportunity to make authentic local and digital connections through social sharing, collaboration and celebration.
John and I know the success rates of developing an app are poor, but we have decided to move forward. Our passion for Fello's mission drives us daily. Plus, our gains and potential gains have already outweighed our possible losses.
After 2Day Venture, the Burgess New Venture Challenge application deadline was the next day. I wondered, "How crazy would it be if this idea seedling got in?!" — apparently, not too crazy! When BNVC announced the 15 semi-finalist teams, John and I were shocked to find out Fello was among them. Fello was moving forward in this prestigious startup competition? There was a lot of work to be done. BNVC was April 7; we had less than one month to prepare. I attended classes, designed the graphics for the BNVC event and began writing Fello's business plan. John and I started developing Fello's brand identity, not to mention preparing a pitch deck and crafting the marketing for the day of the competition. It was overwhelming. There were failures and tears. I wanted to call it quits. Resilience, however, persisted. Having so many balls in the air at once is scary. But, having the ability to bounce back, learn from our pain points, and, ultimately, stay afloat is all we need to inspire ourselves to keep going. We are living the entrepreneurial mindset.
No, Fello didn't "win" BNVC. But we did come away from that experience as winners. As a company that was only six weeks old, we kept pace with other companies that were between seven months and a couple of years old. We had the opportunity to meet people who fell in love with our idea. We connected with mentors and got to experience pitching to a panel of highly respected fellow MSU entrepreneurs. It was terrific. I can't say enough about my entrepreneurial journey at MSU with the Burgess Institute.
Recently, Fello finished Momentum, a six-week pre-accelerator program with Burgess. Each year, Momentum takes only five startup teams into this summer program. Each startup receives a scholarship to fund their endeavors and take the time needed to focus on our startups for those six weeks.
Momentum kicked off by traveling to Traverse City for networking and growth opportunities. The next five weeks followed designated topics, with guest speakers covering goals-setting and metrics, legal, accounting and financials, de-risking and marketing. Momentum helped Fello grow in a more professional sense. We officially became an LLC, have a beta list that is growing daily and are currently building our platform.
One of the most considerable mindset changes I have experienced during my time at MSU has been finding the ability to confront my self-doubt. Anxiety, depression, and their close companion, imposter syndrome, make this entrepreneurial lesson the hardest one for me to implement daily. I am still learning how to own my power. A friend constantly reminds me to "show up, speak your truth, and let go of the outcome." Remembering those words helps me stand in my power, but I need to learn how to own it.
On our final day of Momentum, Provost and Executive Vice President for Academic Affairs Teresa K. Woodruff, Ph.D., invited me to an event during the Women in Philanthropy Summit. At this meeting, she introduced me as an entrepreneur, an innovator, a creator and an academic success — all the things MSU is attempting to tailor to its students. It was something she defined in me. It was an honor to be in a room of women who are absolute powerhouses — and all of them were suddenly staring at me, beaming with excitement. It was a beautiful moment to experience female power recognizing female power. After the event, I sent the provost a thank you email and admitted my feelings about my impeding imposter syndrome. Here's part of her response: "We each have to know that our steps toward grace for ourselves, and being one of those individuals who are welcoming to all, widens the door and helps those who follow in our footsteps. One day, and one step, at a time."
As a member of the marketing and communications team at the Burgess Institute, we have a tradition. Every Friday, we close out the week with a note of gratitude. So, I want to wrap this piece by sharing how much I appreciate everyone in my life. I'm grateful to those who came into my life in the past year. This year I met my best friend. I also met my wise word advisor and my Fello co-founder. My life would be nowhere close to what it is today without the guidance and support of the excellent staff at Michigan State's Burgess Institute for Entrepreneurship and Innovation.