John Vsetecka is a doctoral candidate in the Department of History, College of Social Science. He earned a Bachelor of Arts degree in history from the University of Northern Colorado in 2012 and a Master of Arts from the University of Colorado in 2014.
I did not expect my Fulbright year in Ukraine to end with war. I arrived in Kyiv, Ukraine, in October 2021 to finish research for my dissertation on the history of famine in 20th-century Soviet Ukraine. I first became interested in studying Ukraine as an undergraduate student at the University of Northern Colorado, where I heard a lecture on the 1932-1933 Holodomor famine from a professor who would become instrumental in developing my interest in the region. That lecture on a part of Ukrainian history changed my life forever.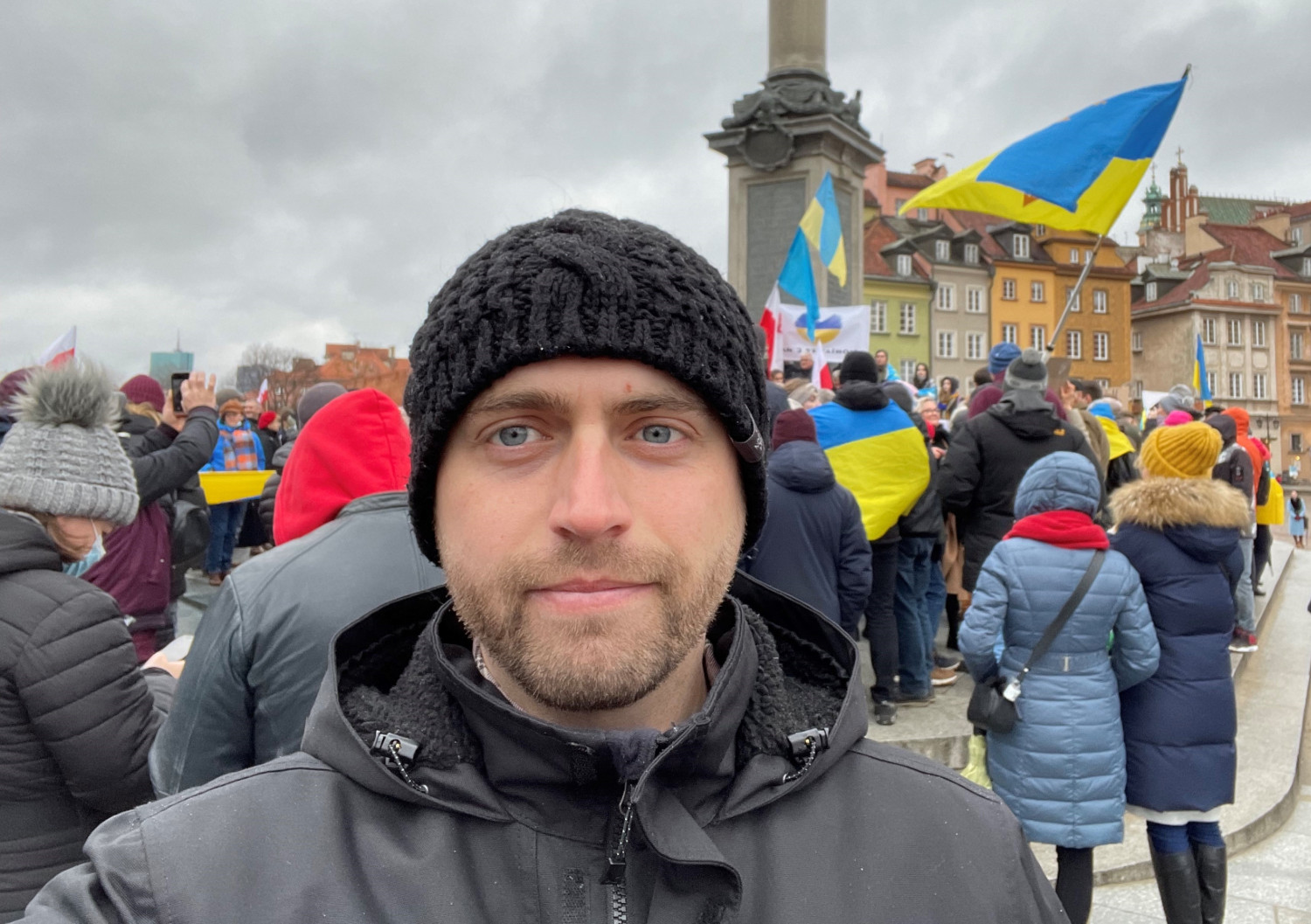 I planned to work and travel in Ukraine until June 2022, but I was evacuated out of the country in late January when the threats of war grew louder. In late February, the worst came true when Russian military planes began bombing campaigns across Ukraine. It was the reignition of Russia's invasion of Ukraine that first began eight years ago when Russia illegally annexed Crimea and put soldiers in Ukraine's eastern territories after the Euromaidan revolution of 2014.
Luckily, I made it out of Ukraine before the war started. My Fulbright cohort was relocated to Warsaw, Poland, where we waited to see if it would be possible to return to Ukraine. Fulbright scholarships are competitive grants that allow one to teach or research in various parts of the world. The application and interview process are rigorous, and it is a huge honor to win a Fulbright grant. Our small cohort lived in different parts of Ukraine while we were in the country, but we became particularly close when we all moved to Warsaw together. We bonded and spent time discussing when we would go back. Now, the war has made this impossible. I am in Poland indefinitely, and I have paused my scholarly pursuits to help refugees who are crossing the border from Ukraine to Poland.
Since the war started, more than 2 million refugees have left their homes and lives in Ukraine. It is heartbreaking to see women and children cross the border without their husbands, boyfriends, fathers and brothers. Currently, any Ukrainian male between the ages of 18 and 60 years old must remain in the country to fight. This means that many families are separating as some stay in Ukraine and others flee the country.
If you go to the Polish-Ukrainian border, you will find crowds of people coming into Poland (part of the European Union) where they wait for friends and family to pick them up and bring them to safety. Volunteers in orange and yellow vests cook food, brew hot tea and help organize rides. Boxes of clothes, diapers, bags and suitcases and other essential items line the fences next to the border. People have donated whatever they can spare to help those who are beginning a new life abroad. Many Ukrainians have no idea when they will be able to return home. In fact, they are not sure if there will be a home to return to at all.
The result of this war will inevitably move Ukrainians to all parts of the world, including to the United States. Michigan has thriving Ukrainian communities in Detroit and Warren, so Ukraine and Michigan are not as far apart as one might think. As this war continues to progress, those of us at Michigan State University should continue to lend our support to Ukrainians in our state. As a fellow Spartan, I encourage you to check in on your friends with Ukrainian backgrounds, take classes on Ukrainian history and continue to lend your support to all of those affected by this war. I look forward to returning to campus soon to promote Ukrainian studies and bring my perspective back into the classroom.