Sterling Bentley is a master of social work student and intern at the Consortium on Sexual and Gender Minority Health. He was named the MSW Student of the Year. This story was adapted from the College of Social Science website.
When I came to MSU to earn my Master of Social Work, I wanted to learn, not to teach.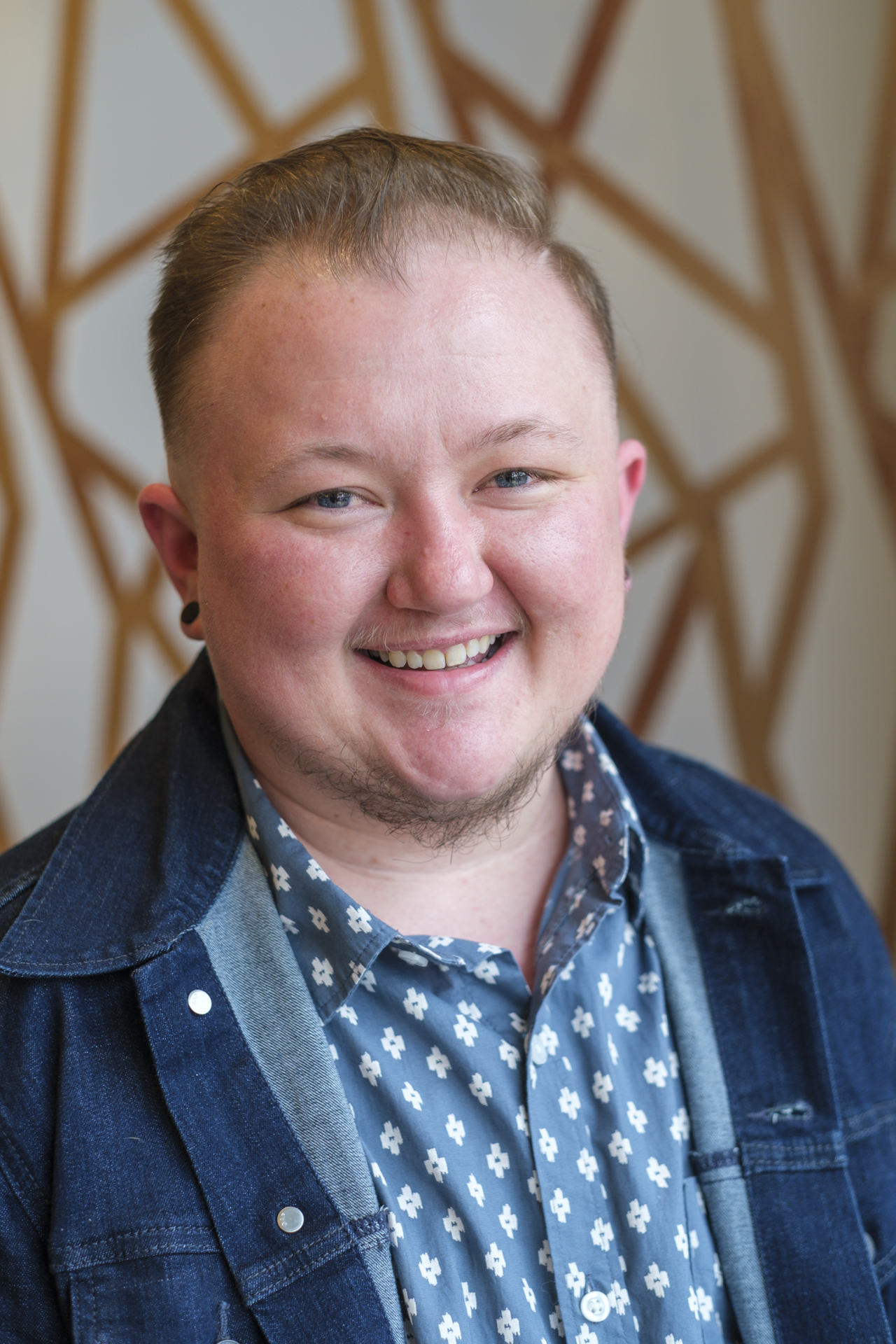 Image courtesy of Jacqueline Belden Hawthorne
That should sound like a reasonable request. We come to a college to learn, after all. But those of us with marginalized social identities often find ourselves being asked to educate others on how to treat us with respect and dignity wherever we go.
For most of my adult life as a queer trans man, I have had to inform and educate those around me about my sexuality and gender identity. Coming from rural Appalachia, I was often the only out LGBTQIA+ person in the room, and the first to bring certain topics of queerness and gender identity to the forefront of discussions. I have always wanted to be a person that young LGBTQIA+ people can see and relate to. With that, my advocacy has centered around LGBTQIA+ youth in rural communities by increasing their access to health care and creating opportunities for youth to grow their support networks.
This work can be intensely emotional and can take a large toll. When I applied for my MSW, I sought out graduate schools where I was specifically not "the first" anything.
I needed to know MSU's School of Social Work was not only conducting research and other academic work on queer and trans issues, but also that there were people within the department who shared some of my same identities. Representation is powerful and being able to see myself represented within the program assured me that I could focus more on learning rather than teaching along the way.
The fact that there were other queer and trans faculty, staff and students at MSU made me feel confident that I could succeed here. It was the existence of the Consortium on Sexual and Gender Minority Health housed within the School of Social Work, which collaborates with departments across campus, that sealed it for me.
I now have the honor of being the first student to intern with the consortium. I am working on several projects, including the creation of a community advisory board that can further the consortium's goal to conduct community-informed and culturally relevant research.
I am doing my best to demonstrate leadership and am spearheading several projects for the consortium. With the encouragement of Consortium Director Carla Pfeffer and Deirdre Shires, co-founder of the Consortium and assistant professor of social work, I am championing the needs and perspectives of sexual and gender minority communities.
I am a first-generation student from rural Appalachia without familial support and facing societal and structural barriers regarding being queer and trans. After I graduated from University of North Carolina-Asheville with a degree in sociology, I visited Washington, D.C., with Equality NC to engage in political advocacy, which I recognize now as a calling for me.
I love crafting a story and telling it in a way that allows people to see the humanity in folks who have had their humanity stripped from them. I want those real-life stories to embody the people they try to legislate out of existence. That's what really fuels me, to find every opportunity to center the voices and experiences of marginalized people.
Discovering political advocacy is what led me to MSU's master's program in social work. I didn't want to go to law school or study political science. I used to naively consider social work as only child welfare or one-on-one counseling, but the discovery of macro social work led me directly to MSU.
I found a home for social justice within social work and moved to Michigan in August 2021 with my wife, Alex, and our dog, Georgia.
Michigan has, admittedly, been a bit of a culture shock and I am still searching for community outside of MSU, specifically queer sports teams. I continue to write poetry and was published in an anthology called "Bible Belt Queers," and one day I hope to run for office. In addition to being named MSW Student of the Year, I was accepted into the Advocacy Scholars Program at MSU, which sharpens social work students' advocacy skills and shows them how to run for office.
The reason for coming to MSU was to try to balance the experience and skill set I already have with what I still need to learn. A lot of what our society is missing is authenticity, a trait I deeply value and one by which I vow to live my life.