Jalen Lillard is a senior studying horticulture in the College of Agriculture and Natural Resources. He participates in RISE: Residential Initiative on the Study of the Environment, where he works at the Bailey Greenhouse and Urban Farm on campus.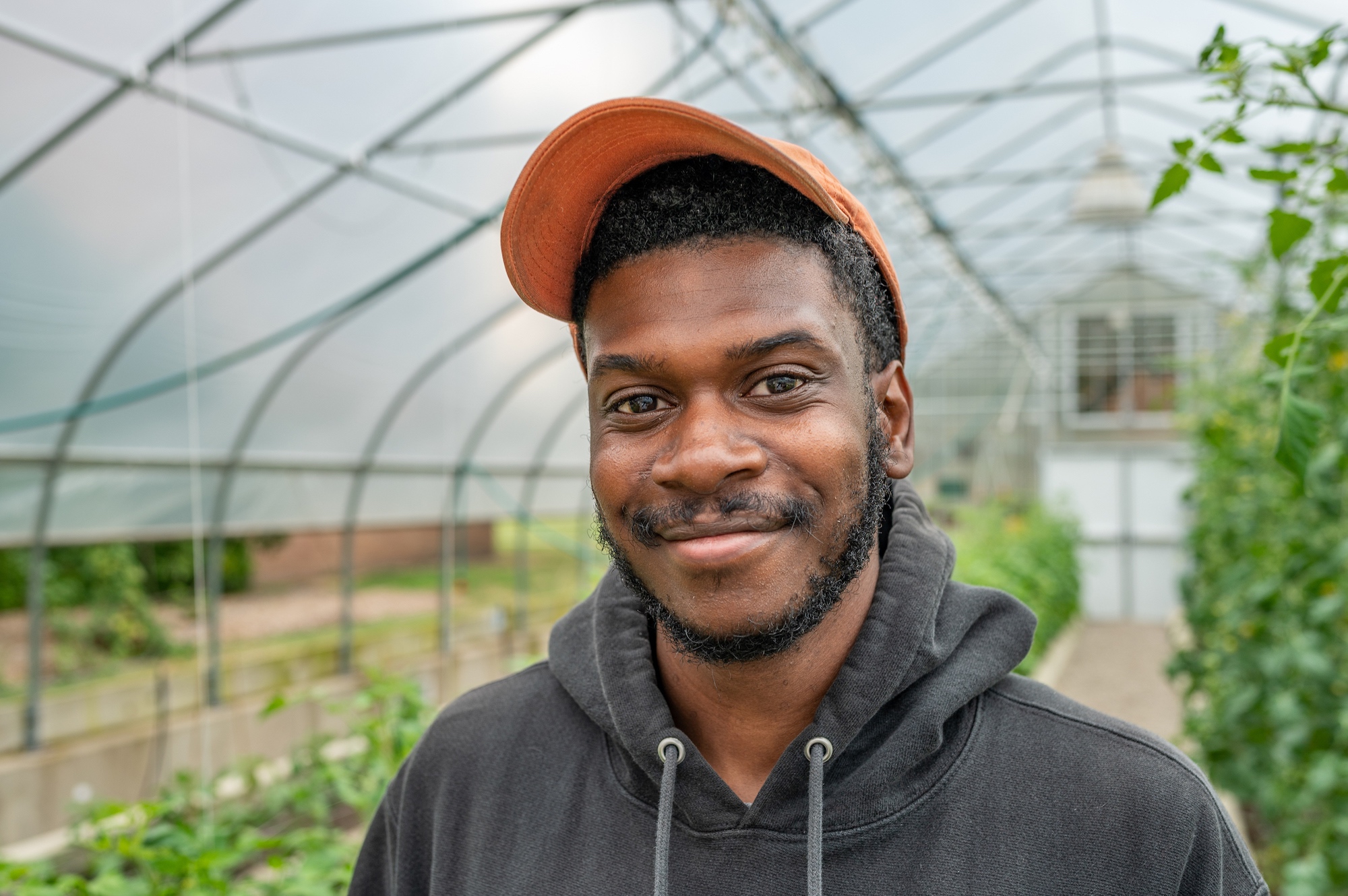 I did not grow up on a farm. No one in my family was a farmer. Going to school at Harper Woods High School in metro Detroit, we did not have a Future Farmers of America group or other programs that encouraged us to farm. I did, however, like working with my mom in the garden, tending to her perennials and flowers for butterflies.
This led me to enroll at the
MSU Institute of Agriculture Technology at Northwestern Community College in Traverse City
in 2015, where I loved the entomology and plant identification courses. I had to take a few years off of school but came to East Lansing in 2019 to continue my education. And I've found a calling thanks to the many opportunities on campus: I enjoy working at the Bailey Greenhouse and Urban Farm and the
Student Organic Farm
.
I had experience in landscaping through my work with IAT, but working with food has been eye-opening. I once managed a greenhouse growing ornamentals, but at BGUF, I have learned about biodiversity, crop rotation, local food and more. And I feel like I am bringing something to the table, too.
I improved the irrigation system this summer — I am very passionate about taking care of crucial resources like water and soil. Plus, I helped advance our wash and pack station, which improves food safety and makes harvesting and delivery more efficient.
There is a team working at BGUF, and it has been a great learning experience to be a part of a group. I've learned how to be a good manager and leader, and I know how important it is to sustain good interpersonal relationships with my team — we all want to make the farm as successful as possible.
Each week, I also work at the SOF, where I am applying the things I learn in the classroom to a real farm. The larger scale farm was a new venture, but like the BGUF, it has been rewarding to work with a community of people who care about the same things I do.
I will graduate from the
Fruit, Vegetable, and Organic Horticulture Management program
next spring, and I cannot wait to take my skills out into the world. I would love to work with middle and high school students in urban areas. I want to give them opportunities to learn how to grow food and how to improve landscape and food systems — opportunities I did not have.
I did not have many connections to farms growing up, but I am glad I do now.