George Azar is a first-generation Syrian American student in his third year at Michigan State University's Lyman Briggs College majoring in human biology and Arabic, with minors in bioethics and entrepreneurship and innovation. He is a pre-dental student and vice president of the MSU Pre-Dental Club. For his advanced study of Arabic, he was selected for the Foreign Language and Area Studies Fellowship for the 2022-23 academic year.

Why is it that there is such a disconnect between North Americans and the Arabs that immigrate here? From negative and misconstrued media coverage; villainous portrayals in film, television, and video games; along with ethnic and racial mislabeling, Arabs and Arab Americans are constantly battling for recognition and visibility. As Arabs and Arab Americans are often misrepresented or not represented at all, it is quite common to witness those of the identity, especially those living in the United States, take on roles of activism and advocacy.
In April 2017, Arab America and the Arab America Foundation launched the National Arab American Heritage Month initiative, and in 2021, President Joe Biden officially recognized the initiative and established April as National Arab American Heritage Month. This was a stellar victory for the Arab and Arab American community. With Michigan being home to one of the largest numbers of Arabs and Arab Americans, Arab and Arab American leaders and change-makers are inspiring those of Arabic heritage at Michigan State University and adjacent institutions to embrace and take pride in their ethnic roots. National Arab American Heritage Month is important not only for Arab and Arab American Spartans but also for the Arab and Arab American community as a whole.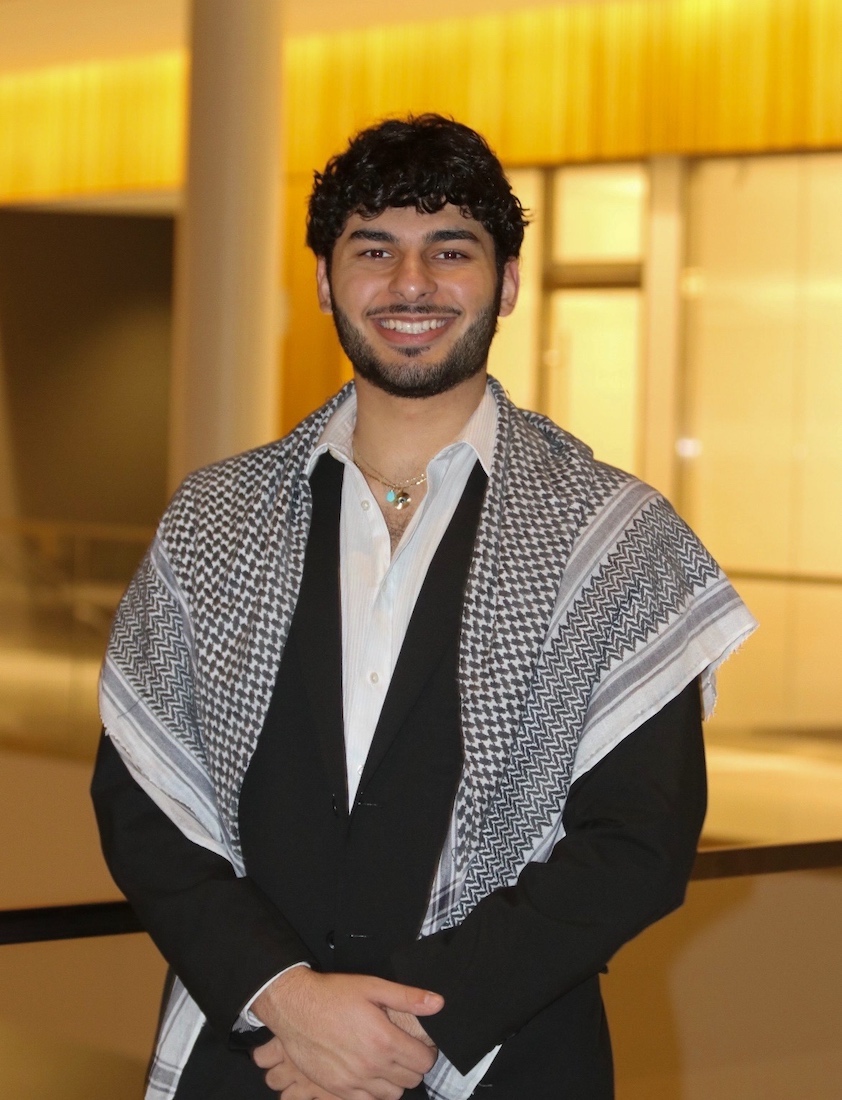 George Azar
I am currently in my third year of undergraduate studies at MSU and have decided to study the Arabic language as a major because of the influence that the academic study of the language will have on me and my identity as a Syrian American. The Arabic language is unlike any other language. The base for this language is called Fusha (foos-ha), or Modern Standard Arabic, which is only ever used in the reading and writing of literary Arabic. The spoken language of Arabic is divided into a multitude of dialects that range from region (e.g. Levantine, Gulf, Maghrebi), country (e.g. Syria, Egypt, Yemen), to village/city/town (e.g. Damascus, Khartoum, Baghdad).
Last year, I had the honor of serving on the executive board of MSU's Arab Cultural Society. As the public relations and marketing chair, I was able to create and foster a strong and unified body of Arab American students on campus. I would consider this a strong success, as there is no 'Southwest Asian and North African' option on racial databases at MSU. One of the most prominent of all cultural events in Arabic culture is the concept of 'hafla.' Hafla in English can be roughly translated to mean party, ceremony or celebration. It can be, and quite often is, perceived more as an event or a gala. The MSU Arab Cultural Society puts on a Hafla event open to all students each spring term and was fortunate enough to have brought it back this spring.
An important organization I am a part of that blends into my career path is the National Arab American Medical Association's Nextgen program. The National Arab American Medical Association, or NAAMA, is the largest international organization of Arab American physicians and students and is dedicated to promoting the professional development and cultural identity of health care professionals with roots in the Arab world. Its Nextgen program provides opportunities for undergraduate students to network and join a community of like-minded individuals academically, professionally and culturally to support the entirety of their careers. I recently worked on a project in which I helped develop a national clinical research educational module for the future use of others researching with the association.
In broader examples of importance, it is imperative that Spartans not only recognize and observe April as National Arab American Heritage Month, but to appreciate and pay respects to the struggles and triumphs of their Arab peers and those Arabs who have had an impact on MSU, like Dame Zaha Mohammad Hadid, a world-renowned Iraqi Pritzker Prize-winning architect, artist and designer, who designed the Eli and Edythe Broad Art Museum at MSU.
I urge you, the readers, to be the generation that bridges the gap between the Western and Eastern communities. Highlight and support your Arab and Arab American peers in their efforts and not only appreciate their customs, culture and traditions, but also honor their struggles and hardships.
I'll close with a quote from Suher Adi, formerly of the Arab American Institute: "Things need to change — but they won't if we remain undercounted. How can we advocate for the issues that matter to us if we are not visible?"