Sally Becker has worked in Michigan State University's Contract and Grant Administration for 15 years. She assists with the execution of non-sponsored program agreements, including memorandums of understanding or MOUs, service contracts and consignment gifts. In addition, she processes payments on sponsored research accounts and performs visual compliance screenings. Becker works closely with the Animal Care Program and Research and Innovation.

Contract and Grant Administration or CGA is responsible for post-award administration and assists with the financial and contractual administration of grants, cooperative agreements and contracts. During fiscal year 2021, CGA assisted in the management of more than 4,000 sponsored program accounts and approximately $600 million in expenditures.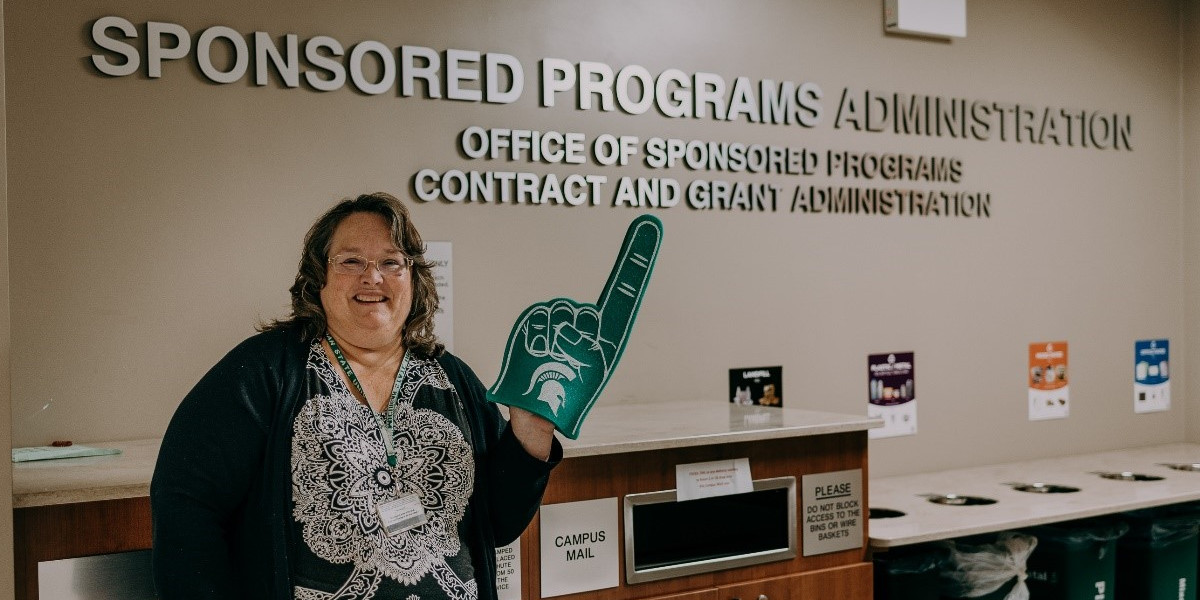 Photo by Emily Farrell
Quite simply, my colleagues and I ensure MSU is spending grant and contract dollars as the agreement states we should. This might seem cliché, but I feel we must really believe in the university's mission in order to be good at our jobs.

MSU is a top-tier research institution with excellent designations. This allows us to recruit the very best faculty to our campus and receive high-caliber grant awards. To draw the best, you have to be the best.

Since we collaborate with so many other offices on campus, and sometimes other universities, our team values "Quality FIRST" — quality plus Fairness, Integrity, Respect, Service and Teamwork. We are an office that is constantly handling audits, so these values guide our work and inform the way we show up as partners. In doing so, we showcase the excellent operations and controls in place at MSU.

Last fiscal year, we completed more than 25 external sponsored program audits, including the NSF institutional audit and the USAID Afghanistan GRAIN project audit, with no material paybacks or findings related to sponsored program management. That's great news for the university because it actually costs the university if we miss deadlines, mishandle an award or perform poorly during an audit. We want to do things right the first time around to save time on the backend.

I think what I like the most about working at MSU and for CGA are the people. All of our separate but collective passion for MSU drives us, and we want to see everyone be successful. I love having a part in the exciting research going on at MSU. I truly love MSU, and we have a lot to be proud of. Go Green!