Two biomedical researchers at Michigan State University have received a total of $600,000 in high-risk, high-reward Catalyst Awards from the Dr. Ralph and Marian Falk Medical Research Trust.
Karen Liby, professor in the Department of Pharmacology and Toxicology – a shared department in the Colleges of Osteopathic Medicine and Human Medicine – and Robert Abramovitch, associate professor for the Colleges of Veterinary Medicine and Human Medicine and MSU AgBioResearch, will each receive $300,000 to fund their promising drug development projects.
"We would have been blown away if one of them had won, but they both won," says Richard Neubig, director of MSU Drug Discovery and professor in the Department of Pharmacology and Toxicology. "To have two awards coming to MSU is exciting and validates the efforts of our faculty partners in translational research and therapeutic discovery and development."

The Catalyst Awards provide seed funding to lay the foundation of biomedical research to treat and cure diseases. If certain criteria are met, the awardees could apply for the Transformational Award that provides $1 million for the project.
Novel potential for cancer treatment
For five years, Liby and her co-investigators Edmund Ellsworth, professor in the Department of Pharmacology and Toxicology and director of the Medicinal Chemistry Facility, and Ana Mendes Leal, assistant professor in the Department of Pharmacology and Toxicology, have been working on developing effective drugs for cancer, including lung cancer.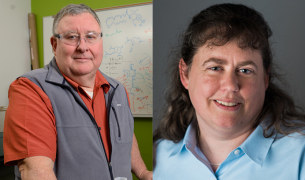 The new, two-year Catalyst grant gives Liby's team the opportunity to generate proof of concept data for MSU-42011, a compound that has shown potential to be used in cancer therapy due to its ability to alter genes involved in inflammation and cell proliferation.
The researchers plan to test the compound's effectiveness on neurofibromatosis type 1, a genetic condition that causes tumors to grow along nerves. They will test the development of the disease in mouse models, first with benign tumors and next with malignant tumors, to see if their intervention is successful.
"If MSU-42011 works on neurofibromatosis type 1, it provides the rationale for the next steps in the drug development process," Liby says. "There are still challenges ahead. It's a long process, but I'm hopeful. It's obviously exciting to get to this stage."

Liby points out these opportunities are possible because of early funding the researchers received from the College of Osteopathic Medicine and the MSU Innovation Center, including the MSU Molecular Discovery Grant, the Innovation Hub MI-Kickstart Award, and the Michigan Translational Research and Commercialization Innovation Hub Award.

Liby says this funding allowed her team to generate the data to justify the neurofibromatosis type 1 research. She also credits MSU Drug Discovery and Neubig, as well as the infrastructure for supporting drug discovery at MSU, and the "invaluable industry experience" provided by Ellsworth, her co-investigator.

"This shows how far people are able to advance drug discovery here at MSU," a major goal of building MSU Drug Discovery, explains Neubig.

Liby, Ellsworth, and Leal formed a start-up company named Akeila Bio to commercialize the technology and patent applications that cover MSU-42011 and its use in cancer indications.

Patent applications filed by the MSU Innovation Center are currently pending in the US and Europe, and Akeila Bio is working closely with the MSU Innovation Center to negotiate a license. In addition, Akeila Bio enables Liby's team to apply for other grants. The Liby Lab is part of the College of Osteopathic Medicine's Applied Immunology Center for Education and Research.
Stopping TB, one of the greatest killers
"About every 20 seconds, someone dies of tuberculosis," says Abramovitch, the recipient of the second seed grant. "We have something that kills the bacteria that causes tuberculosis really well, but it still isn't a drug for use in animals or people, so the funding is hopefully going to help us turn it into a drug."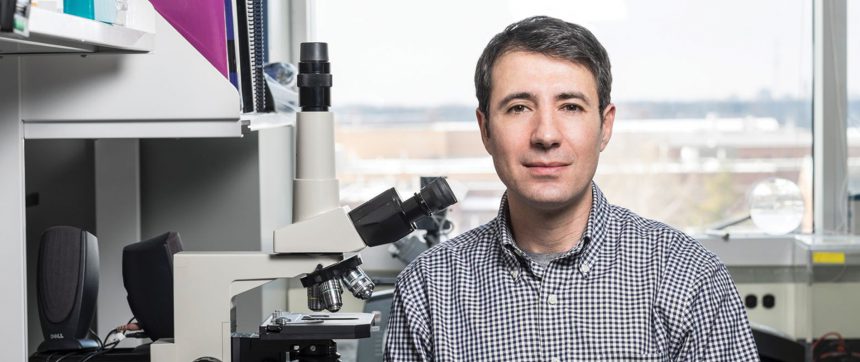 "That is what the Catalyst award is about. It's a high-risk, high-reward grant to help us overcome a barrier in our research."

Tuberculosis is the world's leading infectious killer; it recently regained its status from COVID-19. Abramovitch and his collaborators will use their Catalyst award money to develop new drugs from a series of compounds they previously discovered in hopes of inhibiting Mycobacterium tuberculosis, the bacteria that cause tuberculosis disease.

The Abramovitch Laboratory studies the fundamental mechanisms of how the bacteria causes tuberculosis to jumpstart the development of new drugs to fight the disease. But Abramovitch is first to point out the necessity of cross-departmental collaboration.

"A big reason this project happened is because of the MSU Drug Discovery organization that Dr. Neubig helped develop here," says Abramovitch. "It really provides us with almost a mini-drug company on campus. We have the people, the facilities, and technology we need to do drug development."

Ellsworth is also a co-PI on this project. Other MSU collaborators include Angela Wilson, John A. Hannah Distinguished Professor, associate dean for Strategic Initiatives, professor of computational chemistry for the College of Natural Science, director of the MSU Center for Quantum Computing, Science, and Engineering, and 2022 president of the American Chemical Society; Teresa Krieger-Burke, D.V.M., associate professor in the Department of Pharmacology and Toxicology; and Matt Giletto, research associate in the Department of Pharmacology and Toxicology.
To read more, visit cvm.msu.edu.