As a second-year student at Michigan State University College of Osteopathic Medicine and member of the MSUCOM Islamic Medical Student Association, Syed Rizvi thought others might be interested in "participating" in Ramadan – the holy month of fasting, introspection and prayer for Muslims. During Ramadan, Muslims fast from dawn to sunset, and after sunset they share meals with family and friends.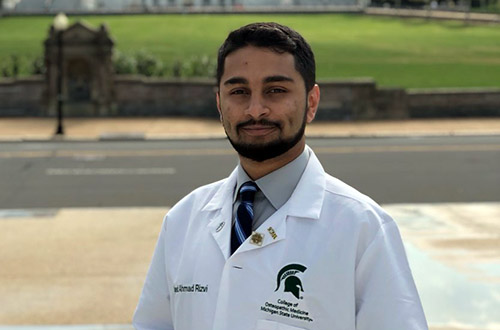 The student organization hoped getting others involved would also be the impetus of a fundraiser that would provide a water well to a village in Pakistan. The idea was to ask others to consider giving up one meal on one day during Ramadan and donate the money that meal would cost to the water well fundraiser. IMSA, working with the college's International Osteopathic Medicine Organization, hosted the fundraiser during April with a goal of raising $600 to provide one well to a large Pakistan village. They surpassed their goal and are also supplying a small well to another village.
"It starts with Ramadan itself," Rizvi said. "One of the biggest things is to help the less fortunate and I wanted to see how we could integrate this into our college."
"We thought, what happens if we just ask everyone to skip one meal for one day and donate what would have been spent on that, giving it for those less fortunate. It was a neat way to introduce people to what Ramadan is while trying to engage those in the college in something they could actively participate."
To read the full story, visit the College of Osteopathic Medicine website.