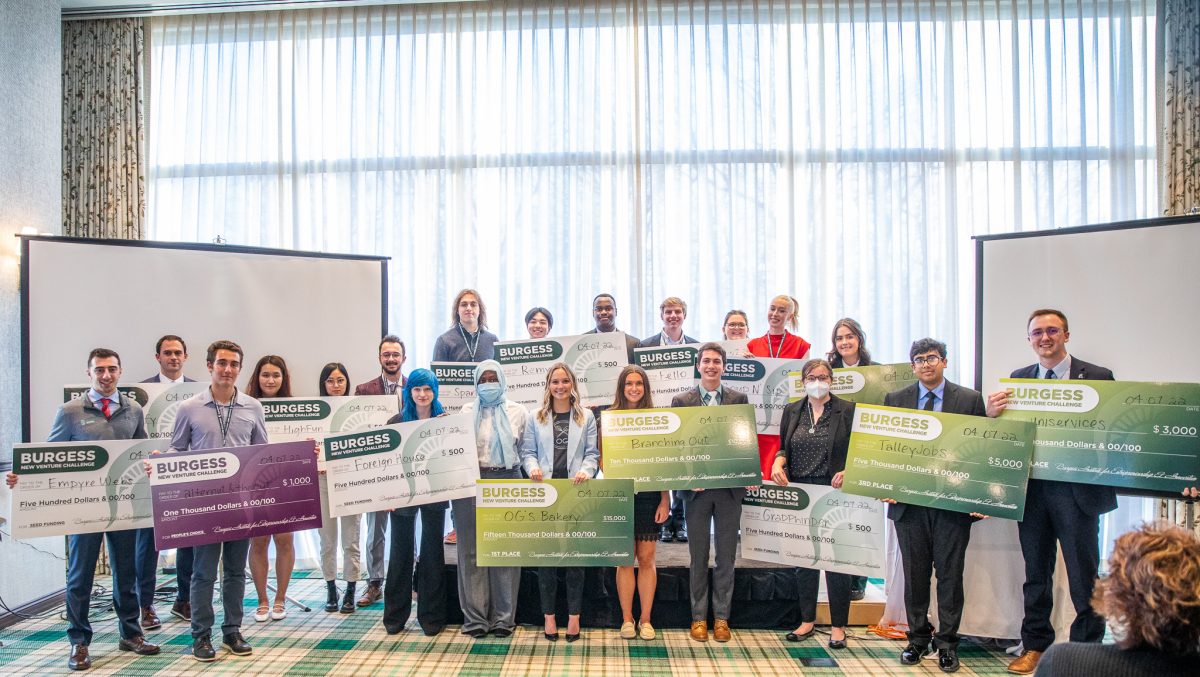 Burgess New Venture Challenge semifinalists
The Burgess New Venture Challenge, an early-stage pitch competition bringing together Michigan State University student entrepreneurs and business leaders, announces the winners of its fourth annual contest. On April 7, at the Graduate Hotel in East Lansing, 15 Spartan student teams pitched their startup ideas to a panel of expert judges. All were competing for their share of more than $40,000 in total scholarship prizes.
"The Burgess New Venture Challenge is more than a competition," said Ken Szymusiak, managing director of academic programs at the Burgess Institute for Entrepreneurship and Innovation. "It's a motivational force. Students draw on their experiential learnings, shaping and refining their startups. We couldn't be prouder of these Spartans who've dedicated their time and talents to building something new."
This year over forty teams applied to be part of the Burgess New Venture Challenge, with 15 semifinalists rising to the top.
To qualify to compete, BNVC team members must be enrolled students at MSU (undergraduate or graduate) and be in good academic standing. Applicants must be active participants in the Burgess Institute's Discovery or Launch Programs. Once selected, semifinalists must commit to attending group practice sessions, meet with assigned venture coach mentors, and demonstrate movement toward their tailored milestones. Winning ideas must use awarded cash toward accelerating their startup ideas.
And The Winners Are:
These MSU student startups presented their most robust cases to 2022's Burgess New Venture Challenge judges and, as a result, took home the top prizes:
First place: $15,000: OG's Bakery (Olivia Gargett, Eli Broad College of Business).OG's Bakery is a custom cake pop company with the mission to spread sweetness at small and large events. These treats taste and look amazing and provide an experience for customers.

Second p

lace: $10,000: Branching Out (Avery Tilley,

College of Agriculture & Natural Resources, Honors College)

.

Branching Out is your supplier of fully customizable, grafted fruit trees yielding sustainable and organic peaches, plums, lemons, and more, all from the same single tree growing comfortably in your living room.

Third place: $5,000: TalleyJobs (Shreesha Maddur,

College of Engineering)

.

TalleyJobs is a job board website that solves the inconvenience, repetitiveness, and significant time commitment of the job searching process by automating and optimizing it through a matchmaking algorithm.

Fourth

place: $3,000: Uniservices

(Adam Green,

College of Law

).

Uniservices is the Uber of odd jobs. It uses a mobile and web app to connect college students to residents in their communities to complete everyday chores.

Fifth p

lace: $2,000: The Cut

(Madison Marsh,

College of Agriculture and Natural Resources)

.

The Cut is a cooking, health, and wellness brand emphasizing the importance of shopping local and sharing the beauty Michigan offers. The brand's cookbook has over 100 fun, simple, and stress-free recipes.
The Burgess New Venture Challenge attendees held sway in choosing two People's Choice Awards. These awardees earned $1,000 each: AlterNut and The Cut.
Each of the remaining semifinalist teams took home $500 in seed funding.
The Burgess New Venture Challenge's programming launched in the fall of 2018. The newly formed competition combined two MSU contests — Greenlight Michigan and the Broad Business Model Competition.
"Our mission is centered around creating unforgettable learning experiences," said Paul Jaques, managing director for venture creation at the Burgess Institute for Entrepreneurship and Innovation. "The connections these student entrepreneurs make — with each other and with the experienced mentors, judges, and attendees from across the entrepreneurial ecosystem — is all a part of setting them up for success."
About the Burgess New Venture Challenge
The Burgess New Venture Challenge promotes entrepreneurship, leadership, and innovation at Michigan State University. The competition identifies strong Spartan startups, provides mentorship and team development workshops, and culminates in a year-end showcase event. 2022's event was held on April 7, 2022, at the Graduate Hotel in East Lansing from 4-8 pm. Find out more about the Burgess New Venture Challenge at eship.msu.edu/burgessnvc.
About the Burgess Institute for Entrepreneurship & Innovation
The Burgess Institute for Entrepreneurship & Innovation empowers students to learn through action by providing programs, courses, and resources to foster an entrepreneurial mindset, develop empathy, and create new ventures. Our program is designed to prime students to embrace failure mindfully, explore unknowns, and develop skills that matter. Find out more at eship.msu.edu.
This story originally ran on the Burgess Institute for Entrepreneurship & Innovation website.