Michigan State University is one of five institutions selected by the Association of American Universities, or AAU, to pioneer new and better approaches for evaluating teaching and learning in undergraduate STEM departments.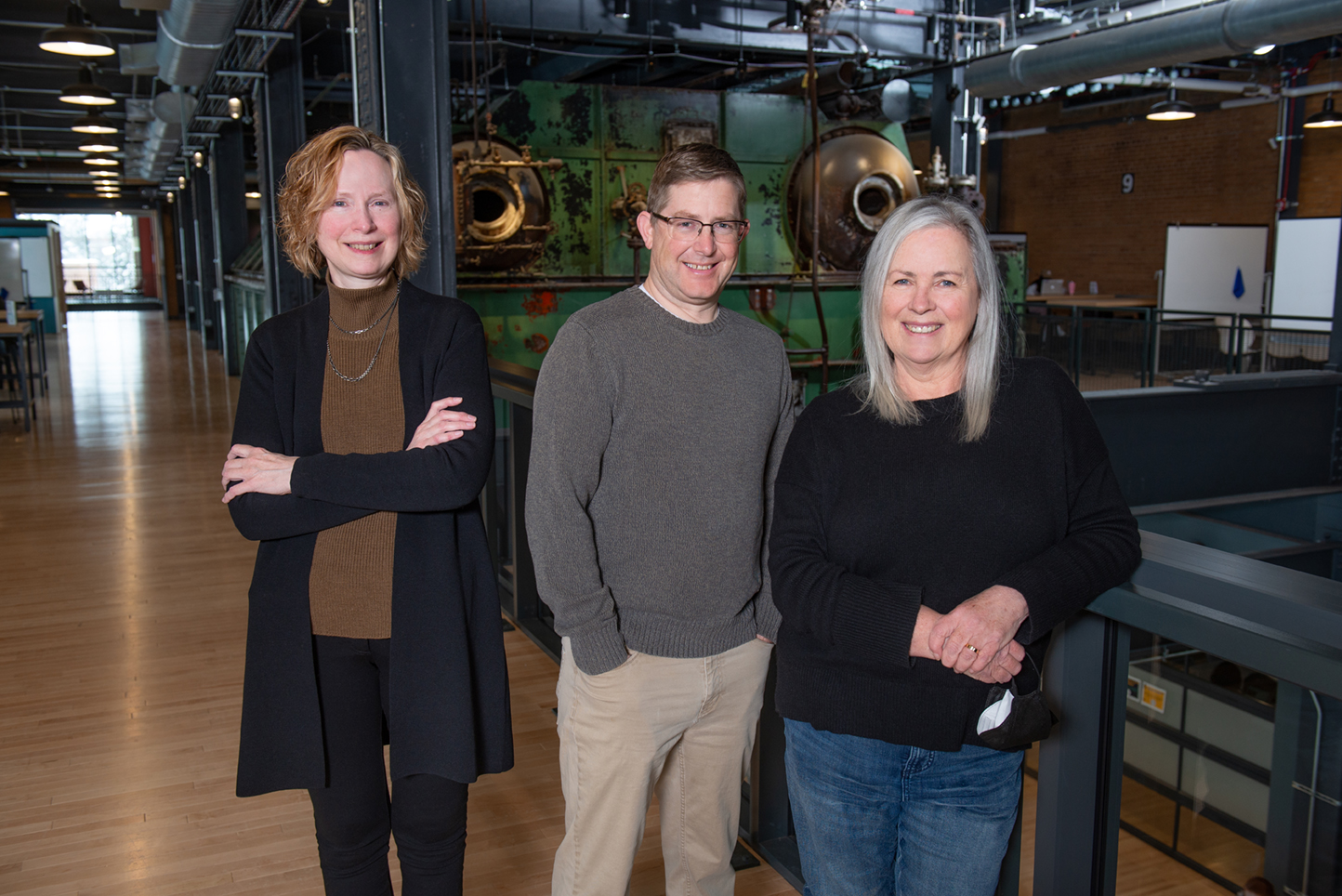 MSU chemistry faculty are leading the effort to take a new vision for evaluation of teaching engagement centered on student learning from concept to practice in undergraduate STEM departments. Project leaders are, left to right: Lynmarie Posey, Timothy Warren and Melanie Cooper. Credit: Harley J. Seeley
Experts agree that the current methods used to assess teachers in science, technology, engineering and mathematics courses are fundamentally flawed, despite being used at universities across the United States. Now, with support from the Sarah Gilbert and Carl Wieman Charitable Fund, AAU is working to address those flaws.
To do this, AAU has enlisted MSU's Department of Chemistry to serve as one of the leaders in creating more meaningful and productive methods that can be implemented at any university.
"These are meant to be demonstration projects," said Timothy Warren, a Rosenberg Professor and the chair of the Department of Chemistry. "We have plans for an experiment, and we're looking forward to running it to come up with more effective ways to use teaching evaluation to improve student performance."
"That's what we really want, we want to support student learning," said Melanie Cooper, professor of chemistry and a Lappan-Phillips Professor of Science Education. "And the typical ways of evaluating teaching haven't really helped that."
Warren and Cooper are leading the new AAU-backed project, along with Lynmarie Posey, an associate professor of chemistry and associate dean for undergraduate studies in the College of Natural Science. The team's proposal grew out of work the college was already doing to revisit its existing evaluation process, which relied heavily on student evaluations, as is the norm.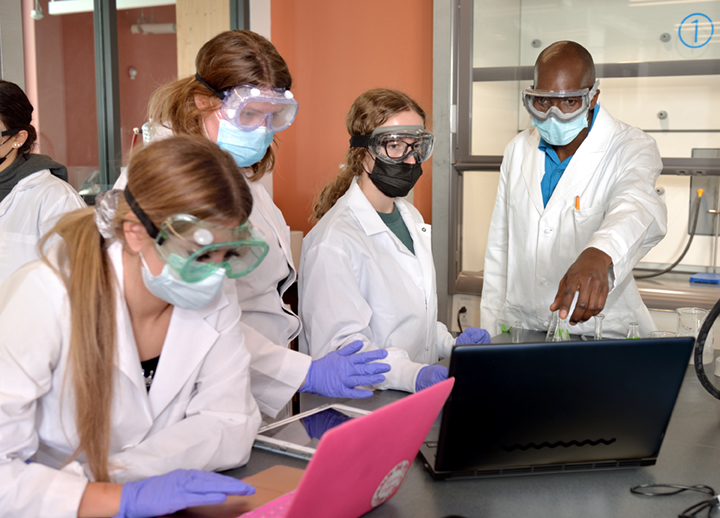 One of the first experiments of its kind in higher education, MSU's demonstration project is part of an effort to create more meaningful and productive methods for evaluating teaching and learning in undergraduate STEM departments — not only at Michigan State, but at any university. Credit: Harley J. Seeley
"We are excited to lead the effort to take this new vision for evaluation of teaching engagement centered on student learning from concept to practice," Posey said. "This project in the Department of Chemistry will serve as a pilot for the approach that we hope to see implemented across the college."
Research shows that student evaluations do not correlate with student learning or the effectiveness of pedagogy, AAU pointed out. MSU isn't getting rid of student evaluations, but it is adding new components designed to support faculty as they become more engaged in the process and give them more agency in their development.
"The traditional approach to faculty teaching evaluations does not really provide a way to improve. When you get an evaluation, you're either happy, frustrated or confused," Warren said. "The scores and comments don't necessarily put you on a path to progress."
What the department is doing is integrating a reflective component. Teachers will set a learning goal and assess how well students reach that goal, which is typical. The new component is asking teachers to reflect, in writing, on what changes they can make to improve student performance.
"This reflection sets a direction," Warren said. "It charts a path forward on the teaching side and student performance side."
By implementing those changes, then assessing and reflecting again, faculty become engaged in a continual cycle to promote growth. They can also start to ask better, more targeted questions on their student evaluations, Cooper said. That, in turn, makes those evaluations more useful moving forward.
"I am delighted that MSU's own Department of Chemistry is at the vanguard of evaluative reform. Faculty in the College of Natural Science have consistently demonstrated their commitment to innovate across the pedagogical landscape," said MSU Provost Teresa K. Woodruff, Ph.D. "Now they are turning a critical eye on how student evaluations fit into that landscape. I have no doubt AAU, and MSU educators in particular, will benefit from the new student-performance components our Department of Chemistry educators are building in the teacher evaluation process. These faculty are a case study in why MSU is known as a leading educational institution."
And though this may sound like a straightforward plan, it's outside-the-box thinking for STEM in higher education.
"If you engage with the process, there's no way that your students don't see improvement," Cooper said. "But this is hard. This is something that people are not used to doing."
As Warren said, it's an experiment. But scientists are good at experiments and MSU's chemists are eager to perform this one. The department's faculty voted unanimously in support of the new approach. The project also has seven chemistry faculty serving in advisory roles: Assistant Professor Selvan Demir; Professor Jetze Tepe; Professor Thomas Hamann; Director of Undergraduate Programs Chrysoula Vasileiou; Director of General Chemistry Amy Pollock; Professor David Weliky; and Professor Gary Blanchard, who is also the associate chair for education.
AAU has bought into the experiment, too, investing one of its five $100,000 grants in the department. This grant, though, is about more than the funding. AAU is saying that this is a problem that needs to be solved and one that should be solved by AAU members, Cooper said.
"They very fact that AAU said that AAU institutions have to do something about this problem, that gets attention way beyond the money," she said.
"AAU believes in us and they see us as leaders in education," Warren said. "We're really fortunate to be on the cutting edge at MSU with Melanie's leadership and the work already being done in NatSci. This is going to be one of the first experiments of its kind in higher education."