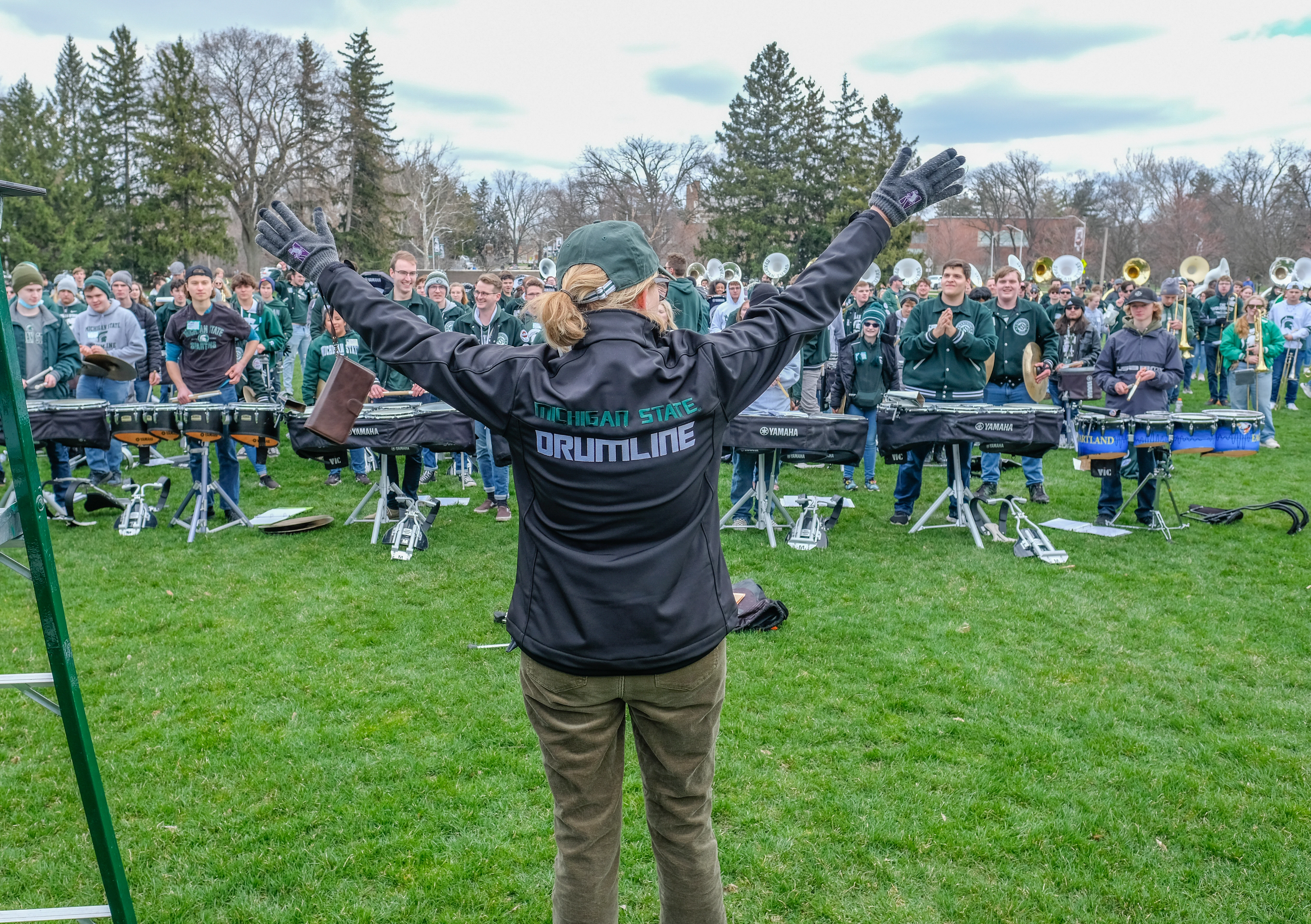 MSU Provost Teresa K. Woodruff, Ph.D. and the Spartan Marching Band. Photo by Derrick L. Turner.
"This is a first," Tom Izzo, MSU men's basketball coach, said in his speech to attendees of Admitted Student Day at the Breslin Center. "How cool and exciting it is for all of us!"
On April 16, MSU began a new tradition with Admitted Student Day: an exciting, daylong campus event attended by more than 7,000 people from 37 states and three countries, including 2,313 admitted students and their guests.
Admitted Student Day is the first event of its kind and scale at MSU. It was a huge celebration of admitted students and their families with current students, faculty and staff coming together to welcome them to the MSU community. The day began with more than 100 unique open house sessions across campus and a student life fair at Breslin Center with more than 75 student organizations. From there, admitted students enjoyed a pre-show and a pep rally featuring speakers like President Samuel L. Stanley Jr., M.D. and Coach Izzo, and then headed over to Spartan Stadium to watch the Green and White Spring Football Game.
It was a powerful way to immerse admitted students in Spartan life. And this brand-new event was developed, planned and executed in only eight weeks.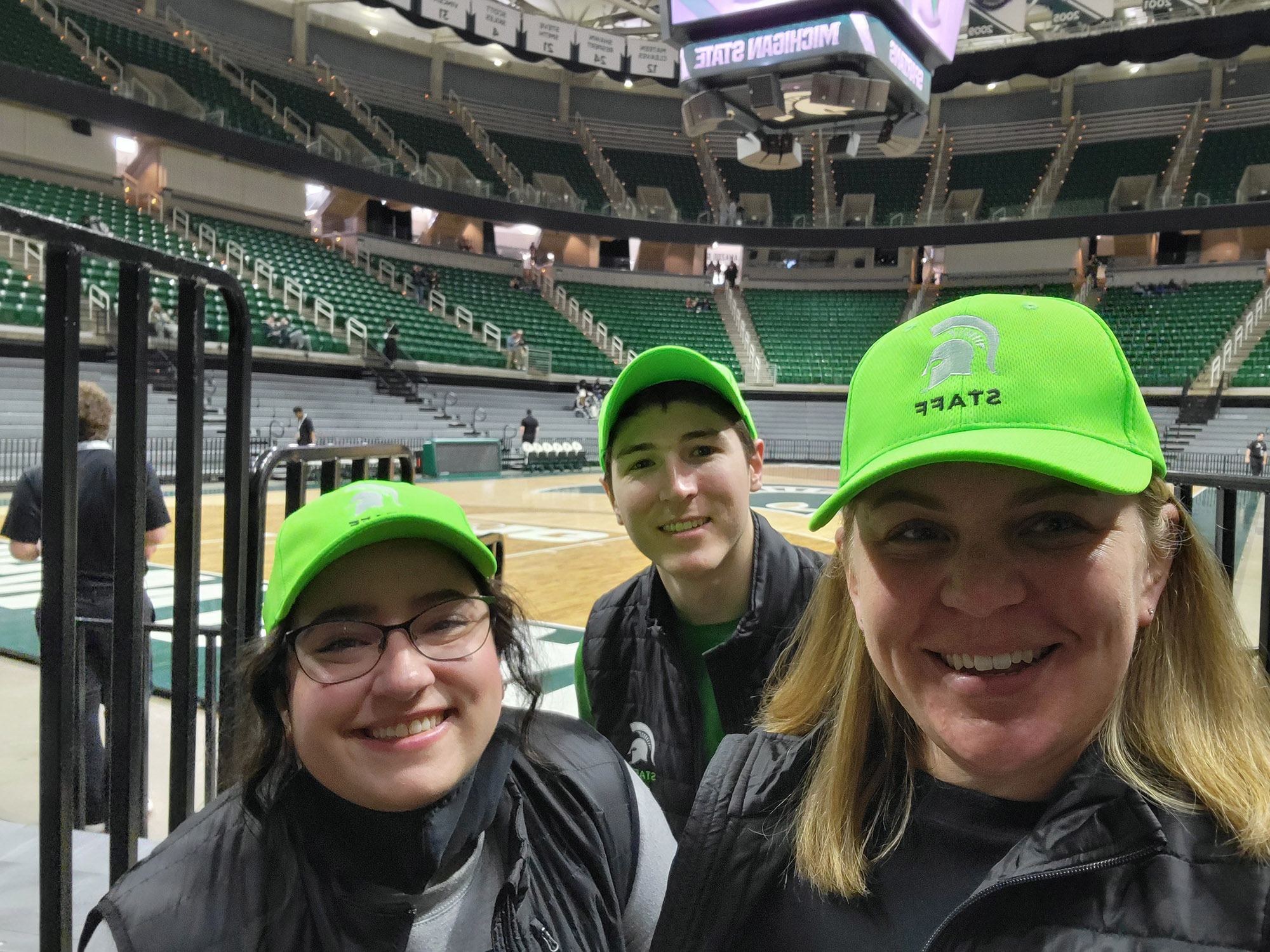 The admissions marketing team prepares to welcome students to the Breslin Center (from left to right: Hannah Shatara, Michael Brichta and Julia Janssen)
An instrumental leader in making Admitted Student Day happen and succeed is Julia Janssen, director of marketing and communications in MSU's Office of Admissions. She joined MSU 10 years ago after working seven seasons in Minor League Baseball as director of marketing for the Lansing Lugnuts. Originally a one-person marketing team, she now leads a group of 10 people on the admissions marketing and communications team to meet the recruitment demands of today's economy.
"Many universities offer variations of an Admitted Student Day, and it was something I've always wanted to do at MSU," Janssen said. "Perhaps I had a unique vision for it from my background in entertainment at the Lansing Lugnuts, but I knew a big event like this could be so emotionally powerful. We have such amazing facilities and research happening on campus, and we wanted to highlight that in a fun way and feature current students as much as possible."
Planning and partnership
Since there were COVID restrictions on in-person visit capacity for most of the MSU admissions recruitment cycle, Janssen and the admissions department were determined to find a way to meet the demand for campus visits before the May 1 admitted student decision deadline. "Once we knew COVID protocols were lifted and had approval, we really had about eight weeks to get everything planned," she said.
While honing the vision of the event and collaborating to quickly develop the project timeline and tasks, Janssen and admissions event coordinators also began reaching out to partners in many other departments and colleges. "The largest challenge with any new event is getting awareness and buy-in across campus," Janssen said. "Sharing our vision and asking colleges to create something new and unique, particularly for this many guests with short notice, was a big ask — this could never have happened without the rest of campus getting on board with the concept for the day."
A brand-new challenge for the admissions office was trying to prepare for an event that could accommodate up to 10,000 guests, with adequate parking, food and refreshments, and much more. In addition to intense logistical problem solving, another challenge was finding a balance between promoting the event quickly while also securing a wide number of campus partner participants, student organizations and more.
"This event was successful because all our campus partners embraced the idea of highlighting their programs or facilities to students in a new way, despite the challenges in planning this quickly," Janssen said. "Provost Teresa Woodruff was enthusiastic about the program from the start and really helped us garner more attention and participation across campus."
Spartan Spirit celebration
After attending open house sessions across campus, admitted students and their guests congregated at Breslin Center to check out different MSU departments and student organizations at the student life fair.
Then, the celebration kicked off with a pre-show and pep rally featuring fan favorites like Sparty and Zeke the Wonder Dog and performances by award-winning student a cappella group Accafellas and the MSU Spirit Squad cheer and dance team. Speakers from the Resource Center for Persons with Disabilities, the Solar Car Racing Team student organization and the first-year Cornerstone Engineering and Residential Experience also introduced their groups to the crowd of admitted students.
Meanwhile, things were moving at lightning speed behind the scenes. "I was floor directing the pep rally, so I was wearing a headset and cueing the guests, microphones, music, lights and video," Janssen said. "I didn't realize I was going to be doing that, so it was a bit of a sharp learning curve under pressure. I was definitely sweating through the whole pep rally!"
President Stanley came out to greet students and share his dedication to making MSU a safe and welcoming campus for everyone and a "destination where people want to come because they know they can succeed," due to the lifelong support that students receive. He was followed by Coach Tom Izzo, who has been at MSU for 38 years. He spoke about the diversity of the university, the beautiful campus and the friendly, supportive Spartan community. "I want to tell you that I wouldn't trade this place for the world ... because it's everything I believe in," Izzo said. "This is a university for the students."
The day concluded with the Green and White Spring Football Game, where admitted students and two of their guests received a voucher to eat for free in Spartan Stadium.
Sparty at Admitted Student Day in the Breslin Center
Looking to the future: a new tradition
Across campus, MSU faculty, staff and current students joined together to give admitted students a warm Spartan welcome.
This year's event was just the beginning.
In a survey of attendees, 84% of respondents rated the overall event as "good" or "excellent". "As a student, I felt welcomed and wanted and it was amazing to see and hear Tom Izzo talk about his experience at State," wrote one attendee. The admissions team is also considering all feedback and suggestions from survey participants to make next year's Admitted Student Day even bigger and better.
"I work in admissions because I want to help students find their right college choice," Janssen said. "It's humbling that our work to showcase MSU may have a lifelong impact on their decision to attend MSU. And I'm glad to work with a team that isn't afraid of innovation or hard work to get to an end goal that is so impactful."