The Broad College's Multicultural Business Programs Level Up Academic Center, on the second floor of the Eppley Center, features new artwork. Students can now enjoy the warm, welcoming space while admiring creative wall art that celebrates diversity and inclusion.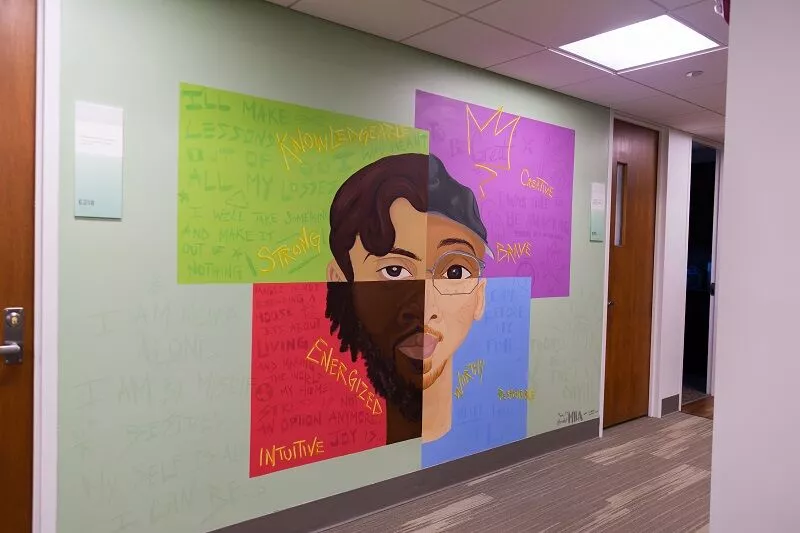 Over the summer, MBP commissioned a Lansing-based artist to paint murals on two of the study lounge walls, and the space now looks more colorful than ever. Painted by visual artist Mila Lynn, the murals are mosaics of faces of people with different identities to represent the diverse student body involved in MBP.
The idea to bring artwork into the academic space came from MBP's commitment to amplifying the voices of minoritized students, sharing their campus experiences and helping them create meaningful and empowering connections.

"We put our students front and center when designing the Level Up center. It is truly a space for students, which houses our tutoring services and offices for our seven student organizations," said, Ed Tillett, director of MBP. "This academic space was created for students, so we strive to best tailor it to their needs and wants. Looking at the blank walls in the lounge, I thought to myself, 'Why not get creative and decorate them with our very own customized, original art?' And that's how the idea came to life."

Diversity is MBP's greatest asset, and that's something that Tillett wanted to lean into.
To read more about the new murals, visit broad.msu.edu