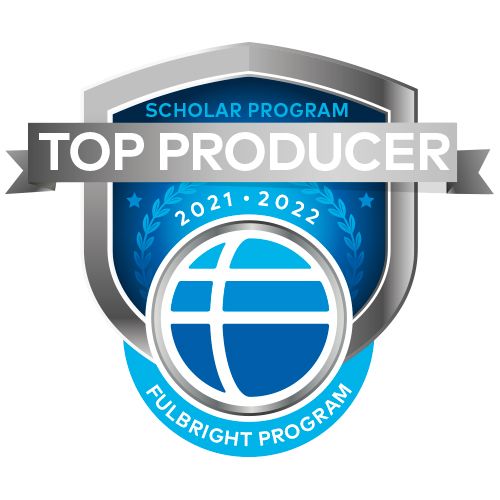 Michigan State University has again been named a top producer of Fulbright U.S. Scholars — establishing MSU as the only research institution in the U.S. to achieve this status for the last eight years. With 11 Scholars, MSU is also notably the second-highest-producing institution this year.
Eleven faculty members received Fulbright awards for 2021-2022, representing the following colleges:
College of Arts and Letters
College of Communication Arts and Sciences
College of Engineering
College of Natural Science
College of Social Science
Residential College in the Arts and Humanities
"As a globally focused institution, MSU provides a fertile ground for international work," said Ashley Green, assistant dean for administration and director for diversity, equity and inclusion at MSU International Studies and Programs. "MSU's Fulbrighters offer both innovative and practical global solutions to our shared challenges, particularly through their research grant experiences in areas like language teaching, demography, communications, virtual archives and so much more. We are deeply proud to be a longstanding top producing Fulbright institution."
The Fulbright Program was established more than 75 years ago and has celebrated more than 400,000 participants since its inception. Each year the U.S. Department of State's Bureau of Educational and Cultural Affairs announces the top-producing institutions for the Fulbright Program. The Chronicle of Higher Education publishes the list annually.
"We congratulate the colleges and universities we are honoring as 2021-2022 Fulbright Top Producing Institutions," said Ethan Rosenzweig, Deputy Assistant Secretary of State for Academic Programs in the U.S. Department of State's Bureau of Educational and Cultural Affairs. "We thank the leadership of these institutions for supporting their faculty and administrators who pursue Fulbright awards. In return, these institutions benefit from new, global perspectives and new international collaborations, which can positively impact local and global communities. Fulbright U.S. Scholars expand the scope and reach of their research, expand networks and further development of sectors which work to address local and global challenges."
The Fulbright program is the U.S. government's flagship international educational exchange program and offers MSU's 2021-2022 Scholars professional opportunities in more than 10 countries on six continents.
"We're particularly proud that this group of Scholars includes two recipients of the highly-competitive Global Scholar Award, furthering MSU's global engagement through multi-country, trans-regional projects," said Joy Campbell, MSU Fulbright program advisor. "MSU's Fulbright Global Scholars represent approximately 10 percent of the current cycle's total recipients for this specific award."
Students, scholars, teachers, artists and professionals of all backgrounds and fields have the opportunity to study, teach and conduct research, exchange ideas and contribute to finding solutions to important international problems. The global network of Fulbrighters fosters mutual understanding between the U.S. and partner nations, advances knowledge across communities and improves lives around the globe.
Learn more about the Fulbright U.S. Scholar Program. This article was originally featured on the International Studies and Programs website.