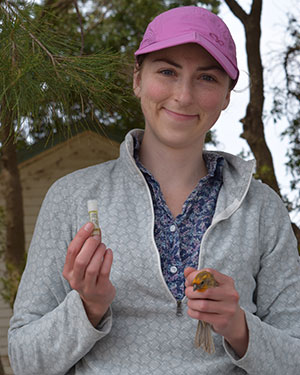 It is a fundamental fact of life that the survival of our species is dependent on nations around the globe producing sufficient amounts of nutritious food.
However, when we look to point a finger at the largest contributors to the decline in global biodiversity, the increase in greenhouse gas emissions, and the leading sources of nutrient loading, pesticide pollution and the decline of our sources of fresh water, it's no secret that agriculture is a major culprit. Many would argue that a major factor in the long-term health of our planet, and ultimately us, is dependent on reducing these negative impacts of food production. But, just what combination of farming strategies will produce sufficient nutritious food, minimize environmental harm, and improve natural, social, and human wellbeing?
That question has been an ongoing theme in the work and research of Olivia Smith, a postdoctoral fellow with the Center for Global Change and Earth Observations, the Ecology, Evolution, and Behavior program at MSU, and the National Institute of Food and Agriculture. In "Identifying Farming Strategies Associated with Achieving Global Agricultural Sustainability," a new study recently published in the journal Frontiers in Sustainable Food Systems, Smith and her colleagues set out to explore and evaluate a variety of strategies designed to promote sustainable food systems that serve as a key part of the United Nations Sustainable Development Goals. SDGs include such desired outcomes as no poverty, zero hunger, good health and wellbeing, quality education, decent work, economic growth and reduced inequalities.

"Increasing use of pesticides, fertilizers, and irrigation within traditional agriculture over the past century has certainly led to a dramatic increase in the food supply and other products, but those gains have often been at the expense of our environment and public health," said Smith. "When we look at farming strategies that we believe are best suited to promoting long-term environmental and socioeconomic sustainability, these typically include reducing inputs such as fertilizers, pesticides, and freshwater, substituting conventional crops with genetically modified alternatives, and using organic production methods."

However, while debate remains as to which systems, or combinations or systems, are most able to achieve sustainable food systems, more research has focused on the merits of these approaches, rather than looking at how socioeconomic and food production factors relate to the adoption of these strategies. For example, do the socioeconomic conditions of a country drive the implementation of certain agricultural strategies, or does the implementation of agricultural strategies drive the development of the country?

To answer these questions, Smith and her team collected data from the United Nations Food and Agriculture Organization, United Nations Human Development Programme, the World Bank and other global databases pertaining to the environmental, economic, social, and production aspects of food systems in 121 countries. The team's analyses suggests that countries that are most on track to meeting the United Nations SDGs are currently practicing high levels of organic agriculture and those least on track to reach climate action goals were those with the highest input intensities, but countries with the highest prevalence of GM production had reduced agricultural emissions.

For the full story, visit globalchange.msu.edu.