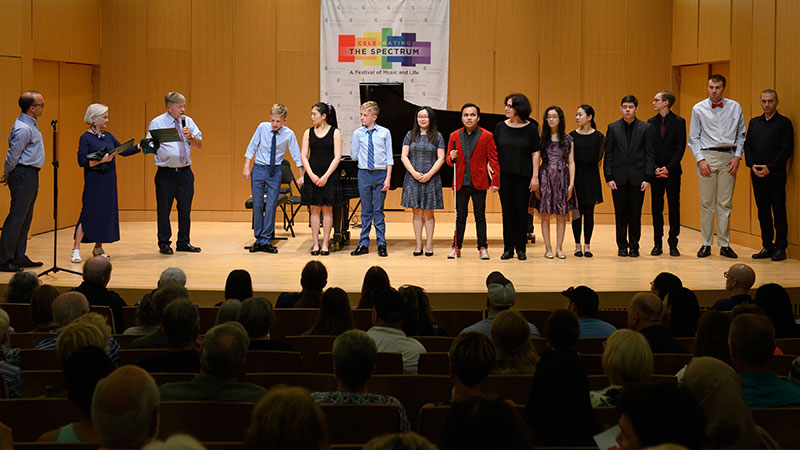 "Celebrating the Spectrum: A Festival of Music and Life" will take place July 25-30, renewing an innovative piano program after a two-year pandemic hiatus.
Providing advanced music students on the autism spectrum with instruction, performance opportunities, lectures and on-campus living, this beloved program immerses students into a complete collegiate experience. This one-of-a-kind summer piano festival created by artists at the MSU College of Music offers students a glimpse into the life of a music major with a rigorous schedule that culminates in their own public recital.
Click here for details about events that are open to the public.
"Celebrating the Spectrum is a true celebration of the artistry, sensitivity and musical potential of these talented young adults," says Professor Deborah Moriarty, program co-founder and chair of the Piano Area at MSU. "The intense weeklong festival is an inspiration for all involved, and we invite everyone to join us for the final recital on July 30."
In addition to the experience the program creates for its students, a primary goal of Celebrating the Spectrum is to improve perceptions about the potential of students on the autism spectrum attending college. Program organizers hope that it makes a meaningful contribution to research and teaching methods, and they have traveled to local, national and international events to speak about autism, piano pedagogy and the program's positive outcomes.
"After an unfortunate break, we are excited to bring back this festival which has established itself as an effective learning environment for cultivating the talents of advanced pianists on the autism spectrum," says Professor Derek Polischuk, program co-founder and Director of Piano Pedagogy at MSU. "We are excited to welcome new and returning students, track their progress and create a tremendous experience for them as they are immersed in this full week of learning."
For the full story, visit music.msu.edu.