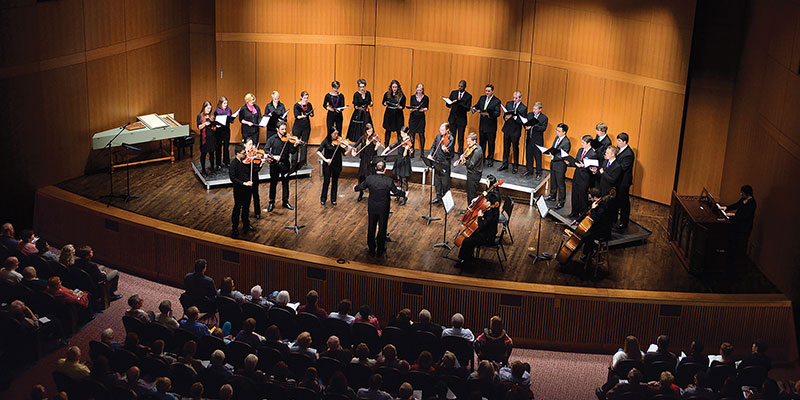 The 13th season of the College of Music's beloved Joanne and Bill Church West Circle Series begins with a musical celebration featuring the best of the Baroque era Monday, Oct. 17th at 7:30 p.m. in Fairchild Theatre.
Best of the Baroque will focus on the works of three composers — all born in 1685 — who went on to become three of the most influential composers of the era. The evening's program features the music of Georg Friedrich Handel, Johann Sebastian Bach and Domenico Scarlatti, celebrating the depth and breadth of Baroque music with performances that range from solo harpsichord to organ concerto, and concluding with choir and orchestra. Visit the ticketing website to purchase tickets.
The concert will include Sonatas for Keyboard and Sonata for Solo and Continuo by Scarlatti, the Trio Sonata in G major by JS Bach, and Handel's Concerto in F Major for Organ and Orchestra and Dixit Dominus. Featured artists are Nicola Canzano, harpsichord; Richard Sherman, flute; I-Fu Wang, violin; Hae Won Jang, organ; Melanie Walker and Paige Heidrich, sopranos; Natalie Sweeney, mezzo-soprano; student musicians with MSU Orchestras, and the University Chorale conducted by David Rayl.
"The College of Music is delighted to welcome new colleagues Nicola Canzano and Hae Won Jang. It is very exciting to add harpsichord and organ study to our keyboard offerings and even more exciting to be able to introduce these wonderful musicians to our West Circle Series audience," said Deborah Moriarty, pianist and artistic director of the series. "The West Circle Series has become a treasured favorite of our music calendar through the enduring and generous support of Joanne and Bill Church. We invite you to join us in this opening concert of our 13th annual season."
For the full story, visit music.msu.edu