Michigan State University has joined 11 other colleges and universities from Michigan, Indiana and Ohio to address national priorities for semiconductor and microelectronics research, education and workforce development.
As part of the network of schools, MSU will collaborate with the other institutions to innovate ways to bring the semiconductor and microelectronics supply chain to the Midwest and expand supply chain ecosystems through groundbreaking research and developing top talent.
"Michigan State's research and talent development assets position us well to foster this crucial industry here at home," said MSU President Samuel L. Stanley Jr., M.D. "With our Midwest partner schools, we will help create technology jobs, strengthen our regional economies and amplify our nation's manufacturing competitiveness."
Comprising the Midwest Regional Network to Address Needs in Semiconductor and Microelectronics are:
Case Western Reserve University

Columbus State Community College

Lorain County Community College

Purdue University

Sinclair Community College

The Ohio State University

University of Cincinnati

University of Dayton

University of Michigan

University of Notre Dame

Wright State University
The network is open and expects to grow its membership. Each of the founding institutions' presidents signed a memorandum of understanding identifying three initial actions to move this important work forward:
Develop a common, secure, information-sharing platform to make it easier to identify expertise, equipment, facilities, and curricular programs of interest in order to facilitate joint programming, research, and/or outreach initiatives across the network.

Encourage regional collaborations and promote workshops around opportunities to pursue funding opportunities that will grow regional capacity to support identified needs across the semiconductor and microelectronics ecosystems.

Develop pilot mechanisms to connect existing research, facilities, and curricular/training assets across the region to optimize their use to address regional needs and opportunities.
"I am delighted that MSU is part of this network and this important endeavor," said Leo Kempel, dean of the College of Engineering at MSU. "This effort aligns perfectly with our mission to train and educate the next generation of technical talent to meet critical national and regional economic development needs."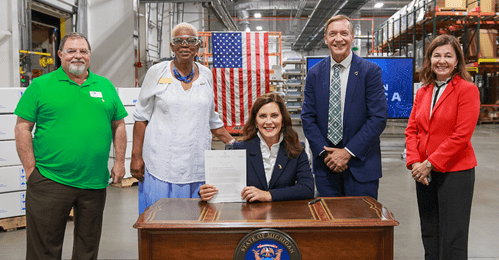 The announcement of the network comes just two days after Stanley joined President Joe Biden and Gov. Gretchen Whitmer in Hemlock, Michigan, for the ceremonial signing of the CHIPS and Science Act – a bill designed to invest in American semiconductor manufacturers and improve the domestic supply chain.
"It was my pleasure to join President Biden, Gov. Whitmer and our Michigan delegation at the signing of this historic bill investing in America's technology manufacturing capacity and building a diverse STEM workforce," Stanley added. "Our state is leading the way, and research partnerships like the one we are announcing today will position Michigan and the Midwest to meet the nation's needs and grow a sustainable and reliable semiconductor supply chain."