When a child is diagnosed with autism, caretakers may consider placing them in a supportive clinical setting for youth to learn and grow. Youth can learn to thrive in these environments, such as with the successful MSU Early Learning Institute. However, waitlists to get into such placements can take months or even years — and during that time, children may be receiving limited structured support, if any at all, which leads to poor developmental gains that are likely to persist into adolescence and adulthood. MSU Associate Professor Matthew Brodhead is leading a solution to address this gap with the First Steps Initiative.
"We know from research that the sooner children receive behavioral intervention, the better their developmental trajectories will be," said Brodhead. "But a huge problem throughout the state and nation are waitlists to actually receive services, which can take two to three months at the very least. What First Steps is trying to do is provide immediate, critical support to families and youth."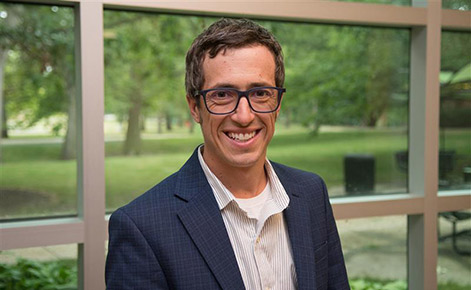 Matthew Brodhead
Full-time, community-based support, like the type offered at MSU's Early Learning Institute, brings children into a clinical setting for 35-40 hours a week to learn and grow from applied behavior analysis techniques before entering general or special education classrooms. First Steps, under the umbrella of ELI, is providing in-home support to children and families on the ELI waitlist to begin building foundational learning before entering a clinical setting.
First Steps is unique in that it is the first program in Michigan to provide interim support in this capacity.
"There is a critical need for what First Steps offers, both locally and beyond," said Brodhead, a board certified behavior analyst-doctoral who also holds a behavior analyst license in the state of Michigan. "MSU is already leading the way through what is offered to children and families at the ELI, along with the college's high-quality master's programs in ABA. First Steps is yet another way MSU can make meaningful community impact. We hope to be a model for others to provide support to even more children."
First Steps launched spring 2022 and has already helped several children through its programming. The goal is to build enough capacity to support 10 children ages 2-5 at a time with in-home therapy. Each family will have access to not only high-quality behavioral therapists, but also internationally recognized autism experts.
Since First Steps is intended to be short term — that is, only for the duration children are on a waiting list for full-time, in-clinic support — the main goals will be critical needs like communication, toilet training, feeding and sleep concerns.
Moreover, First Steps only serves clients who carry Medicaid insurance. It can be a challenging system to work with from a logistical standpoint, but that is the point, Brodhead explained. The goal with ABA programming at MSU — including two master's programs the Early Learning Institute and now the First Steps Initiative — is not to run away from challenging situations.
"We want to step up and give support to those who need it most," he said. "That's what we do at MSU. We look around and see what the need is and produce a sustainable solution to address it."
First Steps is funded through the Early Learning Institute. Additional support is provided through Ketura Graham, Kate Colaluca and Allison White.
---
For questions on how to be a part of the First Steps Initiative, reach out to Kate Colaluca at kathryn@msu.edu.
This story originally appeared on the College of Education website.