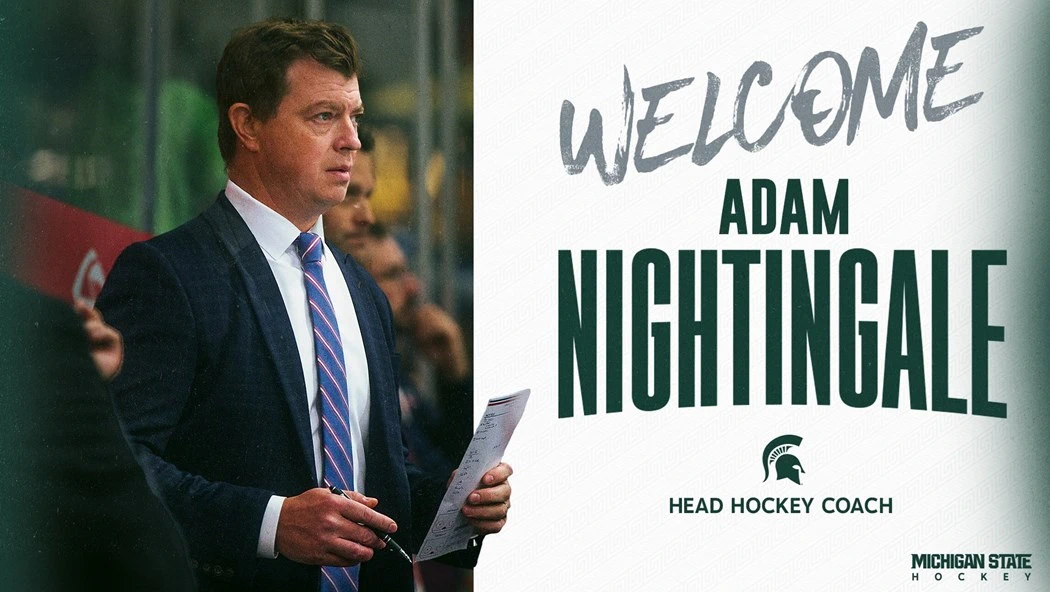 Adam Nightingale, a Spartan alumnus with hockey experience at the international, professional, collegiate and youth levels, has been named the eighth head coach in Michigan State hockey history.

Nightingale comes to MSU after two seasons as head coach at the United States National Team Development Program and brings four years of NHL experience, including serving as an assistant coach for the Detroit Red Wings in 2019-20. Known for his exceptional player development and recruiting ties, Nightingale was a two-year alternate captain as a Spartan student-athlete.

"It brings me great pride to bring Adam Nightingale back to Michigan State University as the new head coach of Spartan hockey," said Alan Haller, MSU Vice President and Director of Athletics. "Adam has a passion for the school and the program, and his combination of skill development, player development and recruiting ties promises to make the next era of Spartan hockey a successful chapter in the storied history of a proud program.

"Spartan hockey has a rich tradition and an engaged alumni base which cares deeply about their program. Throughout this process, Spartan alums proved to be an invaluable resource to me. I put together an advisory group of alumni including some former All-Americans and NHL players, who played a significant role in helping me develop the criteria to identify the right coach for sustained success for Michigan State hockey. Beyond the advisory group, I had conversations with several other alums, including many with NHL experience as players, coaches and in the front office. Beyond Spartan alumni, I also connected with several members of the hockey community at both the professional and collegiate level, each of whom recognized MSU's great history and the importance of this hire to the program. It all played a role in helping me develop a better understanding for the college hockey landscape and the qualities our next coach needed to possess.
To read more about MSU's newest coach, visit msuspartans.com