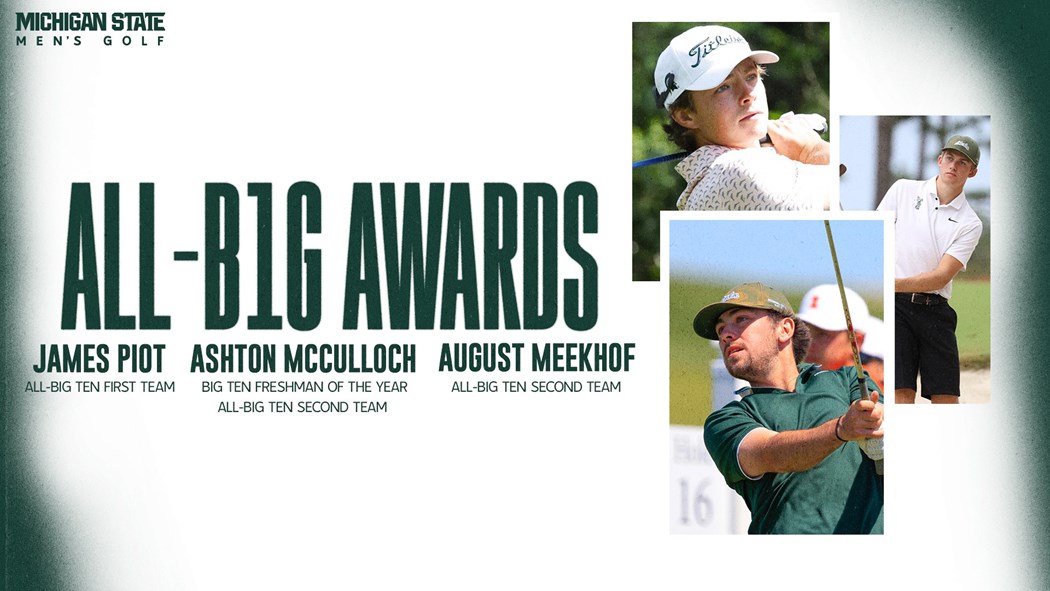 Michigan State freshman men's golfer Ashton McCulloch was named the Big Ten Freshman of the Year on Wednesday as the conference office announced season award winners.

McCulloch was one of three Spartans to earn All-Big Ten honors. Senior James Piot was selected to the All-Big Ten First Team, while McCulloch and sophomore August Meekhof were named to the All-Big Ten Second Team.

"I'm really pleased to see our guys get recognized by the coaches in our league," MSU Head Coach Casey Lubahn said. "It's a great honor for Ashton to be named Freshman of the Year and join a short, but impressive list that includes James (Piot) and Ryan (Brehm). He was one of our best this year and really earned that honor."

"It's pretty impressive for James to be named to the first team. He had a lot of pressure on him all year after winning the U.S. Amateur, but when he is out on the course, he is a cool cat and has left a tremendous mark on our program. I'm proud of August and the work he's done this year. He's quietly become one of the best in our conference and he showed that last weekend at the conference championship. I think this is just the start of big things ahead for him."

McCulloch is the first Michigan State men's golfer to be named Freshman of the Year since Piot earned the honor in 2018 and just the third in program history, joining PGA Tour professional Ryan Brehm, who won it in 2005.
For the full story, visit msuspartans.com