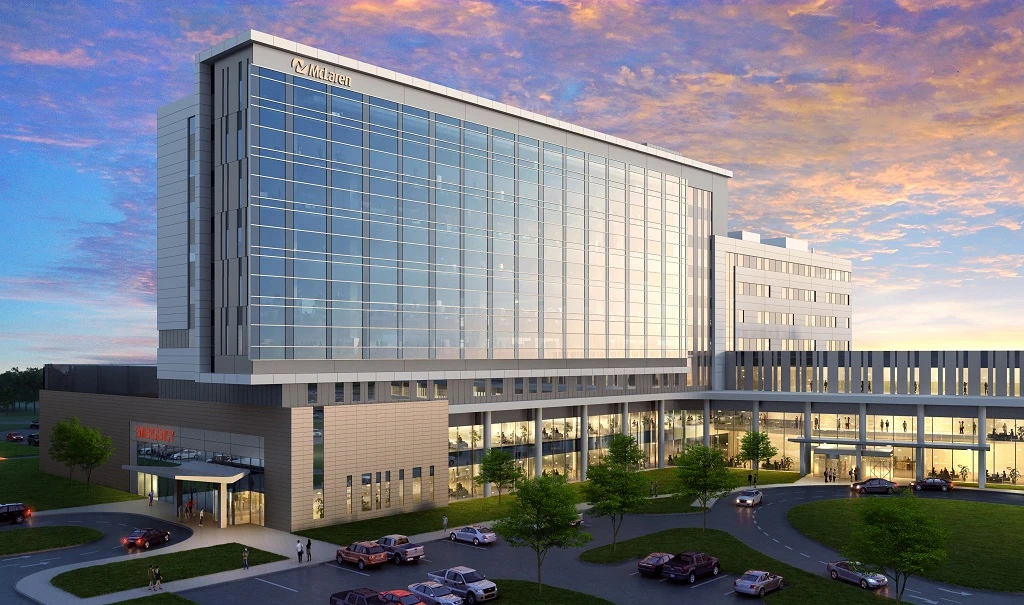 McLaren Health Care and Michigan State University held a ceremonial ribbon cutting to mark the opening of the $600 million facility within the University Health Park. The project includes a 240-bed hospital, a multi-specialty outpatient care center and a Karmanos Cancer Institute in partnership with MSU Health Care.
"This new health care campus offers exciting facilities for MSU's medical education, research and service to our regional community in collaboration with McLaren Health Care," MSU President Samuel L. Stanley Jr., M.D., said. "Community partnerships are the basis of MSU's medical education and health care delivery across Michigan. We look forward to continuing to work with McLaren as we pursue our vision for new models for sustainable health care."
MSU's collaboration with McLaren Greater Lansing will expand access to quality care for mid-Michigan residents, improve health outcomes and expand access to new life-changing therapies and treatments through shared research and discovery.
"One of the greatest challenges in health care is being able to bring accessible, affordable care to all," said Norman J. Beauchamp Jr., M.D., MHS, executive vice president for health sciences at MSU. "The proximity of the McLaren hospital within the University Health Park allows our clinician scientists to look at care every day and think about what we can do better and how we train our physicians and nurses to ultimately deliver better care more quickly and catalyze discovery."
McLaren Greater Lansing and MSU Health Care share a rich history of collaborating to care for the surrounding communities. The comprehensive health care facility will provide new, state-of-the-art facilities to better serve patients, educate students and bring together more than 1,000 physicians, researchers, educators and other members of academic and medical teams.
"This project is so much more than just brick-and-mortar buildings. The talented people who will call these spaces home will not only save lives, but help advance health care as a whole," said Kirk Ray, president and CEO of McLaren Greater Lansing. "The opportunities for advancements in research, clinical trials and integrated oncology care with Karmanos Cancer Institute and MSU Health Care mark an exciting new chapter in the future of health care in our region."
MSU Health Care will provide medical oncology, imaging services and psychiatry care for seniors alongside gynecologic oncology, vascular surgery, urology and podiatry services.
"This project is a result of many years of collaboration," said Seth Ciabotti, CEO of MSU Health Care. "Together, MSU Health Care and McLaren will combine the latest technology and equipment with the clinical expertise of talented providers, expand teaching programs to train future physicians and connect our community to additional clinical trials. We will provide quicker and more accurate diagnoses, shorter wait times and research to meet the growing need in our community."
MSU Health Care also will provide physicians and psychiatry expertise in the Geropsychiatric Evaluation and Management Service unit. This will allow the unit to care for more patients afflicted with memory disorders and conditions, enhance the specialized care provided and improve teaching and learning opportunities to train the next generation of physicians focused on addressing the mental health crisis.
A new medical office building that will house Spartan Radiology, a joint venture between MSU Health Care and McLaren Greater Lansing Medical Services Building is also under construction within the University Health Park, with an expected opening of summer 2023. The center will include a full suite of imaging capabilities featuring all-new equipment in the more than 20,000-square-foot space. This partnership will also include initiatives in collaboration with MSU to advance the university's academic, research and clinical care missions.