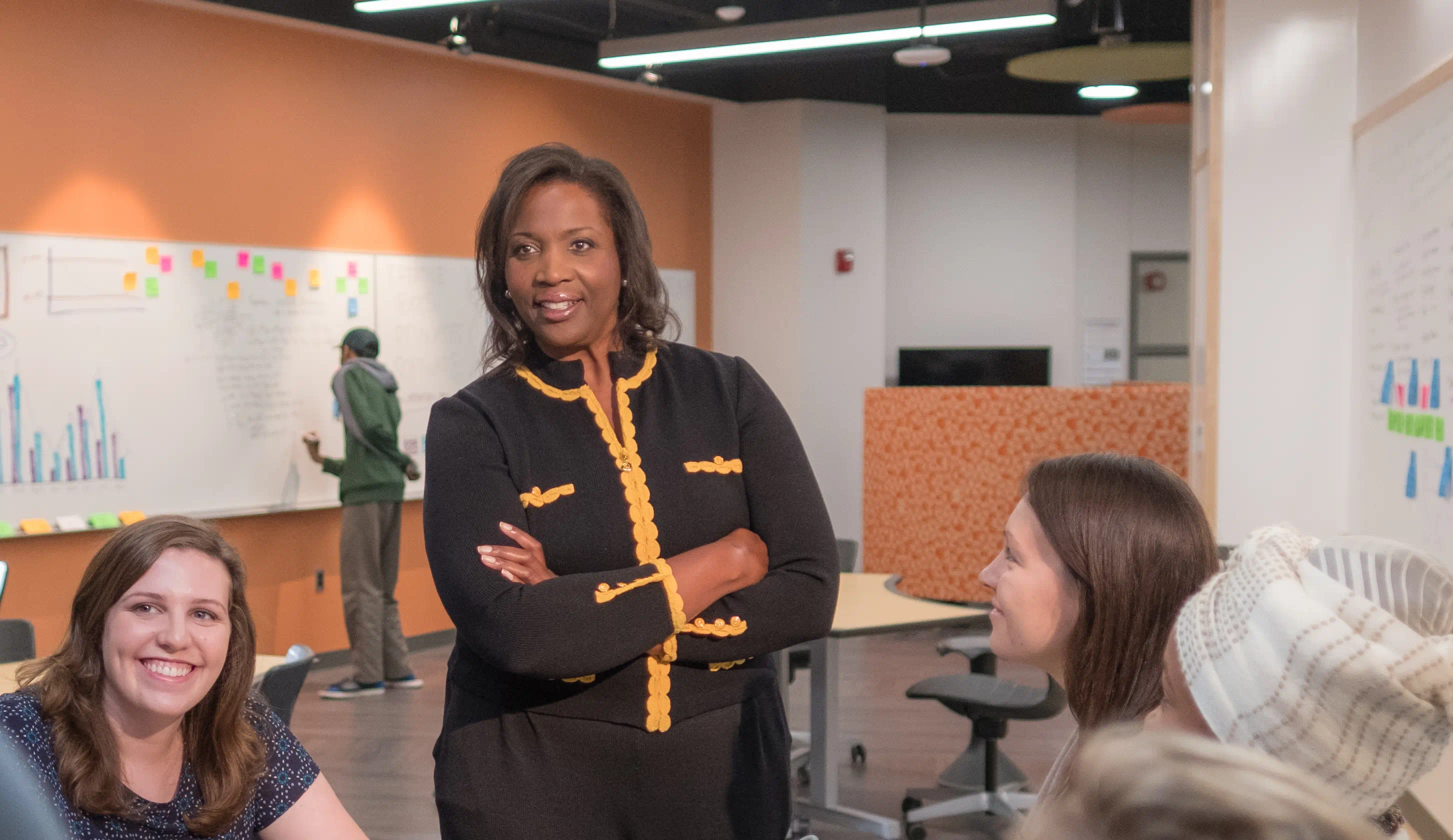 Michigan State University economist and professor Lisa D. Cook today was nominated by President Joe Biden to the Board of Governors of the Federal Reserve System. If confirmed, Cook will be the first Black woman to serve on the board in its 108-year history.
The Federal Reserve System consists of the Federal Reserve Bank, which is the central bank of the United States, and 12 regional Federal Reserve Banks. With the Federal Reserve Board of Governors, they conduct the nation's monetary policy with the purpose of maintaining stability in the nation's financial system.
"I am grateful to President Biden for nominating me to serve on the Board of Governors of the Federal Reserve System," Cook said. "If confirmed, I would be honored to serve."
Cook is a professor in the Department of Economics in MSU's College of Social Science and a professor of international relations in James Madison College. Notably, the first Black man to serve on the Federal Reserve Board of Governors was Andrew F. Brimmer who also was an assistant professor at MSU's Department of Economics from 1958 to 1961.
"Lisa Cook is a remarkable economist and leader who will serve our nation well," said MSU President Samuel L. Stanley Jr., M.D. "Her nomination embodies the excellence of our Spartan faculty as she is well on her way to shatter another glass ceiling as the first Black woman to serve on the Federal Reserve Board of Governors."
"Among the nation's foremost public intellects in economic growth and development, innovation and financial institutions and markets, Professor Cook brings to the Federal Reserve a deep theoretical and practical framework for thinking and acting," said MSU Provost Teresa K Woodruff, Ph.D. "Dr. Cook's scholarship and teaching have created a distinctive Michigan State University framework for economic development and we wish her well."
Since joining MSU in 2005, Cook has established herself internationally as a renowned economist. In 2021, she was elected to a three-year term on the board of directors of the Federal Reserve Bank of Chicago, a position she'll resign if confirmed as a Federal Reserve governor. Additionally, Cook has been a member of the Federal Home Loan Bank of Indianapolis Board of Directors, one of 11 independent regional cooperative banks across the United States.
Cook is no stranger to working with presidential administrations. In 2020 she served on President-elect Joe Biden and Vice President-elect Kamala Harris' transition team to review agencies such as the Commodity Futures Trading Commission, the Federal Deposit Insurance Corp., the Federal Reserve, the National Credit Union Administration and the Securities and Exchange Commission. Cook also was a senior economist at the President's Council of Economic Advisers under the Obama administration, where she worked on the eurozone, financial instruments, innovation and entrepreneurship. She was also on the Obama-Biden presidential transition team and led the review of the World Bank and International Affairs division of the Treasury Department.
Cook, an advocate for increased diversity and inclusion within the field of economics, is the fourth Black economist to serve on the American Economic Association board in its 130-year history. She directed the American Economic Association Summer Program for five years while it was hosted at MSU. The program creates opportunities for students from underrepresented backgrounds to advance in the field of economics. For these reasons, Cook was recognized by Fortune magazine as one of 19 Black Economists to Celebrate.
Regarding her education, Cook was the first Marshall Scholar from Spelman College and earned a second bachelor's degree in philosophy, politics and economics from Oxford University. She earned a doctorate from the University of California, Berkeley, in macroeconomics and international economics. Prior to MSU, she was on the faculty of Harvard University's Kennedy School of Government, Deputy Director for Africa Research at the Center for International Development at Harvard University and a National Fellow for research in economics at Stanford University.