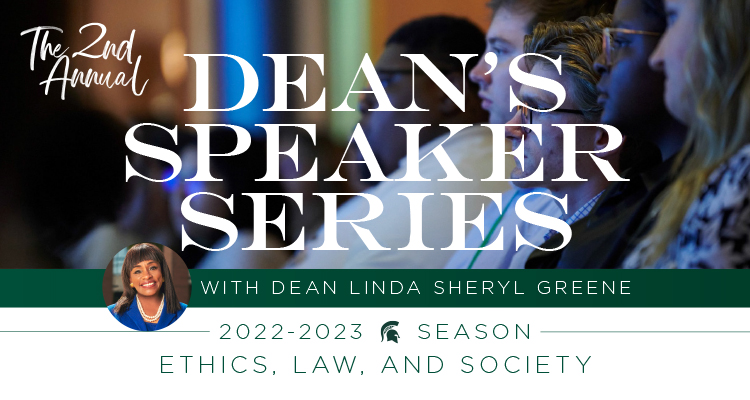 MSU Law Dean Linda S. Greene kicked off the second annual Dean's Speaker Series in September. The 2022-23 series, entitled "Ethics, Law, and Society," brings in a diverse group of leading legal thinkers to the MSU community with thought-provoking presentations about law and contemporary issues.
ANITA L. ALLEN
Henry R. Silverman Professor of Law
University of Pennsylvania Carey Law School

"Reimagining Ethics in Legal Education"
Sept. 29
12:15 - 1:15 p.m.
MSU Law Castle Board Room and via Zoom
Watch
BERNADETTE ATUAHENE
James E. Jones Jr. Professor of Law
University of Wisconsin Law School

"Law, Ethics, and Predatory Governments"
Nov. 14
12:15 - 1:15 p.m.
Register

MYLES LYNK
Peter Kiewit Foundation Professor of Law, Emeritus
Arizona State University
Former Senior Assistant Disciplinary Counsel
DC Office of Disciplinary Counsel

"The Divided Self: Ethical Tensions in Lawyering"
March 20, 2023
12:15 - 1:15 p.m.

TRISH RICH
Partner
Holland and Knight

April 3, 2023
12:15 - 1:15 p.m.

For more information, including how to register, visit law.msu.edu.