In an awards ceremony on April 20, Jazz at Lincoln Center Managing and Artistic Director Wynton Marsalis announced the Michigan State University College of Music Jazz Studies program as the first place winner of the second annual Jack Rudin Jazz Championship.
The event, held at Jazz at Lincoln Center in New York City on April 19 and 20, gathered ten of the nation's most well-regarded university jazz programs to compete in a two-day invitational at Frederick P. Rose Hall, home of Jazz at Lincoln Center. MSU students and faculty, along with their peers from the other nine programs, immersed themselves in intensive rehearsals and workshops culminating in two rounds of competition and a final concert where, for the first time since March 2020, students performed publicly on the Rose Theater stage.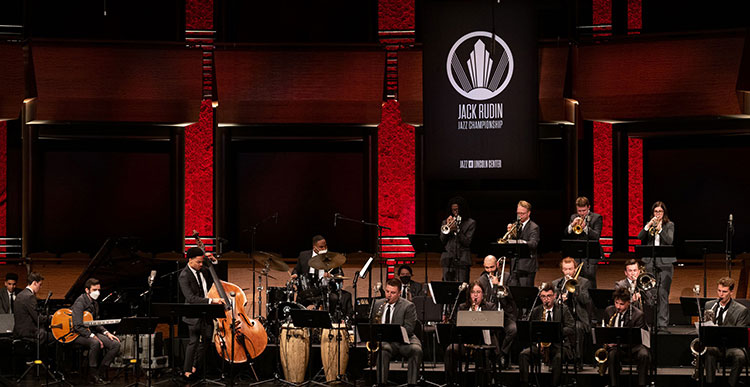 MSU Jazz Orchestra 1 on stage at the Rose Theatre in New York, on their way to a first place finish in the Jack Rudin Jazz Championship. (Photo: Lawrence Sumulong)
"This was an incredible event, and I am extremely proud of our students and our program," said University Distinguished Professor of Jazz Bass and Jazz Studies Director Rodney Whitaker. "I want to thank Wynton Marsalis and everyone at Jazz at Lincoln Center for making this a great experience for us, and thanks to all of our supporters at home. We worked hard and our hearts are filled with gratitude."
At the awards ceremony, Marsalis presented awards to each of the ten jazz bands. As the first place winner, the MSU College of Music will receive an award of $10,000.00 to build on the excellence of its jazz education programs. Temple University placed second, and North Carolina Central University placed third. Rounding out the top five are the University of Kansas and the University of Cincinnati College - Conservatory of Music.
A panel of judges comprised of distinguished jazz musicians and educators chose the overall and individual winners. The judges included Wynton Marsalis, Ayn Inserto, Carlos Henriquez, Jeff Hamilton, and Randy Brecker.
"With Rodney Whitaker's leadership and the stellar faculty and guest artist roster he has assembled, our jazz program continues to attract top students," said James Forger, dean of the MSU College of Music, who attended the competition in New York. "It was exciting to witness the camaraderie among our students on stage and how the collaborative and mutually supportive jazz culture that has emerged in this program has fostered such excellent musicianship and student success. This was an amazing accomplishment for this program, our college, and Michigan State University."
In addition to the first place finish overall, the Jack Rudin Jazz Championship recognizes section and individual performances. MSU student musicians earned Outstanding Rhythm Section and Outstanding Brass Section honors, and several individuals earned honors for their performances as well, including:
OUTSTANDING BASS
Brandon Rose
OUTSTANDING DRUMS
Joshua H. Watkins
OUTSTANDING GUITAR
Luke E. M. Sittard
OUTSTANDING ALTO SAXOPHONE
Eric Law
OUTSTANDING TROMBONE
Wyatt Forhan
OUTSTANDING TRUMPET
Lucas Stickley-Miner
Jeremiah Flack
Trunino O. Lowe
OUTSTANDING LEAD TRUMPET
Alex Bender
OUTSTANDING RHYTHM SECTION
Cormac Avila
John K. Cassetta
Thomas W. Crandell
Andrew Depree
Jonathon Muir-Cotton
Brandon Rose
Luke Sittard
Benjamin Tucker
Joshua H. Watkins
OUTSTANDING BRASS SECTION
Alex Bender
Elise Berner
Jeremiah Flack
Wyatt Forhan
Joshua Guenther
Eli Howell
Trunino Lowe
Joel Perez
Lucas Stickley-Minor
John Trathen
MSU congratulates all of the excellent jazz programs and their individual competitors in the 2022 Jack Rudin Jazz Championship. We are proud to be in their company. They include: Brigham Young University (Provo, UT), California State University, Fullerton (Fullerton, CA), Indiana University Jacobs School of Music (Bloomington, IN), North Carolina Central University (Durham, NC), Temple University (Philadelphia, PA), University of Kansas (Lawrence, KS), University of Cincinnati College-Conservatory of Music (Cincinnati, OH), University of Nevada, Las Vegas (Las Vegas, NV), and University of North Carolina Greensboro (Greensboro, NC).
The Jack Rudin Jazz Championship honors the legacy of Jack Rudin, longtime supporter of Jazz at Lincoln Center, and his founding support for Essentially Ellington, the organization's signature transformative education program. Launched in 2020, right before the pandemic, the Jack Rudin Jazz Championship provides participating ensembles with quality literature and a forum for celebrating excellence and achievement, while introducing higher education to Jazz at Lincoln Center's education methodology and philosophy—extending JALC's educational mission into the sphere of professional development for the next generation of leading jazz artists.
Click here for a full list of institutional and individual honors.
This story originally ran on the College of Music website.