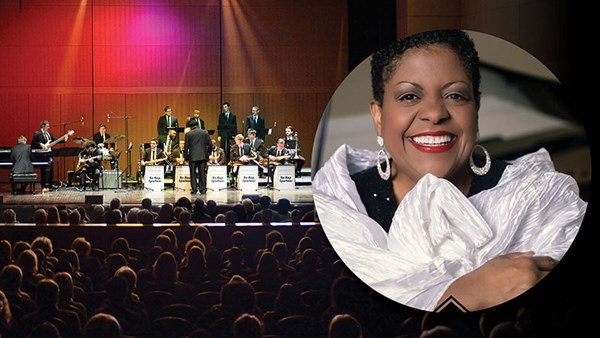 The MSU Federal Credit Union Jazz Artist in Residence program kicks off its 10th year this October at the Michigan State University College of Music, and the line-up features passionate, vibrant and multi-dimensional jazz artists, including a legendary jazz vocalist to mentor students at MSU and schools state-wide.

The dynamic series of working musicians, educators and composers for the 2022-23 season supported by MSUFCU includes artists Carmen Bradford, vocals; Adrian Mears, trombone; Bruce Forman, guitar; and Camille Thurman, saxophone.
Launched in 2013, the pioneering residency program imports high-level talent to spend a week teaching and performing with MSU jazz studies and K-12 students at schools and academies across the state. Coordinated by the MSU College of Music and supported by a $1 million endowment by MSUFCU, the program follows the jazz tradition of established musicians passing on their knowledge to aspiring musicians, while often enriching resource-strapped jazz programs in urban and rural communities.
Jazz vocalist Carmen Bradford is the first of the four scheduled artists coming to MSU for weeklong residencies. As the third generation of a family of incredible musicians, Bradford has carved out her own place in jazz music history. Discovered by Count Basie at the age of 22, she was the featured vocalist in his band for nine years. Since then, she has proven herself to be jazz royalty through performances with everyone from Wynton Marsalis to Lena Horne, from Tony Bennett to James Brown, and from Frank Sinatra to Willie Nelson. She brings passion to the lyrics, and her work reflects a depth of musical experience and technical brilliance.

"Carmen Bradford is one of the most incredible jazz vocalists alive, and she embodies the tradition of many of the jazz vocal greats while maintaining her own original voice," said Director of Jazz Studies Rodney Whitaker. "With her wealth of knowledge and experience, having Ms. Bradford tour with our students will help to elevate their performance abilities."

Bradford will be in residence from Oct. 3-9. During her residency, the award-winning jazz vocalist will mentor College of Music students and perform for the public. She will also visit high schools and art academies statewide, accompanied by MSU Jazz Orchestra I, the College's premier student jazz ensemble. Bradford performs with MSU Jazz Orchestras I, II and III 8 p.m., Oct. 7 at Fairchild Theatre, in the MSU Auditorium.
For the full story, visit music.msu.edu