Michigan State University's 2022 Homecoming will be celebrated Oct. 10-15.
Coach James Bibbs is this year's Homecoming grand marshal. Bibbs was the first Black head coach at the university and first Black head track coach in the Big Ten. His deep commitment to youth and passion for the sport has gained the respect of countless colleagues, athletes, parents and friends nationwide.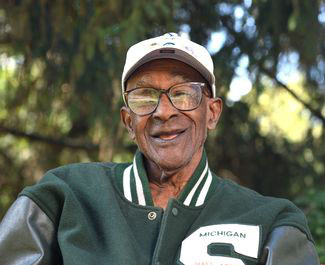 This year's theme celebrates Spartans who are creating real-life magic by making the world a better place. Across industries and around the world, Spartans are creating real-life magic on a daily basis — breakthroughs, innovations and new ideas to make the world a better place.
Bibbs' distinguished career spans more than five decades. He's coached athletes on every level, including high school, AAU club sports, collegiate, national and international teams. Bibbs coached men's track and field at MSU from 1968 to 1995, where he was the first Black head coach at the university and the first Black head track coach in the Big Ten. During his tenure at MSU, his athletes earned 52 Big Ten titles, and he coached 26 All-Americans, including World Record holders Herb Washington and Marshall Dill, U.S. Olympian Judi Brown Clarke and U.S. Olympic Head Women's Coach Karen Dennis. He founded the Detroit Track Club, winning five consecutive Women's national relay championships and was the U.S. Women's Pan American team head coach in 1967.
Before coaching, Bibbs was an exceptional athlete in his own right. He was offered, but declined, a Class A contract with the New York Yankees. In 1951 he tied Jesse Owen's world record in the 60-yard dash.
His numerous honors include All-American honors in Track at Eastern Michigan University, AAU Women's Coach of the Year, and induction into multiple halls of fame: The U.S. Track and Field and Cross Country Coaches Association Hall of Fame (2015), Michigan State University Athletics Hall of Fame (2010), Greater Lansing Area Sports Hall of Fame (2005), Eastern Michigan University Athletic Hall of Fame (1979), Michigan Amateur Athlete Hall of Fame (1974) and Detroit Public Schools Hall of Fame. In 2000, he was selected as a torch bearer for the Winter Olympics. The first annual Kevin Bibbs Gentleman of Distinction Award was given to Coach Bibbs in 2003. The first annual James E. Bibbs Invitational Track Meet, sponsored by the Lightening Lynx Track Club, was held in 2006 to raise money for a Jim Bibbs scholarship.
Under his coaching, encouragement and support, many student-athletes have been empowered to excel in athletics and academics. James E. Bibbs is known throughout the community as an ambassador for Spartan Sports. He is "green" through and through, a role model and mentor to children, youth and adults of all ages. He is a man of integrity and honesty who is never hesitant to share his love of MSU, talent and considerable wisdom with others.
---
In celebration of the "Spartans Bring the Magic" Homecoming 2022 theme, the MSU community is coming together to support a life-changing program creating real-life magic for students starting their Spartan experience. MSU M.A.G.I.C. (Maximizing Academic Growth in College) is a one-week experience coordinated by the Office of Cultural & Academic Transitions designed to help incoming students begin the process of becoming a successful Spartan during the summer, before classes begin in August. Learn more at givingto.msu.edu.
This story originally ran on the MSU Alumni website.