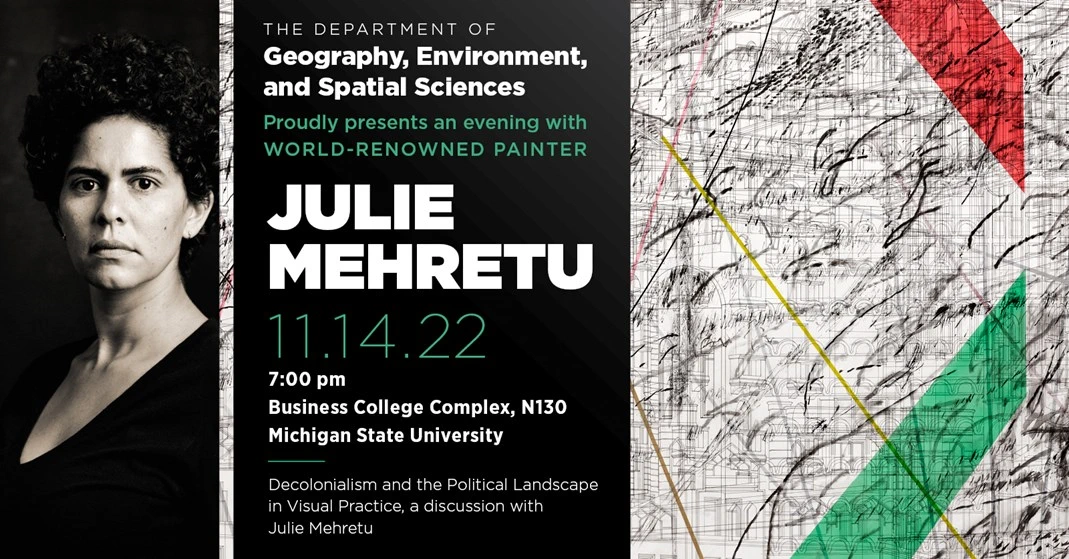 What do art and geography have in common? For Julie Mehretu, internationally acclaimed artist and former long-time resident of East Lansing, geographic themes and concepts, including social behavior, space and place, have always been a central theme in her life and are often woven throughout her artwork. This unique intersection of art and geography will be the focus of "Decolonialism and the Political Landscape in Visual Practice, a discussion with Julie Mehretu." This engaging conversation organized by the Michigan State University Department of Geography, Environment and Spatial Sciences is free and open to the public and will be held on Monday, Nov. 14, 2022, at 7 p.m. at the Eli Broad College of Business.

The event takes place as part of the department's celebration of the 35th Annual Geography Awareness Week — a public awareness program celebrated each third week of November. Established by a presidential proclamation more than a quarter century ago, the event encourages citizens, young and old, to think and learn about the significance of place and how we affect and are affected by it.

"For nearly a decade, we've organized a variety of activities during Geography Awareness Week. Not only do we want to celebrate our love and excitement for the discipline, but it's a great opportunity to highlight the numerous career paths offered within the field and demonstrate just how much our daily lives are impacted by people, space, and place," said Ashton Shortridge, professor of geography and chair of the Geography Department with the College of Social Science. "As the old saying goes, everything happens somewhere. Geographers explore the who, what, when, where, how, and why of those somewheres. And, as we will discover during our discussion with Julie Mehretu, geographic themes can be found all around us."

Born in Addis Ababa, Ethiopia, in 1970, Julie Mehretu lives and works in New York City and Berlin. Following the unrest of the revolution of 1974, Mehretu's family moved from Ethiopia to East Lansing in 1977 when she was seven years old, so her father could pursue an economic geography appointment at MSU. She received a Master's of Fine Art with honors from The Rhode Island School of Design in 1997, a bachelor's from Kalamazoo College in 1992, and studied at University Cheikh Anta Diop in Dakar, Senegal. Mehretu is a recipient of many awards, including The MacArthur Award (2005), the Berlin Prize: Guna S. Mundheim Fellowship at The American Academy in Berlin, Germany (2007), and in 2015, she was awarded the U.S. Department of State Medal of Arts Award. An important mid-career survey of Mehretu's work opened in 2019 at the Los Angeles Museum of Contemporary Art, California, touring to High Museum of Art in Atlanta (2020), The Whitney Museum of American Art in New York City (2021), and the Walker Art Center in Minneapolis (2021-22).
For event details, visit geo.msu.edu