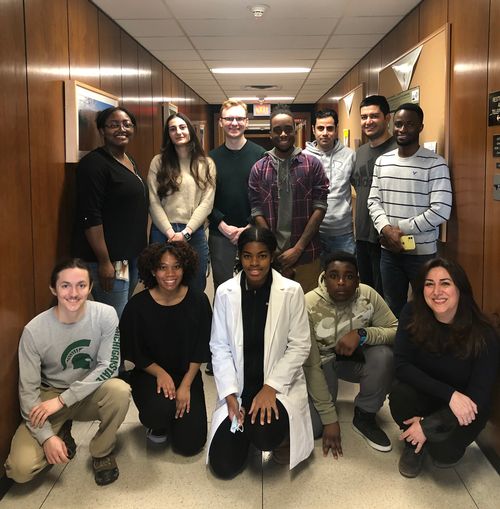 Graduate students from the Green Bioproducts Science and Engineering Lab alongside high school students visiting from Ecotek Lab in Detroit.
MSU Forestry is a proud collaborator of Ecotek Lab, understanding the importance of diversity in natural resources and providing opportunities and connections through which Detroit youth can pursue higher education careers in natural resources and sustainable bioproducts.

Ecotek Lab, a recruiting partner of MSU Forestry since 2019, is a research and innovation laboratory made up of aspiring student scientists and engineers from major urban centers.
"This partnership provides a unique opportunity to expose Detroit's youth to educational and career development opportunities in natural resources and sustainable bioproducts. This integrated program of experiential learning, academic training and mentoring can increase the likelihood of students applying for, undertaking and completing STEM-based undergraduate degrees," said Justin Kunkle, MSU Forestry director of undergraduate studies.

Ecotek scientists, made up of middle and high school students, explore challenging projects and areas of study, preparing them for college-level advancement and providing a foundation for a rewarding career in the scientific world.
To read more, visit the College of Agriculture and Natural Resources website.