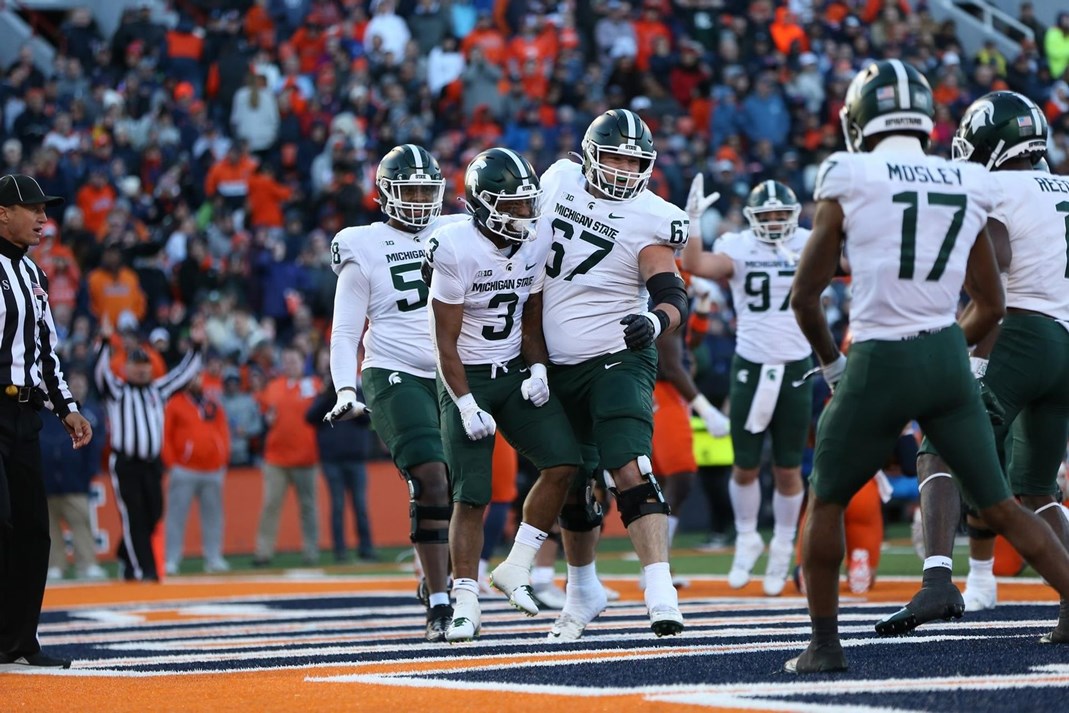 The Michigan State football team defeated No. 16 Illinois on a windy, blustery day at Memorial Stadium on Saturday afternoon. The victory over the Illini, who were also ranked No. 13 in the AFCA Coaches Poll and No. 14 in the AP Poll, snapped Illinois' six-game winning streak and gave the Spartans (4-5, 2-4 Big Ten) their first win over a ranked opponent this season.

Facing steady winds of more than 25 mph, Payton Thorne was 19-of-29 passing for 182 yards and two touchdowns for the Spartans, while Jayden Reed had five catches for 68 yards, including a 16-yard TD in the third quarter. Jalen Berger led MSU on the ground with 81 yards on 15 carries, and also had three receptions for 29 yards.

Michigan State's defense had three sacks and nine tackles for loss, led by redshirt sophomore Cal Haladay, who had a career-high 3.5 TFLs for 10 yards. Aaron Brule had five stops and 1.5 TFLs, including an 8-yard sack. MSU collected five fourth-down stops in the game.

The nation's leading punter, Bryce Baringer averaged 49.6 yards per punt and placed four of his five punts inside the 20.

"Really proud of the way our guys played today," said MSU head coach Mel Tucker. "Not just the way they played today, but also the way they prepared throughout the week. Just very focused, very confident. Just very intentional and deliberate about everything we did this week in our preparation.
For the full game recap, visit msuspartans.com