Elka M. Stevens, associate professor of fashion design at Howard University, participated in the 2021-22 Critical Race Studies Artist-in-Residence program in the Department of Art, Art History and Design. The residency welcomes accomplished artists to Michigan State University to expand student exposure to diversity, equity and inclusion in creative practice.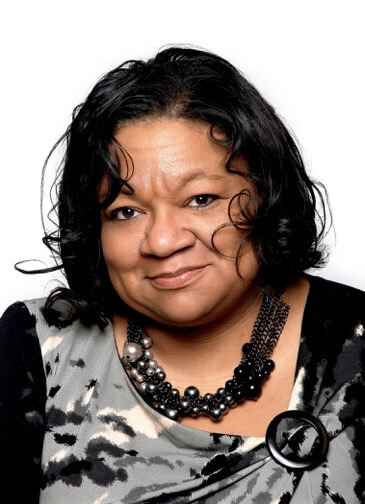 Like many family genealogists, Stevens was excited to submit a DNA sample to trace her ancestry. However, she was surprised by the results that showed she is of 38.8% European descent.
Stevens, who is Black, wasn't taken aback because she had European ancestry. As she said, most African Americans average around 25% European ancestry. Instead, she was momentarily startled by the proportion, which was roughly 60% Black and 40% white.
The researcher in Stevens first asked how accurate the interpretation was. "Of course, knowing my family's history, I understood it, but I wanted my Black ancestry to be a higher percentage and I was compelled to think about what it means to be Black or white" Stevens said, as racial identity is socially constructed and dependent on other factors, such as economics and power.
She also wondered what having that nearly 40% European ancestry would mean for her self-expression. Wanting to explore how race, ethnicity, nationality and genetics show up in the presentations of self, she named her exhibit 38.8% Visualizing Racial Identity in Search of Selfhood and Others.
The body of work contains many themes that are repeated and connect the pieces. The 60:40 proportion is one such theme in the exhibit, which also explores enslavement, women's labor and cotton as a foundation of America's economy through various textile and fashion designs. Interestingly, when ordering fabric for the show, Stevens ran into supply chain disruptions due to COVID-19 and had to create some designs from scratch.
For Stevens, the garments needed to be presented on plus-size black mannequins, mainly to make Black women and their labor visible. The art department didn't have any plus-sized or black figures, so they ordered several white colored mannequins and painted them black to be consistent with Stevens' vision.
During her time, Stevens took advantage of several resources at MSU, including the Digital Humanities and MSU Museum quilt collections, to carry out additional research, which was an added benefit of attending the residency program.
What do you seek to address in your exhibit?

The key element is identity. Race primarily, but also gender, place and family as broadly defined. I want to talk about shape, color and conceptual design. Size and visibility. I want to talk about stitching and labor. I want to talk about textiles, in general. I want to talk about the creative process and culture.
I told myself I could address all these things with this show to engage a broader audience. There is something for everyone! These works can also be conversation starters about critical race theory and the elements and principles of design, which is the foundation of all of my work.
Can you talk more about those elements of design?

Because the majority of the pieces are black and white, which is a play on these notions about how we conceptualize race, the form and line were important. In addition, the shape was a significant factor in working with three-dimensional formats and texture, both visual and tactile.
One of the shapes you see throughout the show is the square, which connects us to the quilt block. But it also connects me to part of my identity growing up because that was one of the nicknames that folks used to call me in school. As an adult, I still remember being called a square or nerd due to the expectations my parents had of my academic performance.
The proportion was also central, thinking about the 60:40 ratio. I address unity and variety. The idea of space and volume becomes essential and rhythm because I'm mixing lots of visual elements, and I want them to balance out and work in harmony.
Let's talk about some of the artwork. You have a piece called the Dashikimono, which combines the African dashiki with the Japanese kimono. Can you tell us about that concept?

Oh my gosh, I loved looking at kimonos when I was in Japan. I went to a museum, and I probably spent three days there awestruck by kimono design. Not usually associated with Black culture, incorporating the kimono in this piece speaks to the idea of shared cultural exchange — just realizing that we're consistently borrowing from one another.
The dashiki has a fascinating history with its surface design origins in East Africa, and then in Europe. It comes back to Africa, and the design comes to America as protest attire of the Civil Rights Movement. Then it goes throughout the Diaspora as a rallying cry for liberation and justice. These elements are transcending place, time and space. Their sum is definitely greater than their parts.
For the Dashikimono, I utilize an original textile that is a deconstructed diagram of the British Brooks slave ship from the 1700s that carried over 400 enslaved bodies under its deck. It is one of the most widely circulated images used by abolitionists to end the transatlantic slave trade.


Now you have another piece that traces the slave trade using Mercator cartography. Can you tell us about that?

I was very interested in transportation and how the Diaspora developed as an economic enterprise. The map on Tunic: Traveling Mercies is one of my favorites because it is a merchant map from about 1800. And because this one does not specifically have the slave routes, I accessed other maps and used red stitching to highlight the Middle Passage routes, which carried millions of Africans, some of whom lost their lives.
It's a somber moment thinking about the Diaspora and how Black Americans were brought to this country en masse. I thought it was very important to borrow from these archival images because I would not be here had it not been for this transfer of individuals from the African continent. That was such a central part of this piece because it becomes part of an origin story.
Your work seems to take strands of DNA and thread them into new, alternative configurations. Is there a connection to Afrofuturism?

My exhibit has a strong connection to Afrofuturism as it provides a structured way of knowing through a Black experiential lens. This collection captures many aspects of Afrofuturism by centering women's work and experiences; privileging African aesthetics and Black artistic production; engaging with the past and reimagining the future; discovering heritage and history; and so much more.
In general, dress is a performative and transformative vehicle that allows the wearer and observer to situate themselves and others in discussions of power. Dress allows us to engage in a fluid temporal discourse through design, materials, production, intention and interpretation. These aspects shape the manner in which Black people can present ourselves and be perceived in real and imagined worlds while envisioning possibilities.
The excitement and joy that I get from doing this type of work and even taking that back to the classroom — helping our students to expand their perceptions of realities — takes us back to Afrofuturism. Education improves our life chances and helps us reimagine the future. So, I am finding myself squarely in Afrofuturism.
Stevens will be a participating artist at the MSU Juneteenth Celebration on June 17, from 5:00 - 8:00 p.m. at the Breslin Center. Taking cues from the 2022 celebration's Afrofuturism theme and as an avid sci-fi fan, she plans on expanding her exhibit to include other themes related to experiences in the Black Diaspora. For more information about the artist, visit her website elkastevens.com/38.8.html, which includes a 38.8% music playlist and reading list.