Toufic Jildeh is one of the newest additions to the MSU Health Care Sports Medicine surgical team, joining in mid-August. In addition to serving as assistant professor, his role will extend to include Team Physician for MSU Athletics and the U.S. Olympic Ski & Snowboard team. Returning to MSU with the goal of providing an education to future health care professionals, Jildeh brings his knowledge from Wayne State University School of Medicine, he subsequently completed his orthopedic surgical residency at Henry Ford Health System in Detroit. He recently finished an orthopedic sports medicine fellowship at the renowned Steadman Clinic/Steadman Philippon Research Institute in Vail, Colorado.

For more than 30 years, MSU Health Care Sports Medicine has provided the highest quality, comprehensive medical care. I'm honored to return home to East Lansing, give back to the community that raised me through top-notch care and novel techniques and continue advancing the field of orthopedics through ground-breaking research.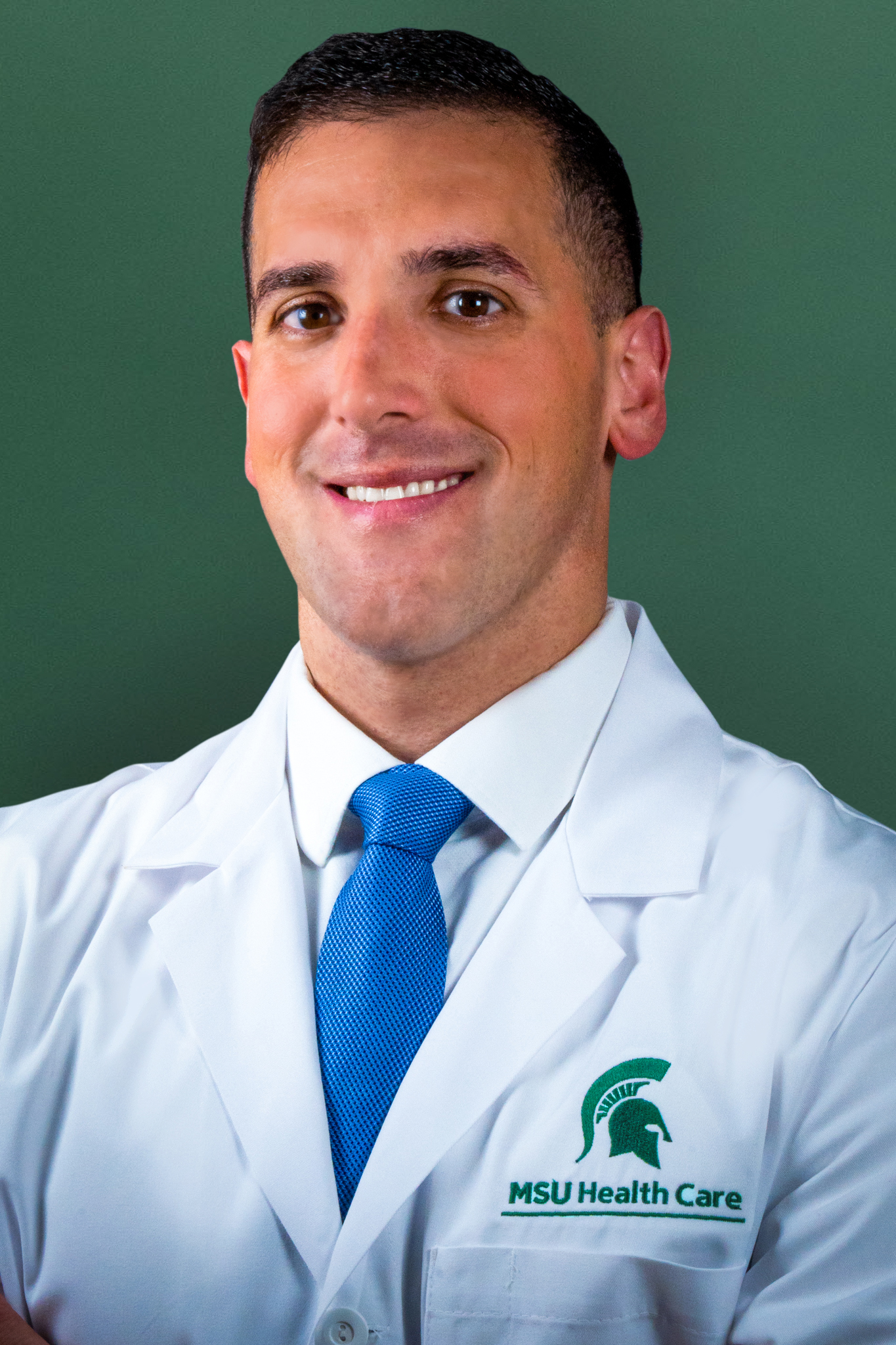 Toufic Jildeh
I have very fond memories of attending MSU football and basketball games with my father as a child. I attended MSU as an undergrad, where I graduated with a biochemistry and molecular biology degree, a path that would align with my passion for medicine.

Sports medicine fills a much-needed niche in medicine. When athletes put their bodies to the test, such intense training can take its toll and injuries are virtually inevitable. The impact high-stress exercise can have on their bodies requires tailored treatment plans that suit each patient individually.

The patient-centered approach has been a driving factor in my education and practice everywhere I go, but the MSU Health Care Sports Medicine program centers around the treatment of the whole athlete and a one-stop management approach. As a leader in sports medicine care, our medical staff works to enhance athletes' performance, return them to play through operative and non-operative treatment, and prevent future injuries.

Typically, we help rehabilitate adolescent and adult athletes through common injuries such as ACL tears, concussions, strains, sprains and fractures, but every injury and athlete is different. Innovating opioid-sparing techniques, physical therapy, sports psychiatry, nutrition, biochemical analysis, manual medicine, stress testing and body fat determinations are just a few of the innovative techniques and progressive technologies used by experienced physicians at MSU.

The United States is currently in an opioid epidemic, and many patients develop dependencies on narcotic pain medication. I developed a novel multimodal nonopioid pain protocol that has demonstrated equivalent or better pain results than traditional opioid pain medications. I have validated and published our work for many procedures, and this work has won awards from many medical societies. I have presented this work to politicians in Washington, D.C., and I am pleased to announce that MSU is one of the few centers in the world that provides this service to our patients. My hope is that we, as orthopedic surgeons, continue to work towards understanding and controlling pain after surgery.

The forefront of our work at MSU Health Care Sports Medicine is helping athletes of all ages and injuries on the road to recovery. Our commitment to mid-Michigan athletes extends to providing on-site school pre-participation physicals and medical coverage for community sporting events and injury clinics.

Moreover, each Saturday morning throughout the fall, we host a walk-in clinic to evaluate and diagnose athletes with acute injuries. We encourage adolescent, high school and collegiate athletes to see our premier sports medicine professionals who can evaluate athletes for acute, non-urgent sports injuries to get them back in the game. I'm excited to return to my hometown. I hope to continue advancing the orthopedics field and provide top-notch care and novel techniques to patients in Michigan.
Banner image courtesy Leigh Ann Cobb Photography.