Derek Kealii Polischuk is professor of piano and director of Piano Pedagogy in the Michigan State University College of Music. In the new College of Music television series Music for Social Justice, he is featured in a WKAR-TV episode on May 22 that is also available on-demand at wkar.org.

I am honored to be involved in the Music for Social Justice initiative produced by the College of Music. In my episode, I chose a distinct piano composition that represents my perspective as both a proud Native Hawaiian and American to talk about the complex history of Hawaiʻi.

It is a great responsibility to tell the story of the illegal annexation of the Kingdom of Hawaiʻi by the United States. It is a neglected history and important for all Americans to know, especially considering increased white nationalist violence.

My late grandmother, Leimomi Wise, whom we affectionally called "Tutu," was a champion of both the Hawaiian language and the rich musical tradition of Hawaiʻi. When she was born, Hawaiʻi was still a territory, with its native people living under a system that repressed Hawaiian language and culture.

The Kingdom of Hawai'i, a sovereign and thriving nation in the late 19th century, was coerced by a "Committee of Safety" comprised of non-Aboriginal businessmen, with the help of the U.S. Marines, to abdicate self-rule when Queen Liliʻuokalani was deposed and placed under house arrest.

By 1959, Hawaiʻi was granted statehood, and in 1993 – nearly 100 years after the queen's forced abdication – the U.S. Congress passed an Apology Resolution. It states, "…the overthrow of the Kingdom of Hawaiʻi occurred with the active participation of agents and citizens of the United States."

The Apology Resolution went on to state that "the Native Hawaiian people never directly relinquished to the United States their claims to their inherent sovereignty as a people over their national lands, either through the Kingdom of Hawaiʻi or through a plebiscite or referendum."

As a performer of Hawaiian traditional music and a student of the Hawaiian language, Tutu became an integral part of the Second Hawaiian Cultural Renaissance which led to a renewed interest in Hawaiian language, hula, traditional Hawaiian crafts, traditional Polynesian canoe voyaging and in some circles, sought to restore Hawaiian independence.

Her songs formed me and they still resonate deeply in my soul when I'm performing or teaching music from any tradition.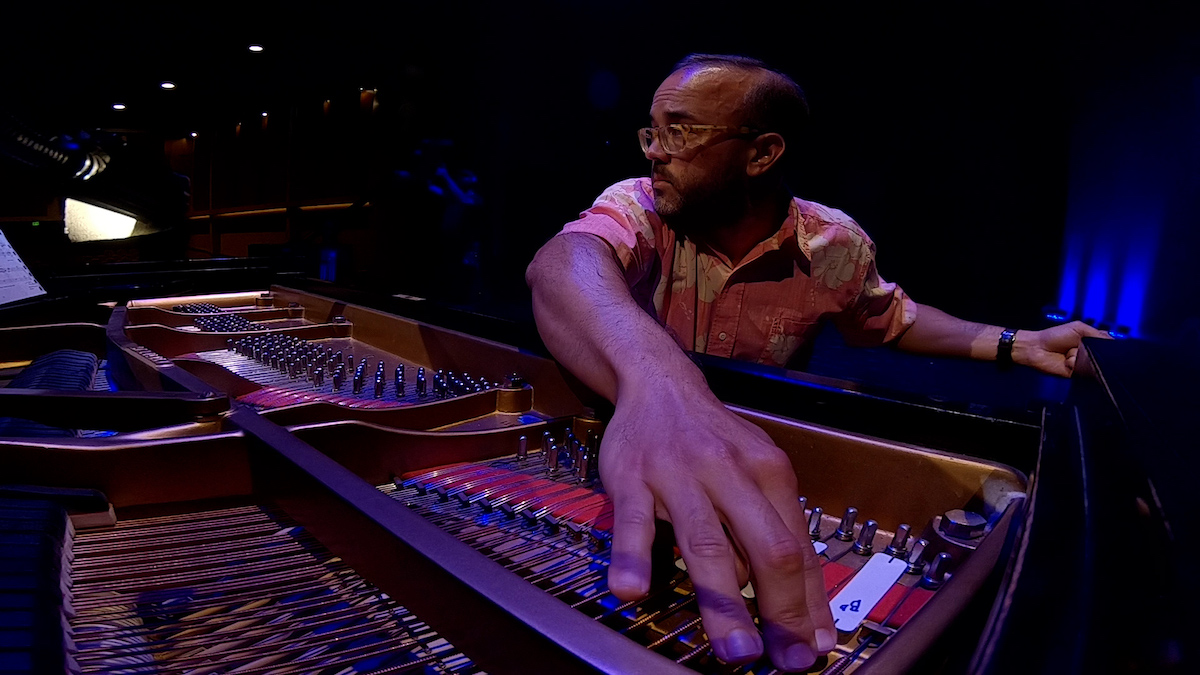 Derek Kealii Polischuk plays piano for Music for Social Justice Series.
In my episode, I perform one movement from a set of pieces entitled "Terra Incognita" by the exceptional composer Thomas Osborne, who serves as professor of music at the University of Hawaiʻi at Mānoa.

Osborne, a native of Indiana, has embraced wholeheartedly the distinct mix of cultures that only happens in Hawaiʻi, as well as the often-times painful history Hawaiians have endured as a part of the U.S. Music is a unique and powerful method of storytelling, and his piece tells this story better than words using the unique timbres of extended techniques on the piano.

Knowing this history of imperialism can help us recognize our part in these injustices and can equip us to fight for justice for Indigenous cultures and to struggle against the scourge of white supremacy that continues to rear its ugly head in our land.

I am proud to work in a college and at a university where stories like this can be shared and discussed. I hope that you can watch, either on television or online, and learn about a painful aspect of American and Hawaiian history that you may not have encountered before.