Kicking off National Drive Electric Week, Michigan State University, in partnership with Consumers Energy, is showcasing a fleet of 40 new electric vehicles and an upgraded campus charging infrastructure. This week is a nationwide campaign of events that raise awareness of the many benefits of electric and hybrid vehicles.
MSU's emission-free vehicle transition is being made possible, in part, through a public-private partnership with the state of Michigan and Consumers Energy's PowerMIFleet program. In total, the university plans to grow its EV fleet by 369 vehicles over the next decade, and possibly more.
"The automotive industry is at a transformational crossroad," said MSU President Samuel L. Stanley Jr., M.D. "It is exciting to see MSU chart this journey toward electrification and be part of a global solution to create a greener future – a fundamental principle of our 2030 strategic plan."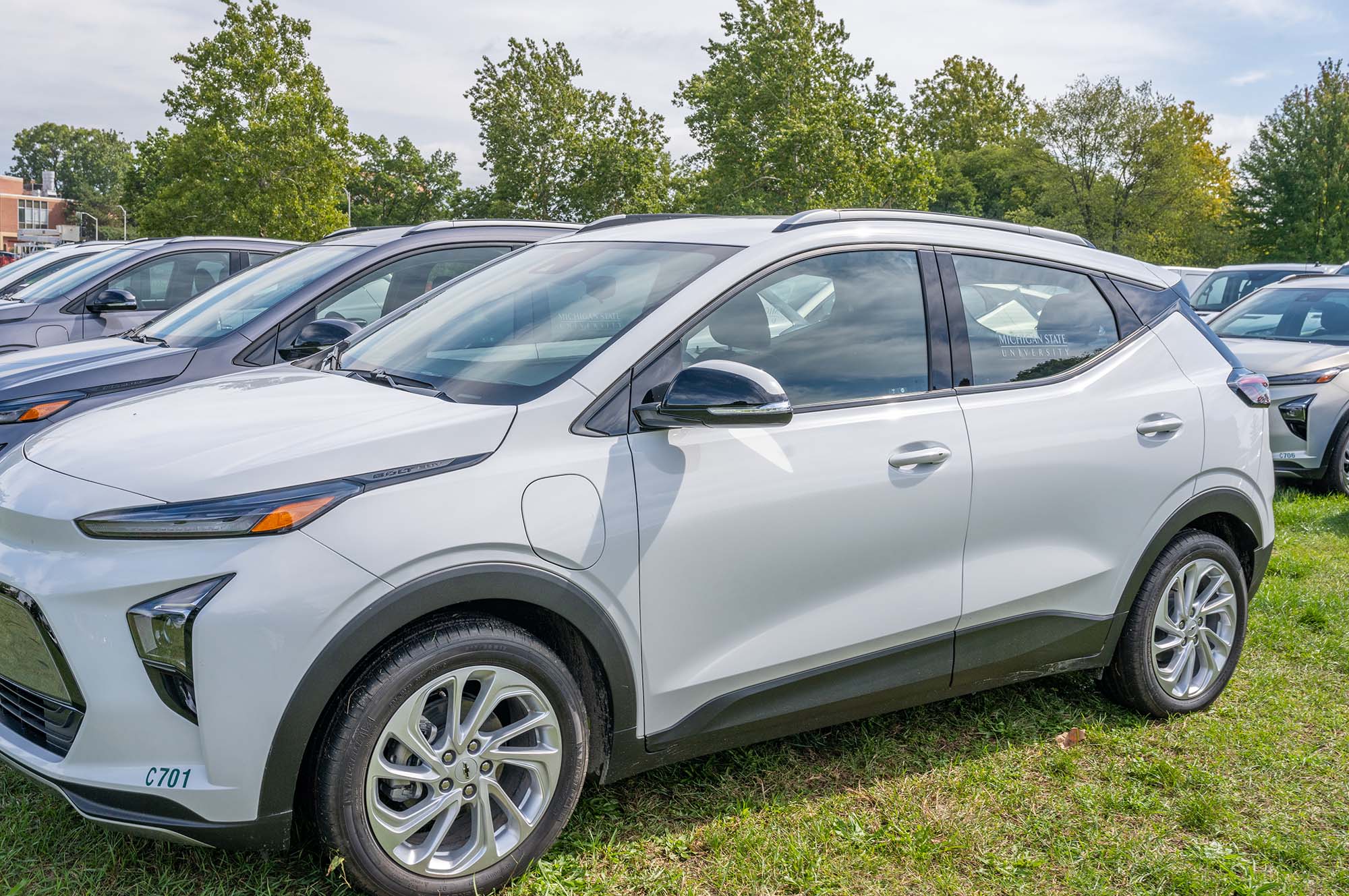 To support the new EVs, MSU increased the number of non-public charging stations to 50 for the university fleet, which created capacity for future EV expansion. MSU will also install two public fast-charging stations at the CATA Multimodal Gateway by the end of the year.
Consumers Energy plans to power 1 million electric vehicles in Michigan by 2030. The energy provider will be celebrating MSU's EV commitment by showcasing inside the "TuckTown" fan plaza before Saturday's football game.
"Go Green! Michigan State University is leading the way as our home state – the birthplace of the auto industry – becomes a hub for the next generation of clean vehicles," said Lauren Youngdahl Snyder, Consumers Energy's vice president of customer experience. "We're proud of MSU for setting an example for the entire state and taking real steps to protect the planet."
Consumers Energy's PowerMIFleet program helps employers like MSU make the transition to electric vehicles, while its PowerMIDrive program has provided nearly 2,500 rebates for home, business and public chargers.
MSU's new vehicles will be a mix of sedans, minivans and soon, light-duty pickup trucks. The fleet will help the university achieve climate neutrality by 2050 and reduce greenhouse gas emissions by 50% from its 2010 baseline, as outlined in MSU's 2030 strategic plan. The conversion will also help decrease the university's long-term carbon footprint by nearly 18,945 metric tons of carbon dioxide — the equivalent of planting 312,584 trees.
More information on electric vehicles charging locations – including on MSU's campus – and how to increase EV battery efficiency can be found here.