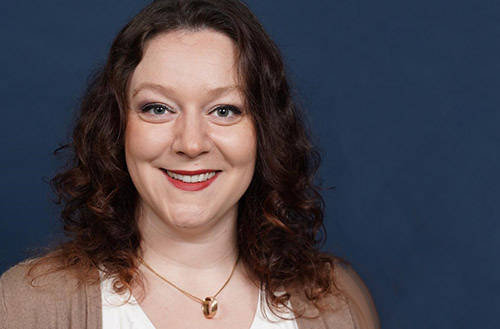 Helping patients gain valuable time with loved ones is the major reason why sixth year D.O.-Ph.D. student at Michigan State University College of Osteopathic Medicine, Lyndsey Reich, wanted to become a researcher and a physician.

Reich's father was involved in multiple clinical trials that extended his life by about 10 years, which allowed her to see the immediate impact research can have for patients. Remembering the important gift of time her father received while participating in trials during his illness prompted her to choose the path of medicine and research.

She wants to provide that same hope and time to others.

Reich is excited and hopeful for the possibilities that will result from her team's research on rexinoids, a class of drugs which activates the nuclear receptor RXR. Targeting nuclear receptors has proven to be a fruitful area of research for cancer treatment – tamoxifen, which targets the estrogen receptor, is highly effective for the treatment of estrogen receptor positive breast cancer. Their research is specifically focused on the V-125 rexinoid, published in the January issue of "Scientific Reports," which showed a reduction in tumor growth in preclinical models of breast and lung cancer.

However, she and MSU College of Osteopathic Medicine Pharmacology and Toxicology Professor Karen Liby, senior author, are careful not to over promise. "Drug discovery is a long process which takes many years from initial discovery to FDA approval for use in patients," Liby explained.
For the full story, visit com.msu.edu