Nearly 4,000 Michigan State University students and employees live with a disability, which may range from loss of sight or hearing to psychiatric or mobility issues. While in some cases these disabilities are permanent, what is not are the barriers they may pose for students in their academic learning environment or employees' working environments. During National Disability Employment Awareness Month, the Resource Center for Persons with Disabilities, or RCPD, the Office of Employee Relations, or OER, and other campus units are elevating awareness of their collaborative work to ensure that students and employees with disabilities receive the accommodation they need in order to be successful at MSU and beyond.
Student-centered approach
Between May 2021 and May 2022, 3,478 students were accommodated for permanent disabilities. Accommodation ranges from computer modifications for speech input and output to access to proper transportation, all of which start at the Resource Center for Persons with Disabilities. RCPD plays an integral role in maximizing ability and opportunity for full participation by persons with disabilities.
"MSU has long led in inclusive education dating back to the 1930s efforts of Tower Guard," said Michael Hudson, RCPD director, referencing the student organization dedicated to serving RCPD. "In the 50 years of the RCPD, we welcomed people with increasingly diverse disability challenges to engage in the promise of an MSU education."
RCPD's mission can be best described using the acronym ABLE.
• Assess and document disability, academic and workplace needs.
• Build and facilitate individual plans for reasonable accommodation.
• Link individuals with technology, education and resources.
• Extend independence through auxiliary aids, disability-related information and self-advocacy.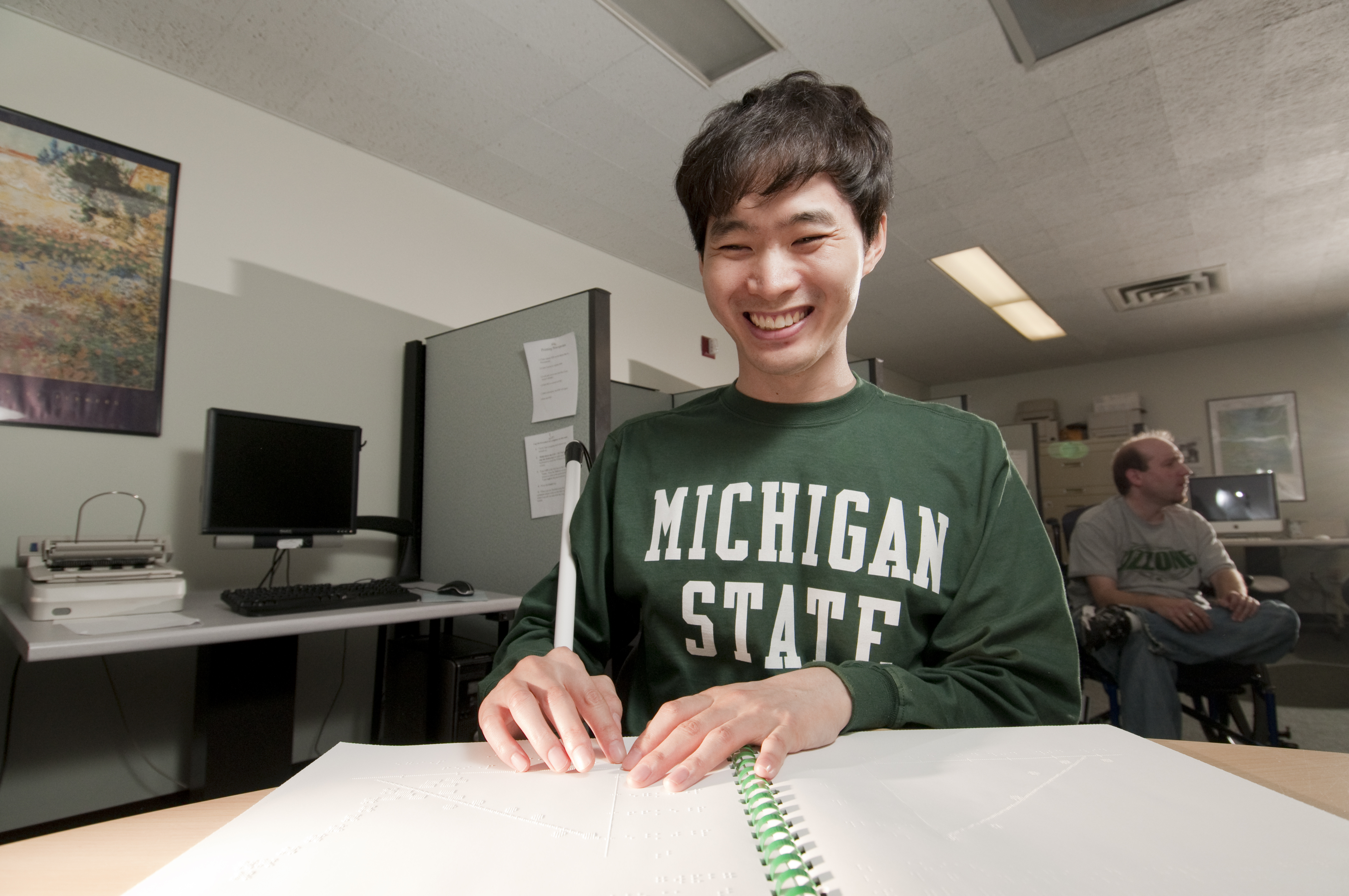 Assistive technology empowers students to learn and prepare for careers.
In addition to providing workplace and academic learning accommodation for Spartans, the RCPD is also home to the Careers Collaborative, which helps students with disabilities to focus on career transitions as they near graduation. Students receive specialized guidance from a vocational rehabilitation counselor on campus who helps prepare students for their respective career fields. The counselors work closely with campus departments and employer partners to ensure students receive practical experience and knowledge through coordinated internships and careers. This program would not have been possible without RCPD outreach to the state and the private support of MSU alumni Michael and Kathy Bosco in 2014.
"Each year, the Careers Collaborative is providing nearly 100 students with new career connections intent on addressing the challenges that accompany a disability," Hudson said.
Applying research excellence to real-world applications
Launched in June 2022, the MSU Center for Services, Training and Research for Independence and Desired Employment, or STRIDE, partners with researchers, service providers, employers and policymakers to support those with physical, mental, neurological, intellectual and developmental disabilities. Housed in the MSU College of Education and the Department of Counseling, Educational Psychology and Special Education, the center helps translate research efforts into real-world practices that are effective and efficient for all. STRIDE also serves as a hub for training future professionals and organizations through service-learning placements, conducting innovative research and engaging with communities.
Success at MSU and beyond
MSU's Career Services Network, or CSN, also plays a critical role in career outcomes for students with disabilities. The network partners with the RCPD, the Office of Rehabilitation and Disability Services and Michigan Rehabilitation Services on key initiatives that support students with temporary and permanent disabilities. One of those initiatives includes funding a graduate student career adviser who supports RCPD through career advising, programming and outreach. Additionally, the Career Services Diversity Initiatives Liaison participates in regular planning meetings with RCPD staff and works with many partners in planning and hosting programming and events, including the annual Diversity Career Fair that will take place on Feb. 1, 2023. As part of the 2023 fair, workshops and events will support both students with disabilities and employers who seek to source and recruit MSU's diverse student population.
"We recognize the growing population of students that has both temporary and permanent disabilities and the importance of providing programs and events that are accessible and mindful of students who may need special accommodations or services to support their career exploration and employer engagement," said Jeff Beavers, executive director of the Career Services Network. "Currently, we have a committee that is preparing new recommendations for how we think differently about serving students, from providing quiet and low-light interview spaces to offering student assistants to support participation in a career fair and networking events."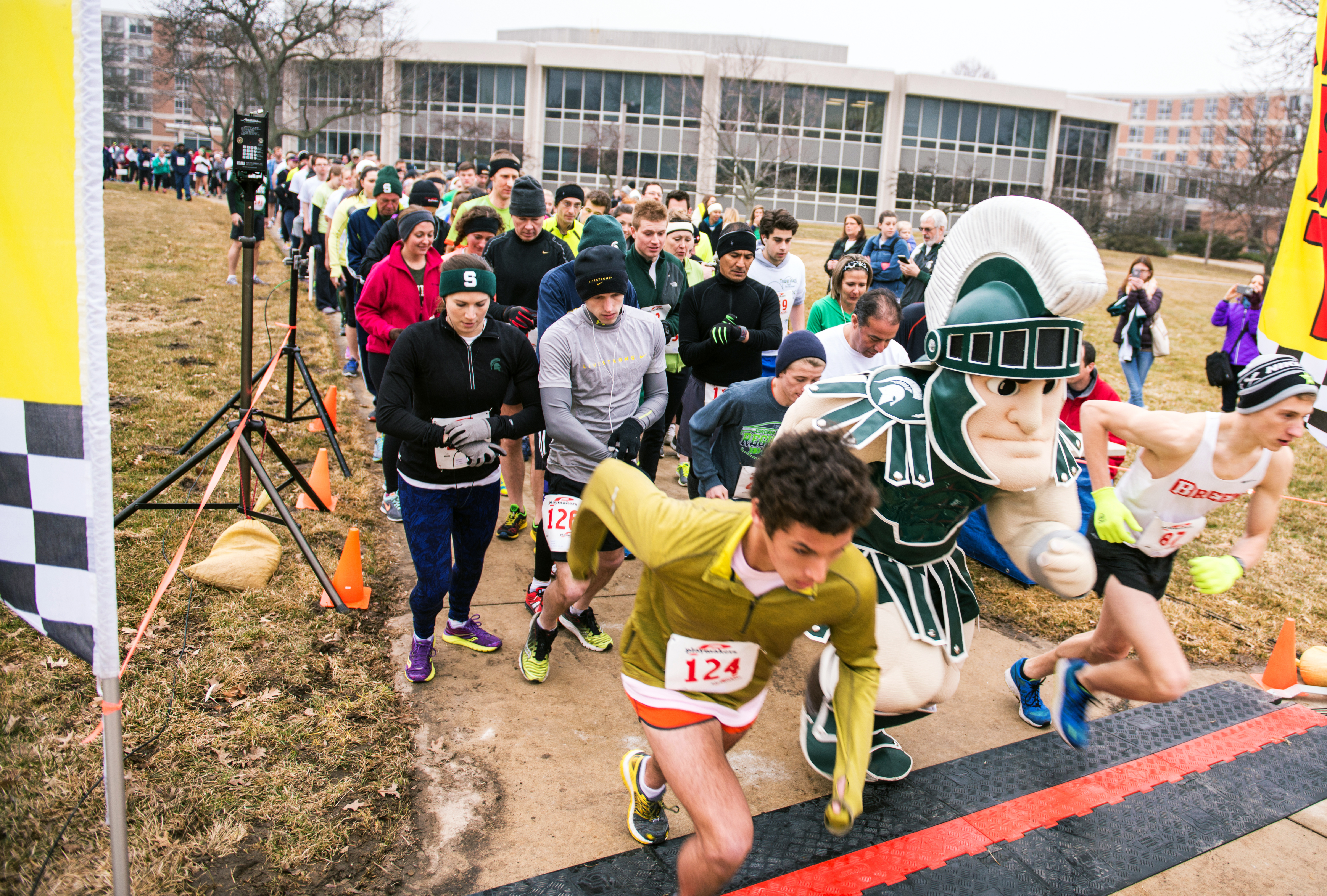 Tower Guard Shamrock 5K energizes community, raising visibility and partnerships
Workplace support for staff and faculty
It's important to note RCPD's involvement with workplace accommodation for MSU employees with disabilities. OER, through a collaborative partnership with RCPD, ensures an interactive and timely process is conducted between the employee, RCPD specialist and the employee's unit. All medical records and diagnoses regarding the employee are kept confidential from the unit.
"I appreciate the partnership model that MSU provides for employees requesting disability workplace accommodations," said Julie DeGraw, accommodation specialist. "I believe it empowers employees and their units and provides an inclusive, welcoming and supportive environment for employees in the disability community."
"I have multiple complex chronic health conditions that are progressive. I was hesitant to reach out for services because I had reservations in sharing my diagnoses with others," said Margaux Griffith, assistant professor in the Department of Writing, Rhetoric and American Cultures. "OER and RCPD have afforded me the opportunity to prioritize my teaching while maintaining and managing my health conditions. I am grateful for this resource at MSU."