Rhea Wyse and Matt Tiacharoen, both third-year medical students in the College of Human Medicine, have organized a book drive to serve Ukrainian families seeking refuge in the Netherlands.
Millions have fled Ukraine in what is soon to become Europe's biggest refugee crisis of the 21st century. Women and children have been forced to relocate to dozens of countries across Europe, many of whom left their whole lives behind to find safety in the midst of a conflict.
As the Russian invasion continues, we as medical students wanted to do our part and help those who are fighting for their lives and safe haven. With the direct help of one of our faculty members, Dr. Monica van der Ridder, who is based in the Netherlands and caring for refugees, we decided to organize a book drive that directly serves families who are seeking refuge in the Netherlands. We requested the titles of books in the Ukrainian language and received a list of over 60 books curated by the women and children and shipped $300 worth of books and supplies (18 books and 10 crayon sets). Students and faculty from the MSU College of Human Medicine, along with the greater MSU community, are encouraged to continue donating to the cause — every bit helps. Additionally, we are working with the Flint and Genesee Literacy Network, who is donating a sizable set of books that are being shipped overseas. Although there is little we can do from the United States, by sending books and other needed items, we can bring comfort to the Ukrainian women and children as they navigate this challenging time away from their homeland.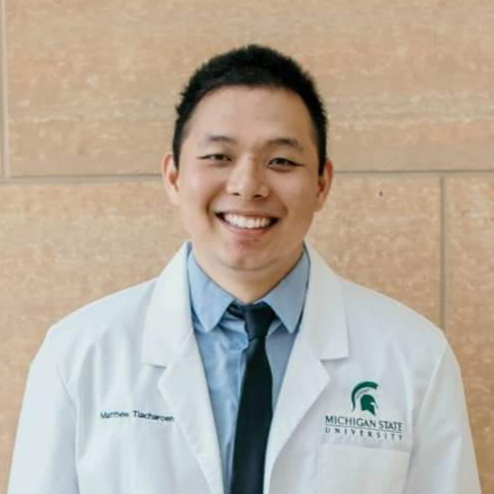 Matt Tiacharoen
It has been heartbreaking to watch the news and see families living in such fear. We have many MSU students who are Ukrainian and whose families and friends have been directly impacted, so this is personal and we would like to show our solidarity. As medical students, we believe that knowledge is power. And books are a way to not only empower but promote continued education for refugees, particular young children who are now out of school.
We would like to thank everyone who has donated and supported the book drive. It has been humbling to see so many people wanting to help.
Donation information can be found on the drive's Google Forms page.
If there are any questions about donations, please contact us at wyserhea@msu.edu or at tiacharo@msu.edu.