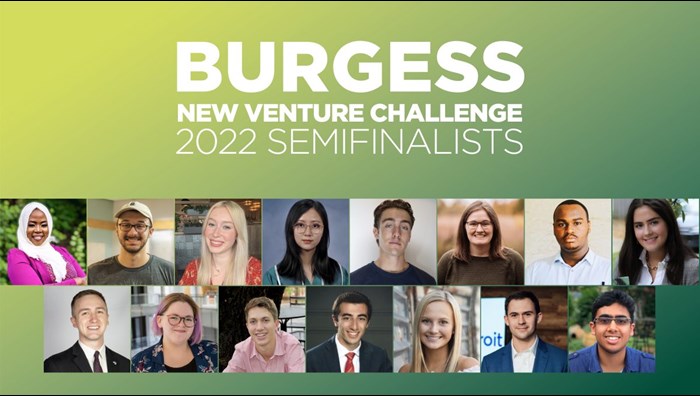 The Burgess Institute for Entrepreneurship and Innovation announced the 15 semifinalist teams selected to compete in its fourth annual contest, the Burgess New Venture Challenge.

On April 7, the Burgess Institute will host MSU's premier pitch competition at the Graduate Hotel in East Lansing from 4-8 p.m. The annual competition highlights top student entrepreneurs and celebrates the university's growing venture creation ecosystem.

"The Burgess New Venture Challenge is more than a competition," said Ken Szymusiak, managing director of academic programs for the Burgess Institute. "This is high-stakes experiential learning. These 15semifinalists must prove their ideas are viable; the market demands their solutions; and, ultimately, their value propositions hold up to scrutiny."

This year's semifinalists will pitch their ideas during a private session before the student showcase opens to the public. With only five finalist slots available, student venturers will need to convince a panel of expert judges they have what it takes to compete for $44,000 in total scholarship prizes.

To qualify to compete, students must enroll in the Burgess Institute's intensive Discovery and Launch programs, collect feedback about their ideas from potential customers as well as business leaders and venture coaches, and form collaborative teams around their submitted ideas.
To read the full story, visit entrepreneurship.msu.edu