Warning: This story talks about suicide. If you or someone you know needs help, please call, text or chat the Suicide and Crisis Lifeline at 988. You matter. You are important.
For two days in July 2022, Brian McNeely went to his family's property in the Blue Ridge Mountains of southwest Virginia with only a large, military-grade bag on his back. It was filled with supplies to sustain him — things like ready-to-eat meals, dry clothes and, fortunately, a tent. The night he slept outside, it poured rain. He slept in his boots and clothes. Two days in the wilderness, he said, was a lot. But it was worth it.
McNeely was spending those two days off-grid as part of the first course in the Combat Veterans Certificate Program in the Michigan State University School of Social Work. The course, Embracing the Stories of War, uses an immersive storytelling approach to deepen students' understanding of the military cycle, from enlistment to basic training to the experience of war and the challenges of returning to civilian life.
McNeely, who is a veterans service representative at the Veterans Benefits Administration in Virginia, never served in the military but has a lot of family and friends in the service and works alongside many veterans. He applied to MSU's certificate program, the first of its kind in the country, with the hopes of better understanding veterans from all backgrounds. His experience has exceeded those expectations.
While McNeely knew his experience in the wilderness was not as realistic as basic training or the experience of war, facing discomfort without the additional stress of worrying about engaging with an enemy stuck with him. The rest of the course, which included testimonials from veterans who shared their experiences, gave McNeely new perspective. "You can start to feel somewhat what veterans have experienced," he said. "That way, when you go to talk to a veteran, in the back of your mind you have a pretty good knowledge base. The things I learned in this course put me about as close as possible to being in the military without actually being in the military."
A deeper kind of coursework
For McNeely and others who are participating in or have completed the certificate program, finding a way to better understand combat veterans is the best way to assist them. Tina Thompson, the program's coordinator, and Glenn Stutzky, senior clinical instructor in the School of Social Work, are the creators of the three courses in the program designed to do just that. Students do not have to be enrolled in MSU's School of Social Work to participate in the certificate program. Additionally, the Master of Social Work Veterans Scholarship was established to support veterans during their graduate study in the School of Social Work.
The first course was offered in 2016, and the full, three-course certificate launched during the 2018-19 academic year. Over 200 students have completed at least the first course, and over 65 have completed the entire program, with more slated to finish in May 2023.
Thompson's husband, Kevin, a Marine Corps veteran, returned home from the war in Iraq physically, emotionally and mentally scarred, later revealing he was suicidal. "Knowing this was happening in my own home, and I had no idea, really shook me to my core, and it reinforced the need for us to be focusing on the issues that we are in this program," she said. "I had many years of social work education under my belt, but in all those years, I never learned a single thing about the military population or the challenges they experience."
"We have deliberately chosen to make our focus on those veterans who have experienced combat," Stutzky said, "because that is something few people, especially civilians, understand, and it brings with it unique challenges."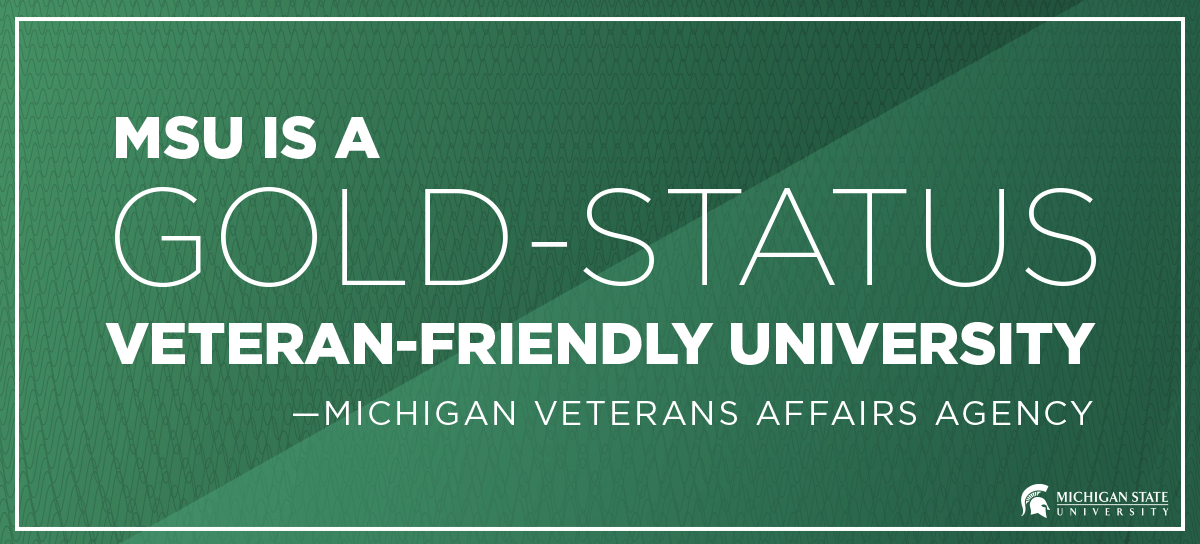 The courses, which are taught online, feature no textbooks or lectures. Combat veterans serve as the instructors, sharing on video — and in intimate conversations with students — some of their darkest moments. To gain insight into a combat veteran's mindset, students write a last letter home and carry it with them; wear dog tags; relive 9/11 through text messages, video clips and audio of phone calls; and receive ready-to-eat meals and care packages.
"The veterans are so vulnerable, and they just want you to understand," said Leah Christensen Bell, who graduated from the School of Social Work, and completed the certificate program, in May. "Veterans in the program share a side of war that you don't see or hear about in the news or personal life — they share things that are taboo to talk about. A veteran sharing his or her story that is so raw is so impactful."
After graduating, Christensen Bell took a role with the Battle Creek VA in its substance use disorder program. She said the knowledge she gained in the certificate program allows her to connect with the veterans she now works with daily. "I learned so much clinically," she said, "but also about the things that veterans struggle with and how to connect to a veteran. It can be hard for us to be able to get into the footsteps of the veteran and really immerse ourselves in that military culture and understand the sacrifices that veterans have had to make." Now, when she works with a veteran, she brings up the program and explains the coursework. "It makes that veteran feel appreciated," she said.
McNeely has found he can reach veterans more easily now, too. Part of that, he said, is knowing what not to ask. "Questions the public like to ask are, 'Have you ever killed anybody?' 'What was it like over there?' or 'Were you shooting at people all the time?'" McNeely said. "Those questions are almost dismissive of their service and are just not appropriate." He does his best to be mindful of the experiences lived by veterans while trying to learn as much from their individual experiences as possible.
Bailey Rutter currently serves in the Army National Guard and works as an outpatient therapist working with severe mental illness at Hiawatha Behavioral Health in Sault Ste. Marie in Michigan's Upper Peninsula. Like Christensen Bell, she graduated with a Master of Social Work and the Combat Veterans Certificate in May. Being a service member left Rutter skeptical when she began the program, but the skepticism faded as soon as she began hearing the veterans' stories. "It was veterans telling their stories. It wasn't somebody else trying to tell their story for them or trying to make it easy for civilians to understand," she said. "It was their language, their experience. It was the lifestyle they had lived."
Being in the National Guard, Rutter said veterans' struggles with mental health are real. She works with other service members who have been in for 12-plus years more than her, but she doesn't know what they've done because they don't often talk about it. Rutter is willing to go into tough subjects, however. The Combat Veterans Certificate added to her resolve to do so.
"I am kind of known in my unit for talking about things that are difficult," she said. "I talk about them because they are hard, and nobody wants to talk about it. But that's how we end up losing people. We've had our share of suicides within our unit or our ranks. A lot of times, I think it's because people don't talk about it. So, I often ask questions or bring up topics that people get really uncomfortable with. But then later, they come and find me and say, 'Hey, can we talk about that a little bit more?'"
'You're going to come across a veteran'
Andy Denbow actively served more than 15 years in the Marine Corps, enlisting in April 2001. He retired early because of a back injury but wanted to give back to the community that had done so much for him. He felt many veterans struggle with mental health, so he decided to pursue social work. While pursuing his master's degree at Wayne State University, his wife spotted the Combat Veterans Certificate at MSU. Denbow couldn't pass it up. And, like many of his classmates, he was impressed with the program's immersion.
"It brings you so close to learning about the military," he said, "understanding what we go through to go into combat. It brings you right up to the point of knowing what we do and how we think and what we go through without actually joining." Having already served, Denbow did not have to go through the two days of off-grid training his classmates did, but he was thrilled to see how seriously they took it.
The rest of the course load is important to Denbow, too. The second course focuses on the challenging realities veterans face. The third and final course focuses on the difference between treatment and healing, the overlap and unique features of combat injuries (post-traumatic stress, traumatic brain injury and moral injury), and the role complex trauma plays in post-military adjustment, including the need to assess for and address pre-military trauma.
Denbow will earn his Master of Social Work in May 2023, which is also when he will finish the certificate program. From there, he wants to work on advocacy and policy change regarding mental health for veterans. He believes adding a veteran's voice will be helpful when it comes to advocacy, just like it helps boost the impact of the certificate courses.
The Combat Veterans Certificate will play a strong role in Denbow's career moving forward. He hopes other professionals will take at least the first course, too.
"For anybody in the mental health field, whether they want to work with veterans or not," he said, "you're going to come across a veteran, one way or another. And I think the importance of the certificate is to teach you when that veteran walks across your path, you understand where they're coming from."