Apple, Michigan State University and the Gilbert Family Foundation today celebrated the accomplishments of graduates from the first cohort of the Detroit Apple Developer Academy.

The academy in Detroit is the first in the United States, launched as part of Apple's Racial Equity and Justice Initiative. The free program offers students an opportunity to become entrepreneurs and app developers by learning the fundamentals of coding, design, marketing and project management — with an emphasis on inclusivity and making a positive impact in local communities.


"Ten months ago, we opened the doors to the developer academy with a shared vision for advancing diversity, equity and inclusion and building leaders, developers and entrepreneurs who could make an impact on their local communities," said MSU President Samuel L. Stanley Jr., M.D. "Today, we celebrate nearly 100 graduates and their remarkable accomplishments which will undoubtedly make a positive impact on the city of Detroit and our state for many years to come."
"As the first graduates of our Detroit Developer Academy, these students have demonstrated remarkable creativity, service to their communities, and resilience through the pandemic," said Lisa Jackson, Apple's Vice President of Environment, Policy and Social Initiatives. "We're so excited to see how this class will use their coding and app development skills and the power of technology to build a better world."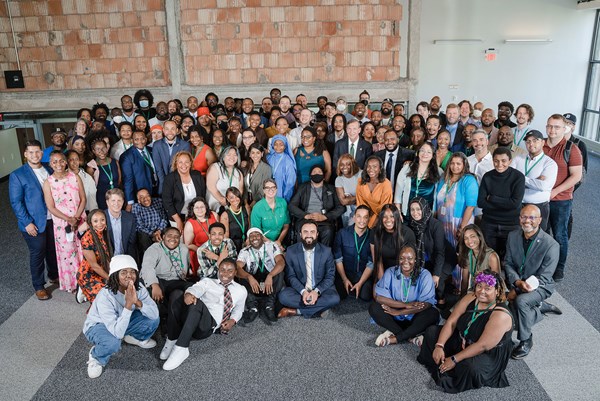 The 2022 graduates range in age from 18 to 64 and come from diverse backgrounds with a variety of educational experiences. They received 10 months of comprehensive and intensive app development and entrepreneurial training, with all equipment needed for iOS development provided as part of the program. Over the course of the program, graduates developed new apps now available on — or coming soon to — the App Store that address a range of consumer needs, including travel, health and wellness, augmented reality games and more. The iOS app economy supports more than 2.2 million jobs across the U.S., including 45,000 in Michigan.

"The academy isn't just teaching you to code or design; it's giving you the entire blueprint for how to be successful as a developer," said Jaleel Lawthorn, who enrolled in the academy to catapult his transition from automotive painter to full-time entrepreneur. "This has been one of the most amazing experiences of my life, and the support system is beyond any support system I've had at any educational institution."

Following graduation, academy students have secured employment with such companies as GM, Ford, Accenture, Rocket Mortgage and others to leverage their expertise in coding, business, design and technology project management. Additionally, some students are staying with the academy to participate in its internship program, while others are continuing their education.

"I literally feel like I can do anything I want," said Alesha Duncan, who was hired as a design mentor at the academy for next year. "The Apple Developer Academy has given me a different kind of confidence in my skill set, in who I am, and in my ability to go out and impact the world."

The academy, located in the heart of downtown Detroit, has been generously supported by the Gilbert Family Foundation, in partnership with Rocket Companies. The philanthropic investment is part of the Gilbert Family Foundation's joint $500 million, ten-year commitment alongside the Rocket Community Fund to provide greater economic mobility and educational opportunities in Detroit.

"We are proud to invest in the Apple Developer Academy and, most importantly, these nearly 100 graduates. As entrepreneurs, developers and doers, these students will make a significant impact in everything they pursue," said Jennifer Gilbert, cofounder of the Gilbert Family Foundation. This impactful partnership with Apple and MSU will continue providing equitable access to opportunities like these, so that underrepresented industries are more inclusive and reflect the diversity of our city and our world."
The academy is already recruiting for its next cohort of students and is accepting applications for the upcoming class on a rolling basis. Individuals 18 or older from all backgrounds with an interest in building a foundation for a career in app economy are encouraged to apply. Enrollment is available at no cost, and students are not required to have any previous coding experience. Students in this year's class bring a breadth of personal, professional and academic experience to the program.

For more information on the programs and ways to get involved, visit the Apple Developer Academy.