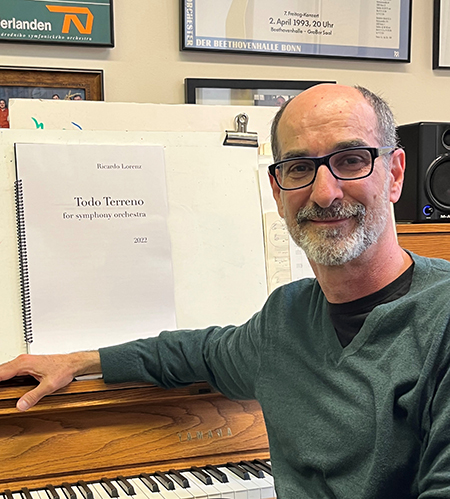 When composer Ricardo Lorenz began work on a new piece of music in 2021, he was facing a deadline for a commission and unsure at first what his work would become. To his great delight, it became an exciting story bookended by inspiration from and memories of childhood.

For Lorenz, professor of composition and chair of the Composition Area in the College of Music at Michigan State University, this wasn't just some ordinary commission he took on, nor was the premiere less than a year later an ordinary premiere. This was a work commissioned by the Los Angeles Philharmonic, led by Gustavo Dudamel, premiering at Disney Hall in California. One of the top orchestras in the world, led by one of the most famous conductors in the world, and performed at one of the premier performance halls in the world. The pressure was on.

"You know, you're coming out of the pandemic hiatus, and you think your career is over because nobody is going to concerts, and you start to think people are going to forget about live music," Lorenz said. "Suddenly, I get an email from the LA Philharmonic, and it was a complete surprise. This was completely unexpected."

An LA Phil effort called the Pan-American Music Initiative triggered the email. Lorenz was asked to compose one of 30 new commissions for the LA Phil for year two of a five-year program. The initiative also included a commission and premiere by College of Music DMA alumnus and former Lorenz student Gonzalo Garrido-Lecca.

"When you write one of these pieces, even though it's a short opener, it's sort of like going to Mount Everest and back. You put everything into it," Lorenz said. "Since I got the email in May of 2021 and had to submit the piece in March of 2022, I had less than a year to complete it."
To read more about Lorenz' journey, visit music.msu.edu.