Crime. Trauma. Drugs. Intimate partner violence. Sex trafficking. Child abuse and neglect.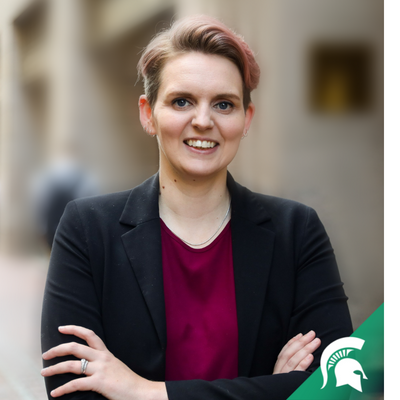 That may sound like a lineup of topics from episodes of "Law and Order: SVU," but it's not. These are the real-life issues that concern Rebecca Stone on a daily basis.

Stone is an assistant professor in the Department of Sociology, Criminal Justice, and Education at Suffolk University in Boston, Massachusetts. Along with earning her bachelor's degree (2007), master of science (2009), and doctorate (2014) in criminal justice, Stone added on a master of public health degree (2012) from Michigan State University.

"I felt that the public health orientation and toolkit was a very useful way of thinking about crime and justice problems, many of which begin as health issues: violence and abuse, mental illness, substance use, poverty and social inequity," Stone said. "There's a growing public awareness that the criminal justice system is not well equipped to respond to the issues that we are asking them to deal with."

Stone describes herself as an interdisciplinary scholar in the areas of criminal justice and public health, with a focus on justice-involved women. She specializes in community-engaged qualitative research methods including in-depth interviewing, focus groups and field observations. She said that adding a public health perspective is one way of improving the response to people and communities in crisis.

"I work directly with communities to improve access to health, safety, and justice; it is deeply meaningful and inspirational for me," said Stone, who recently completed a three-year fellowship with the Robert Wood Johnson Foundation's Interdisciplinary Research Leaders program.
For the full story, visit publichealth.msu.edu