It is no secret the automotive industry is at a transformational crossroad. Many companies are working toward transitioning from the internal combustion engine to electrification and sustainable mobility. Helping to lead that transformation are the 75 students in the driver's seat of the MSU Solar Racing Team, a student-run organization that designs, builds and races solar-powered electric vehicles.
Students on the team gain hands-on experiences that extends beyond the classroom, while helping to promote a greener future. That is done through collaboration and teamwork while working on the team's current vehicle, Aurora, which means dawn of a new era.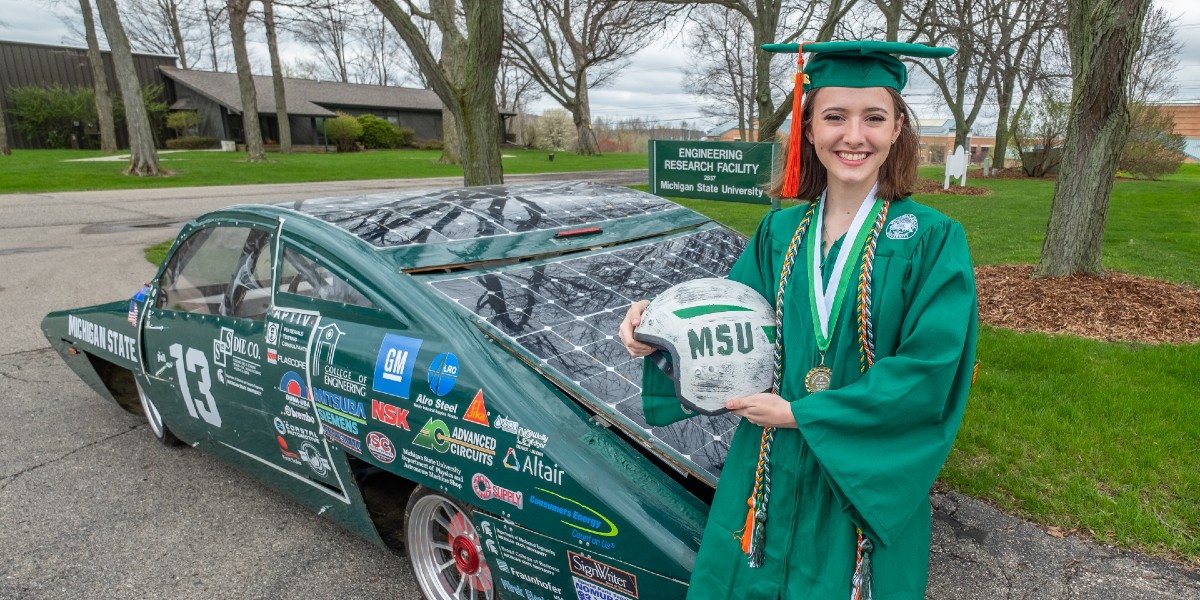 "What we're doing right now is going to be the future of the automotive industry. The students that come onto our team are going to be experts early on in electrification," said Julia O'Mara, MSU Solar Racing Team program director and 2022 graduate of the College of Engineering.
Aurora's 326 solar panels convert sunlight into power that is stored in the vehicle's battery charging system, which holds approximately 13 kilowatt hours of power. The vehicle has a top speed of 68 mph and at full charge, can travel for about 200 miles at a cruising speed of 30 mph before losing power.
Developing and preparing the vehicle to run takes talented and dedicated Spartan entrepreneurs and engineers.
"The most exciting thing for me is seeing the passion that freshmen and sophomores bring to the team and continuing to see the seniors and juniors and upper classmen lead and teach these new members," O'Mara said.
The team's work is a direct reflection of the university's strategic plan, highlighting themes of sustainability and student success, particularly through experiential learning. O'Mara will begin her engineering career at Ford Motor Co. in the fall, working in powertrain development. She is excited to begin her next chapter in life and feels MSU and the Solar Car Racing Team have helped her prepare.
"MSU solar car has shaped my entire life. It gave me practical experience you may not learn in the classroom. Some weeks I would spend 40 hours on solar car on top of my schoolwork; it was like a full-time job, but I loved doing it," she said.
But Aurora isn't just all for show. The team competes in the Formula Sun Grand Prix, an annual solar-car race that takes place on closed-loop tracks. The FSGP also serves as a qualifier for the American Solar Challenge, which is held every other summer. This year's event will be held July 5-7 in Heartland Motorsports Park in Topeka, Kansas. The ASC will be held July 9-16, starting in Independence, Missouri, and ending in Twin Falls, Idaho.
More information on the competitions, including the scheduling of events can be found on the
American Solar Challenge website
.
"The amount that I've learned on this team about being a leader, about technical skills that I've gained on this team is unlike any other that I've gained anywhere else," said Prerana Gunda, a sophomore in the College of Engineering who is taking over as team program director this fall.
Former MSU Solar Racing Team Project Manager and President Greg Stark can relate. He was part of the team from 2015-2019 and is continuing his passion of working on electric cars at General Motors Co., where he is a motor and power electronics applications engineer.
"Having that experience on the team got me an internship at GM, and that internship led to another internship at GM that went to a full-time offer after graduation," Stark said.
"It's a great sense of pride," said John Papapolymerou, professor and chair of the Department of Electrical and Computer Engineering. "I couldn't be any prouder of all of them. It's a testament to what Spartan engineers can do and will do and will continue to do."
Since 2010, the Michigan State Solar Racing Team has produced five different vehicles including Brasidius I, Brasidius II, Brasidius III, Leonidas and Aurora. After this summer's competition, the team will begin designing and building its next car, Cynisca. A Spartan princess, Cynisca is famous for being the first woman to win at the Olympic Games in 396 B.C., competing in the sport of chariot racing.
More information can be found on the
MSU Solar Racing Team's website
.