"Ask the Expert" articles provide information and insights from MSU scientists, researchers and scholars about national and global issues, complex research and general-interest subjects based on their areas of academic expertise and study. They may feature historical information, background, research findings, or offer tips.
David Ortega, food economist and associate professor in the Department of Agricultural, Food, and Resource Economics at Michigan State University, discusses the rise in food prices and its impact on working families this holiday season. He offers tips on how people can reduce costs of this years holiday meal.
How much have food prices gone up in 2022 compared to 2021?
Food prices increased 13% compared to last year. That increase is the most we've seen in about 40 years. Heading into Thanksgiving, the price of turkeys is up 17% compared to a year ago — and that's the highest price increase we've ever recorded. However, cranberry and green bean prices have gone down.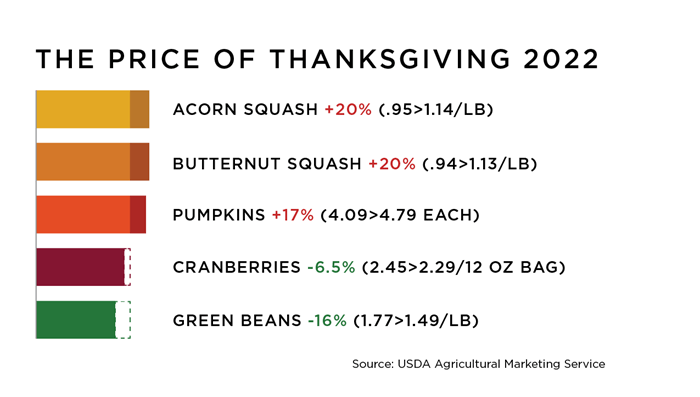 NOTE: These numbers are from October 14th and subject to change.
Why have prices risen so much?
These rising food prices are really due to a cost-of-living crisis. We're seeing consumer prices in general increase just over 8%, but wages are only up by about 5%.
The ingredients in our food represent a small fraction of the overall cost of food. On average, 16 cents out of every dollar spent on food can be tied back to the farm. Most of the prices that we see are because of things like transportation and processing, as well as the wholesale and the retail trade.
Additionally, the avian influenza outbreak earlier this year led to a surge in egg prices, as well as poultry prices. Egg prices are currently up 30% compared to a year ago, which is a significant increase.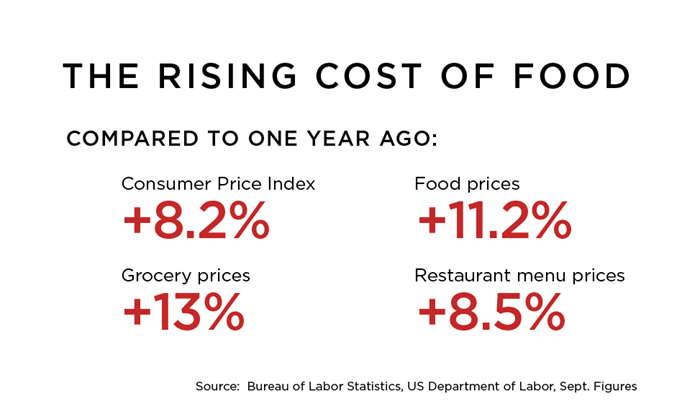 Has climate change impacted food costs?
The extreme heat and drought out west have really put upward pressure on prices for things like vegetables and fruit. We're also going to be feeling the effects of adverse weather in some of our pantry items. For example, California is one of the largest producers of processing tomatoes that go into a lot of our pantry items like pasta sauce and other prepared foods.
Just recently, we've seen very low water levels in the Mississippi River, and that's posing challenges for barges that are transporting our harvest out of the region. It's causing congestion, which just further compounds some of the supply chain issues that we've been experiencing.
How has the war in Ukraine impacted prices?
When it comes to Russia's invasion of Ukraine, that really set off some rising commodity prices for things like grain and vegetable oil. Those prices have come down substantially since the invasion earlier in the year, but it takes time for that to work its way down the supply chain to the grocery store.
How will this impact families this holiday season?
Unfortunately, we're going to be seeing a very expensive holiday season when it comes to putting food on the table. Items like turkeys, flour and eggs are all at record high prices. This is really going to affect working class families and some of the most vulnerable populations in the country who spend more of their income on food.
How can people save money at the grocery store?
It's important to note that grocery retailers are still going to be offering deals and promotion ads for things like turkeys. Turkeys are what we call a loss leader, meaning that grocery retailers tend to price these lower to draw customers into the store to buy other items.
Another way to save is to look at store brands or private labels. These are food items that tend to be priced significantly cheaper than some of the national brands. Often, you're not really sacrificing the quality of the product.