Dave Weatherspoon, professor of agricultural, food and resource economics and associate dean in the Office of the Associate Provost for Undergraduate Education has been named assistant provost for academic strategic planning, effective March 29, 2021.


In this new role he will be a member of the Office of the Provost leadership team, tasked with leading and evaluating academic master planning and strategic academic initiatives. He will work closely with the Office of Planning and Budgets, including the groups responsible for institutional research, budget planning and analysis, facilities planning and space management. Additionally, he will work closely with the Director of Assessment, Academic Program Review, and Accreditation.
"As the university anticipates cross-institutional priorities from its strategic planning process to be announced shortly, the Office of the Provost stands ready to align academic planning efforts in support of broader institutional goals," said MSU Provost Teresa K. Woodruff, Ph.D. "Dr. Weatherspoon's diverse range of skills and experiences will enable his work with campus partners such as deans, chairs and faculty and academic staff to solicit feedback, thoughtfully develop and systematically update the university's academic master plan."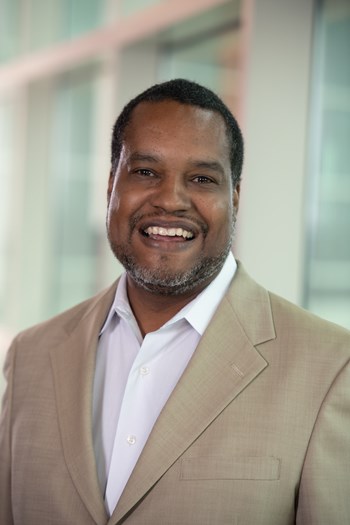 Weatherspoon's professional accomplishments, academic career and administrative leadership have focused on creating knowledge, business solutions and policy options to address the gnarly and persistent issues related to poverty and hunger. He has extensive experience in applied economics, with theoretical and teaching foci in organizational structure, policy analysis and decision-making, along with practical experiences leading and evaluating multimillion dollar grant projects.
As an applied economist for more than 28 years, Weatherspoon is experienced in identifying, analyzing and organizing in ways that address complex university, business, nongovernmental organization, donor and government agency issues. In his role as associate dean, he has been responsible for developing policies and programs that leverage MSU's recruitment, admissions and financial aid resources to decrease opportunity gaps and improve graduation outcomes for MSU undergraduate students.
"It is an honor to have the opportunity to play a leadership role in the Office of the Provost to navigate internal and external opportunities and challenges due to policy changes, financial fluctuations, student demographic and preference changes, and other complexities that higher education institutions face in pursuing excellence," Weatherspoon said. "This new assistant provost position will strengthen relationships and trust across the university by providing regular, clear and transparent communications about academic strategic planning, operations and policies."
Weatherspoon earned his B.S. in crop and soil science from MSU in 1987; his M.S. in agricultural economics from The Pennsylvania State University in 1989; and his Ph.D. in food and resource economics from the University of Florida, Gainesville, in 1993. He arrived at MSU in 1998 as an assistant professor in the Department of Agricultural, Food and Resource Economics and became a full professor in 2011. He was recently awarded the Lifetime Achievement award at MSU's 2021 Excellence in Diversity Recognition and Awards Program, for his many years of mentoring students, staff and faculty.