Michigan State University has developed a new virtual reality, or VR, application, A Mile in My Shoes, to help individuals recognize unconscious bias through different real-world situations. The project is led through the Office of Diversity, Equity and Inclusion, ODEI, and School of Planning, Design and Construction, or SPDC, both in the College of Agriculture and Natural Resources, or CANR.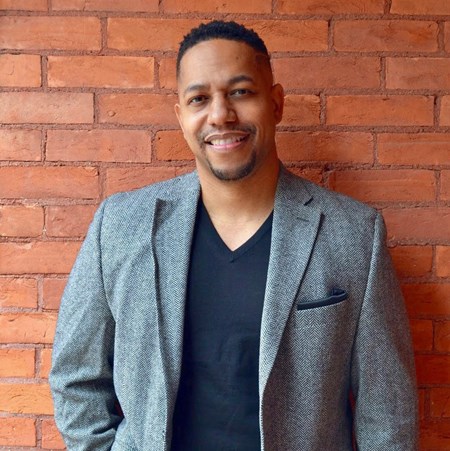 Quentin Tyler, associate dean and director for diversity, equity and inclusion in the College of Agriculture and Natural Resources.
Quentin Tyler, associate dean and director for diversity, equity and inclusion in the CANR, connected with Linda Nubani, an assistant professor in SPDC, in 2019 with the idea to create a virtual reality application that included data from common scenarios to help individuals recognize their own biases in action. Nubani specializes in interior design and VR, which is a computer-generated simulation of an interactive, 3D environment.
"The purpose of developing this immersive, 3D experience is to demonstrate examples of actual situations many people experience every day," Tyler said. "This tool can help us collectively better understand the lives and experiences of people different from ourselves. It can help build awareness, understanding and empathy."
VR is different from augmented reality, or AR in that AR adds virtual elements to an existing, physical space. VR creates a world that is hypothetical or replicating a physical space in a digital world. These experiences typically require the use of headsets, hand-held controllers or other electronic equipment that allow people to interact with the simulation.
A Mile in My Shoes will be available through a computer VR software download and immersive VR using Oculus Quest headsets.
The 3D examples will allow users to traverse through scenarios as different avatars and to interact with others in a space patterned on the Chittenden Hall building on MSU's campus.
"I accurately modeled the building to increase the level of presence and immersion while in the environment, which is in line with research findings using virtual reality," Nubani said. "I have used this technology in many applications and it has been quite effective."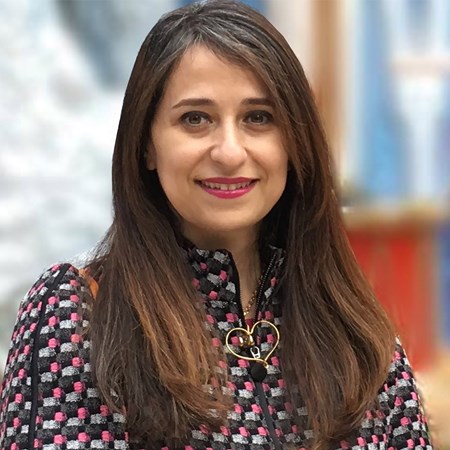 Linda Nubani, assistant professor in the School of Planning, Design and Construction.
Nubani previously created an immersive VR model of the MSU Broad Art Museum along with all the artwork and exhibits in spring 2018. This earlier work informed the A Mile in My Shoes VR application development.
"I was interested in understanding how similar the real world is to the virtual world. After following Broad Art Museum visitors in both the real and the virtual world, we found that the visiting patterns were strikingly very similar," Nubani said. "This makes us very confident in using VR in various applications such as training, simulating complex scenarios, treating people with trauma or even providing a healing environment."
A Mile in My Shoes participants will be able to experience simulated scenes as one of seven avatar characters that represent a cross-section of MSU students. This is meant to accelerate learning, empathy and understanding of how biases affects certain demographics. Several avatars can also join the virtual space in real time.
For example, a student avatar will find themselves outside of Chittenden Hall and have to find their way to the classroom where an instructor avatar will be waiting. The instructor avatar has the capacity to engage with student avatars, play videos as part of the class and use the web browser for demonstrations.
In addition to Tyler and Nubani, the team includes ODEI representatives Ayodele Daré, Shedra Rakestraw and Emily Sorroche. Expanding the application to be used on a computer as well as with a headset, enabled the continuation of research and testing remotely instead of needing to be in person. This made progress possible even while most MSU employees and students were in remote environments beginning in March 2020.
A Mile in My Shoes is expected to launch within CANR in April 2021. The team will continue testing with VR participants following the launch. Future plans include making the VR application available to more people and units at MSU, as well as supporting broader usage by other universities and organizations.
Now, more than ever, it is important for people to experience different situations and have conversations with others about diversity, equity and inclusion in safe and enlightening spaces.
"We have to be creative and innovative in our learning and development, and virtual reality allows participants to act on different scenarios they may potentially experience," Tyler said. "Virtual reality allows participants to get comfortable being uncomfortable in a virtual space, so that when they experience a microaggression they can act and support those that may experience it."