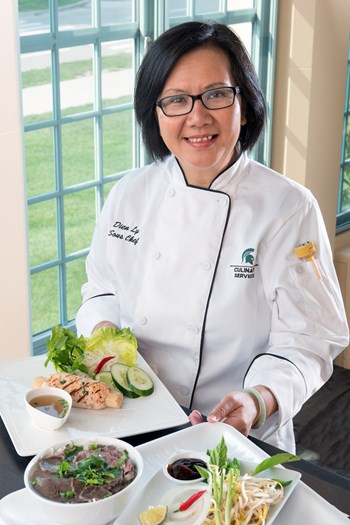 Nearly 30 years ago, Michigan State University Executive Chef Dien Ly and her family departed their homeland for a life-changing opportunity. Greeted with a deep Michigan winter, she experienced her first snowstorm when they immigrated to the United States.

Born and raised in Saigon, Vietnam, Ly spent her teenage years in a war-ravaged country where food was a necessity and never a commodity. "Before the war, I attended school in France, where I grew to love the language and the cuisine," she recalled.

Although the luxury of food diminished as a result of the war, her devotion to cooking prevailed. When Ly's family opened a restaurant, she attended the culinary school Hoi Phu Nu in Vietnam and became a certified chef.

"Our business thrived with my diverse fusion menu," Ly shared. "Embracing different elements of culinary cultures and exposing people to so many distinct options was rewarding."

While the restaurant's success was encouraging, and a strong indication of Ly's talent, relocating to the U.S. was too enticing to pass up. They moved overseas, leaving her birthplace behind for a fresh start. Adapting to a new culture can be a daunting task and it was no exception for Ly and her family. "It was shocking and the first 10 years in an unfamiliar country were challenging," she remembered. "But we worked hard to learn the language and acclimate to a unique landscape."

To enrich her understanding of the American lifestyle and fare, Ly secured her first job in the states at a Chinese restaurant in East Lansing, Michigan. The customer base was largely students of Asian descent and interacting with them guided her future aspirations.

Ly missed home, including the culture and cuisine. She could identify with these Spartans, as they reminisced about home and their family's cooking. In addition to its functional role of providing nutrition, food can be emotional as well. For Spartans traveling from afar to pursue their dreams, offering authentic cuisine and familiar flavors can influence their college choice.

After connecting with students on this level, Ly had renewed ambition and strived to create this experience for them on campus. To diversify her skill set, she worked in many different environments, from private restaurants to large hospitality chains.

"My drive, tenacity and passion for food shine through every aspect of my life," Ly expressed. "I give no less than 100 percent to everything I do and my foodservice career is certainly no exception."

The private sector of the industry allowed her to gain a wealth of knowledge, but she continuously pursues professional growth. In 2007, the opportunity to join MSU Culinary Services knocked at her door and she was offered a position at the institution.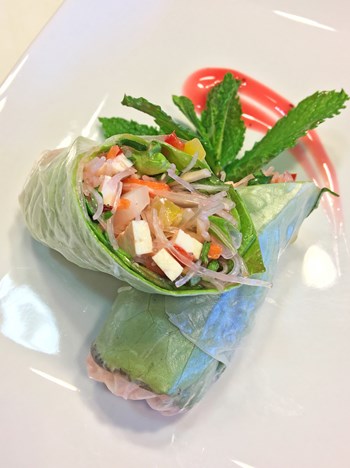 With experience as a chef and restaurant owner, Ly quickly found ways to bring value to the team by infusing her creativity into campus dining options. While working as sous chef at Landon Hall, she introduced cuisine that complemented MSU's diverse student body.

As part of the 14 month transformation to become Heritage Commons at Landon, specialty venues were developed in the operation, each conveying a distinct theme and menu. Ly was proud to share multi-faceted flavors representing her Vietnamese heritage and other southeast Asian cultures.

Fresh spring rolls, Thai chicken karaage, pho bo and grilled shrimp on sugar cane are some of the many options that were incorporated into the rotation. The popularity of the concept was inspiring and fueled her desire to continue advancing the assortment of recipes offered.

"I love to interact with students and see them smile when they taste delicious food," Ly shared. "Whether they're from the Midwest or abroad, recreating cuisine they enjoy is nostalgic and can help alleviate a longing for home."

Across the U.S. and campus-wide there is a diverse cultural landscape, so imparting knowledge on students beyond the focus of their academic program is invaluable. As Ly remarked, trying new foods from an unexplored area can heighten awareness and acceptance of various cultures.

Food can also evoke memories and create a positive experience that emphasizes togetherness. While gathered for a meal, the conversation can lead to building community and simple questions like "Where are you from?" allow people to share and celebrate their culture.

Continuing education has always been key to Ly's success. For the past 10 years, she took an aggressive approach to professional development, earning two American Culinary Federation designations and becoming the first female Certified Executive Chef at MSU. Ly currently oversees The Gallery at Snyder/Phillips, The Vista at Shaw and Thrive at Owen.

"I'm grateful for the opportunities I've been presented," she shared. "Passion and determination have allowed me to pursue my dreams and I've always been motivated to work hard for what I want and deserve. Valuing education and being enthusiastic about learning is conducive to self-improvement and I think our students can learn a lot from one another. I encourage them to embrace the environment at MSU, collaborate with peers and expand their worldview."
Watch Executive Chef Dien Ly prepare spring rolls and download the recipe.