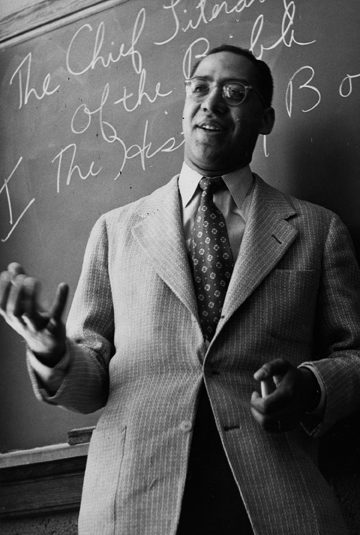 David W.D. Dickson, MSU's first African American faculty member
David W.D. Dickson's trailblazing career, spanning more than 40 years and five academic institutions, began at Michigan State University in 1948 when he became the university's first African American faculty member and, a few years later, the first to be awarded MSU's Distinguished Faculty Award. He also went on to become the first African American to lead a college or university in the state of New Jersey. However, the trajectory of his academic accomplishments first began in his childhood home.
Born on Feb. 16, 1919, in Portland, Maine, Dickson was the child of Jamaican immigrants who raised five academically exceptional children, each of whom graduated at the top of their class at Portland High School. The four boys, who each received academic scholarships, all attended Bowdoin College and were the first four African American brothers to attend the college. But daughter Lois went to Radcliffe since Bowdoin didn't accept women at the time.
David W.D. Dickson received straight As at Bowdoin, graduating summa cum laude and Phi Beta Kappa with a bachelor's degree in English in 1941. He enrolled at Harvard in the fall of 1941 and received a Master of Arts in English Literature the following year. Drafted into the U.S. Army Air Corps in 1943 during World War II, he was tapped to attend Army Officer Candidate School, from which he graduated first in his class, and was assigned to be adjutant to the commanding officer of the medical unit at Tuskegee Airfield in Alabama.