As a high school student, Terry Himes dreamed of exploring space. Today, the Spartan who graduated in 1975 from Michigan State University's College of Engineering is living his dream.
Himes is helping NASA communicate with its robotic spacefaring explorers.
"Just today, I was building the relay commands for Mars 2020, but also Curiosity and InSight," says Himes, a spacecraft and software engineer for NASA's Jet Propulsion Laboratory.
NASA's Perseverance rover arrived on Mars, landing safely on Feb. 18, joining the missions Himes references. The InSight lander touched down on Mars in 2018, and Curiosity is a rover that's clocked more than 3,000 Martian days on the red planet.
The Mars 2020 mission is unique, however, in that it became the first to successfully beam footage of landing on another planet back to Earth. And this footage of Perseverance's dramatic descent has captivated the globe.
But this monumental landing was also, in a way, Perseverance's morning commute, albeit a one-way trip. The rover has clocked in and is getting to work, looking for evidence that life once existed on the planet and collecting Martian rock and soil samples.
And Himes is on the team working to bring those samples to Earth. He's no stranger to retrieving extraterrestrial samples, having helped gather specimens from a comet and the Sun's solar wind as part of the Stardust and Genesis missions, respectively. Now, he's joined the Mars Sample Return mission, a collaboration between NASA and the European Space Agency that aims to bring pieces of Mars to our planet in the early 2030s.
In the meantime, Himes is helping care for a fleet of rovers, landers and orbiters exploring our solar system.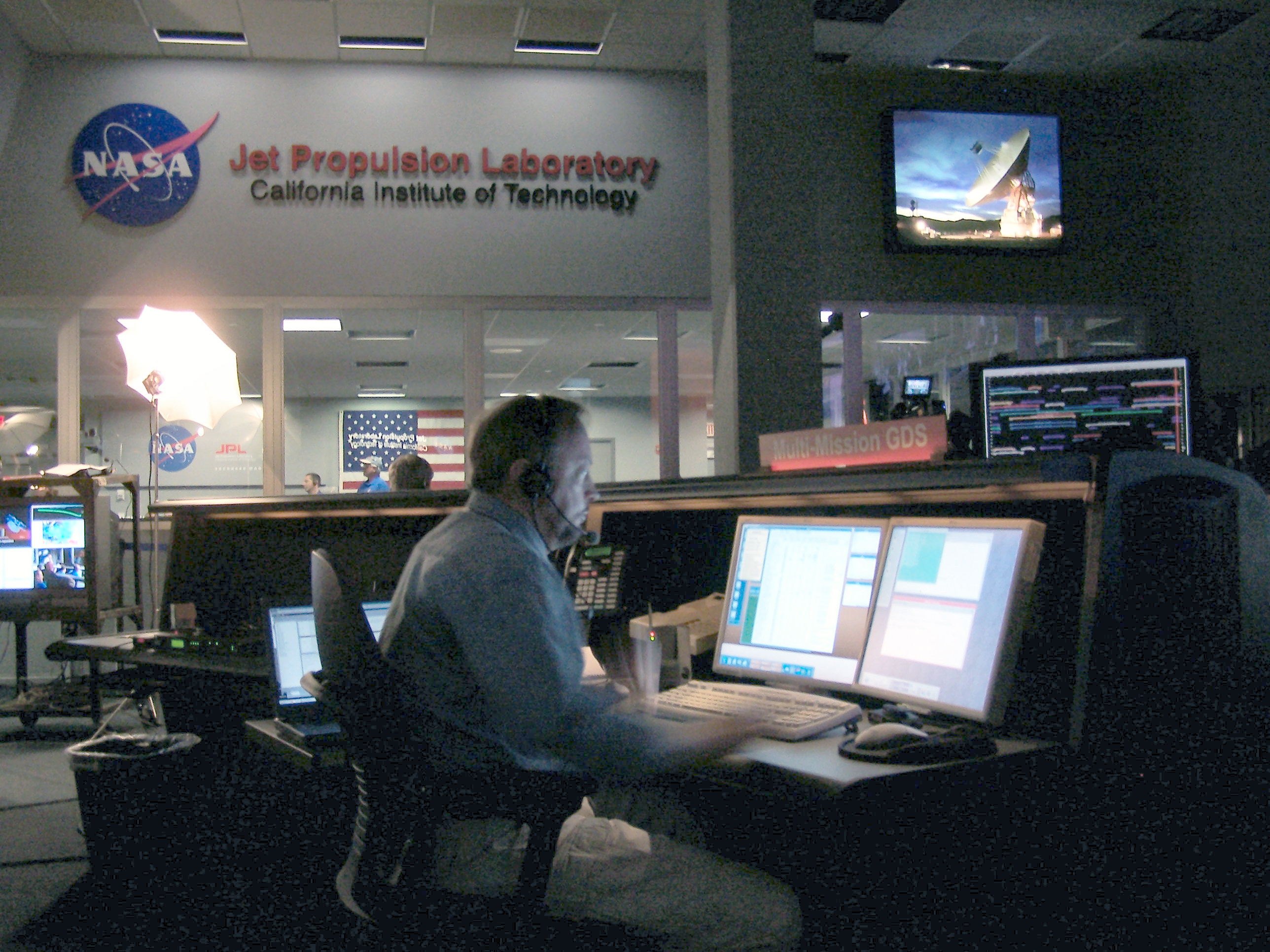 Terry Himes at NASA's Jet Propulsion Lab in 2008, working on the Phoenix Mars Lander mission. Courtesy of Terry Himes.
"Most of the days are really looking at the health and welfare of the spacecraft, then getting prepared for the next time we have to uplink something," he says.
NASA also has satellites orbiting Mars that, among other things, help relay communications to and from the missions on the Martian surface as the orbiters fly over. Over the next two weeks, there are dozens of planned flyovers, so Himes is a busy guy.
"Flight operations is not for everyone. It's a little more intense, it's a little more stressful than some of the other things," he says. "I like to say that an hour is forever and a day is an eternity."
Fortunately, Himes always has liked keeping busy. He's also a musician and, during high school, he played gigs around southeast Michigan — even crossing paths with the likes of Bob Seger — to help pay for college.
He chose to pursue a degree at MSU in computer science, which he saw as his ticket to NASA.
"I was kind of gearing my whole education around working for NASA. I was shooting rockets up when I was 14," he says. "I was looking at pictures of galaxies and thinking, 'NASA is where I gotta be.'"
When Himes finished his education, though, the Jet Propulsion Lab wasn't hiring. But in 1990, when Himes was running his own company, a former colleague reached out with an opportunity.
"I got a call from a computer science guy that I worked with and he said, 'Hey, we're building this spacecraft that you always wanted to do. It's called the Mars Observer.'"
Himes joined the mission as a consultant and has been working with space exploration spacecraft ever since. In 2001, he began working as a direct employee of JPL, and then, he says, 20 years flew by.
"That's what started it. It was just pure fate," Himes said. A fate of his own making, though, which is why Himes encourages students to start cultivating their own paths as soon as they can.
"Work as hard as you can in the area that you're interested in," Himes says, urging current Spartan students to take advantage of summer internships if they can. The internships are invaluable for not only the work experience, he says, but also growing a network and developing interpersonal skills, which make job candidates stand out.
"You don't have to be the top person in your class," Himes says. "But if you've worked on projects and you know how to communicate, work in teams and present your ideas, that's what people are looking for."
Himes says his education at Michigan State helped prepare him to be the driven team player that NASA needs for its missions.
"I always thought that Michigan State had a top-notch computer science department," he says. "It prepared me for the idea that you have to work in teams if you want to get big jobs done. That's all there is to it."