Plants are master chemists, producing a dazzling array of molecules that are valuable to humans, including vitamins, pharmaceuticals and flavorings.
The largest and most diverse group of molecules are known as specialized metabolites. Some metabolites attract beneficial insects and others repel or kill herbivore insects that feed on plants or pathogenic microbes. Some of these metabolites are poised for action at the surface of the plant, being made in trichomes, which are small hairs on stems, leaves and flowers. Unfortunately, these natural defenses are often missing from crop plants, having been lost during domestication or advanced breeding.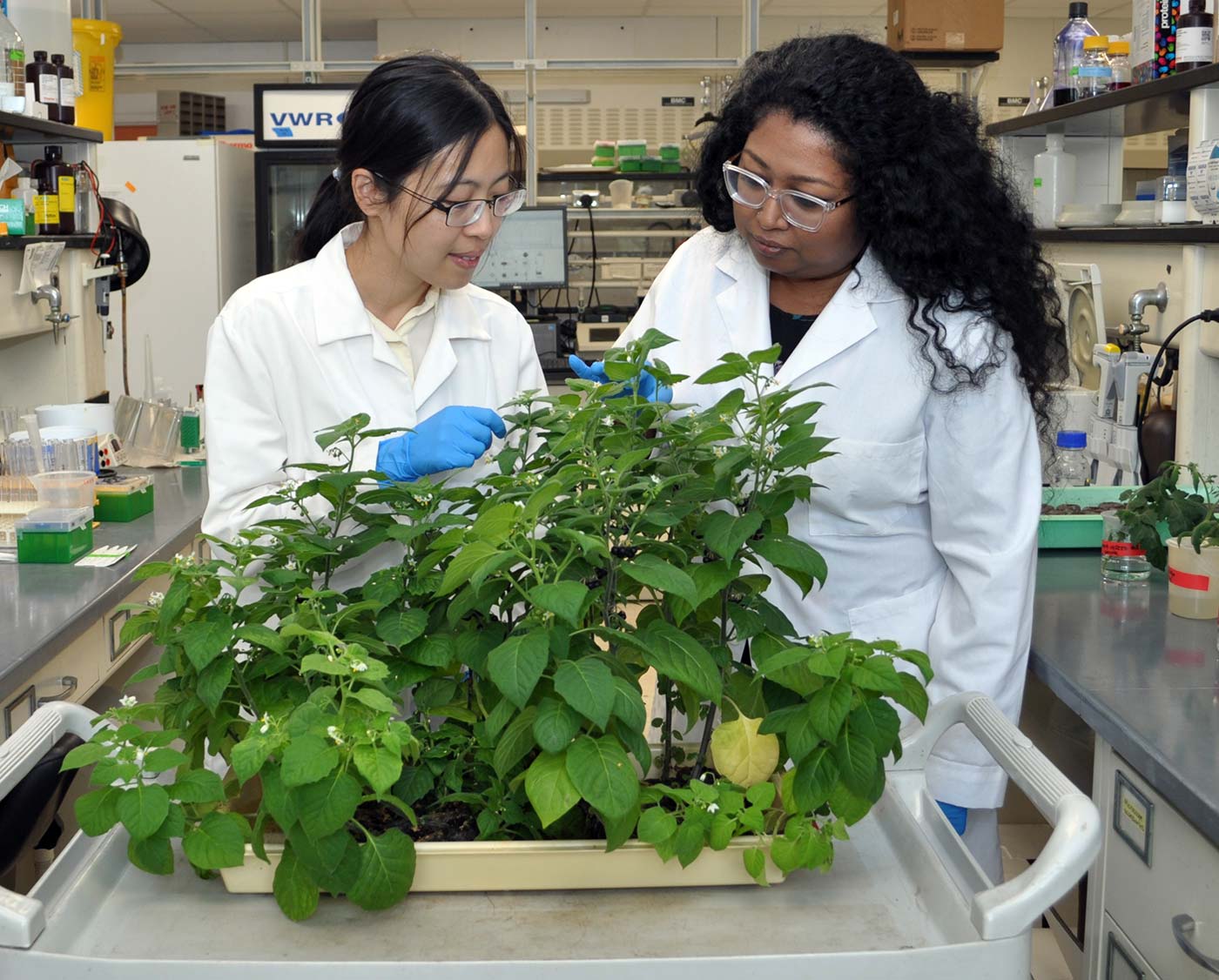 Yann-Ru Lou and Thilani Anthony collaborate to study how black nightshade (Solanum nigrum) makes a large number of distinct types of sticky acylsugars. Credit: Jeff Mason
For example, nightshade family (Solanaceae) plants synthesize sugar esters (acylsugars), which have anti-fungal and anti-herbivory activities. In species that accumulate and secrete large quantities, their sticky nature provides physical defenses as 'glue' adhering insect pest mouths and 'flypaper' entrapment of small-bodied insects.
However, cultivated tomato (Solanum lycopersicum) accumulates a relatively small amount of these acylsugars, and are undetectable on some other economically important Solanaceous crops, such as sweet pepper. Understanding how these missing metabolites are made in wild relatives can suggest breeding approaches to make crops more resilient to pests without use of chemical pesticides.
For the full story, visit the College of Natural Science website.